I have been known to write from time to time about my yoga class on this blog.
I would say my yoga "practice" but that seems a little bit pretentious, not to mention vaguely dishonest in my case.  Nevertheless, it is true that in shocking contrast to my normal stance on organized exercise classes, I have been known to attend a local Tuesday night yoga class.  It's funny, I find sometimes that my hour and a half in yoga class often clears enough space in my head for me to think about, uh, God.
It happened the other night. 
I rolled out my mat and began trying to follow along with the teacher in the front of the room as she gently and very earnestly acknowledged the goodness in each one of us as she congratulated us for coming to class. 
(Internal eye roll.  Sometimes I wonder how much more time I have until people find out how truly disrespectful I am in my heart.)
Then she invited us to begin stretching, which, in my humble opinion, seemed to me like bending our bodies in all manner of unnatural ways which I am sure God never intended.
(Empty your mind, empty your mind, come ON!)
"Reach up as far as you can.  Stretch the heel of your foot as close to the bottom of the mat as it will go.  Okay.  Now stretch it more.  Okay, a little more.  Reach into the UNIVERSE!  Breathe into that space and feel the expansiveness and the openness.  Now, bring your knee into your armpit.  Breathe, then bring it higher.  Put your head under your left leg . . ." you know, stuff like that.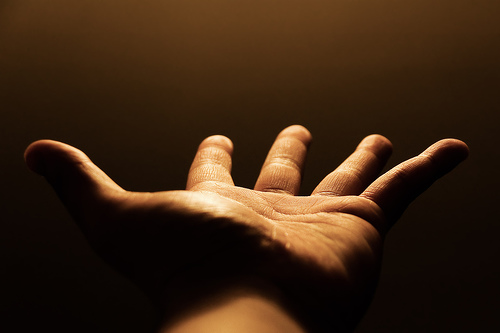 I try not to think about what we looked like trying to follow all the teacher's directions, but rule-follower that I am I did my very best.  She made us do all of these stretches (and more that apparently I have blocked out) with the left side of our bodies, and then she asked us to lay still, on our backs on our mats.  "Just stretch out," she said.  "Can you feel how much longer the left side of your body is?"
As I unfolded onto that mat, I could have sworn that my left leg was at least three inches longer, and that my left arm was much the same.  With the stretching and breathing and contorting ourselves into strange positions, the muscles on the left side of my body must have lengthened just a little bit. 
And it felt really good to me.
As I lay there on the ground feeling how very far my left hand could reach, I began to wonder about our limited human attempts to reach for God.  Well, mine, anyway.
Sometimes I feel like I am reaching as far as I possibly can—not a chance I could ever reach one bit further.  There are all these things that stop me, you see.  My own inability to imagine anything other than what's right in front of me, for one . . . and disappointment and grief and pain and fear about the future and all of those things plus more . . . and they all seem to make up this big, hard, intractable ceiling against which my fingers keep hitting no matter how hard I stretch.
 I want to be able to reach further, to trust harder, to believe stronger but sometimes I'm sure I've reached my absolute limit and it seems like nobody's there.  I can't reach God.  I can't reach God at all.
But then I start to think, mostly about this life I have to live.  Long walks outside, an afternoon when the words come out on paper just right, prayer–even when it feels like I'm not getting through.  And the studying for Sunday when I suddenly stumble across the most incredible thought . . . the poetry of Mary Oliver, the ridiculously wonderful faith community in which my life is planted . . . the faces of my children, a sudden moment of clarity, enough courage to just take one more step. 
As a matter of fact, those kind of stretching things happen to me all the time.  Every day.  They don't always feel natural to me.  That is, they often feel radically unnatural to me.  But looking back over my life all these little things that feel so hard and strange, I wonder if maybe they help me stretch further, if in their regular practice, they help me touch God sometimes?
Whatever the mysterious process, I think that all of those things must expand my heart because there those rare moments when I reach for God . . . and the ceiling isn't there.  And I know it's debatable whether I am managing to reach further or whether God is reaching out for me, but I guess it doesn't really matter in the end anyway.  In those moments when my heart expands and I feel my reach extending just a little further, suddenly there seem to be possibilities that were not there before.
And it feels really good to me.