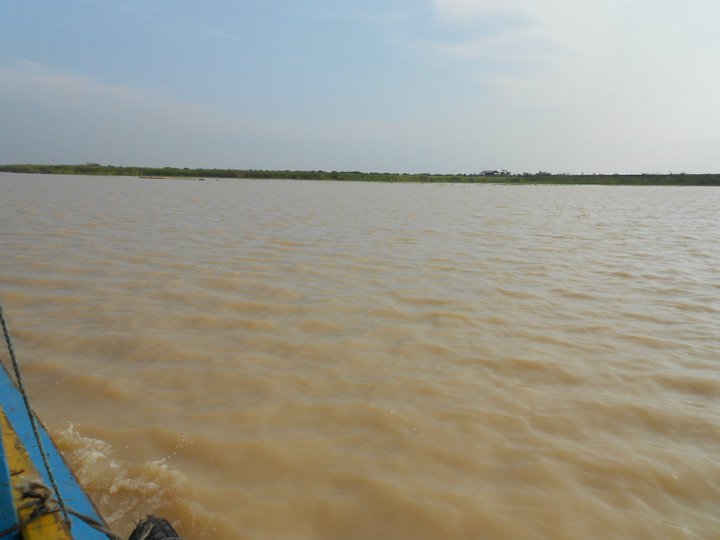 One of the best parts of international travel is the way it can submerge you in a context totally different from your own, an experience that is usually really uncomfortable but offers some great perspective if you let it.
Among my recent adventures in Southeast Asia I had the opportunity to visit the country of Cambodia. There are oh-so-many things I could write about that experience; my visit to Cambodia was definitely a high point of the trip. One thing that struck me was just the experience of meeting Cambodian people. They seemed so affable and cheerful, even living in a country that is clearly still reeling from the horrors of genocide under the Khmer Rouge.
Given the tattered state of Cambodian society still, it wasn't surprising to me to see quite a lot of poverty and extreme rural living right in the middle of the country's second largest city, Siem Reap. In other words, while I can certainly understand the convenience of keeping your cows on the ground floor of your house, this Cambodian tradition would qualify as "an experience totally different from my own." Geez, I personally think the dog is bad enough.
Anyway, among my Cambodian adventures was a visit to a floating village. The floating village I visited was on the Tonle Sap lake, the largest freshwater lake in Southeast Asia. I hate to publicly claim such ignorance, but my mental image of a "floating village" was a little different than what I encountered on Tonle Sap. Seriously, when I imagined a "floating village" I was thinking something really beautiful and maybe a bit mysterious—you know, with lots of bamboo and probably some mist floating up from still waters filled with koi fish.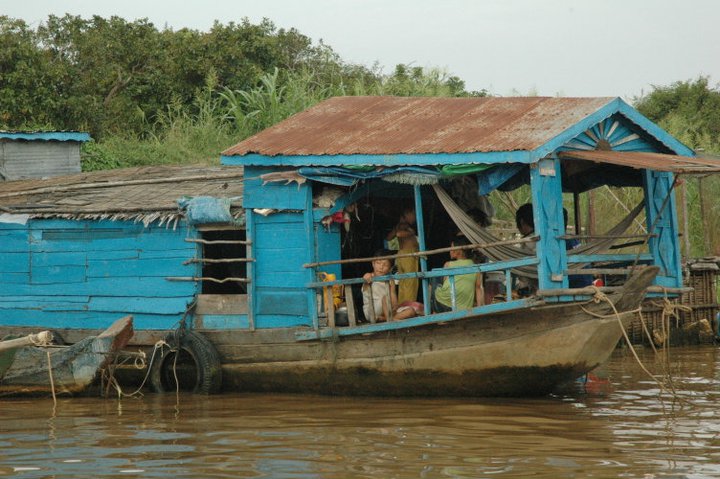 Uh, not so much.
A floating village is more like a large group of people trying desperately to piece together some kind of existence, all the while trying to stay afloat on a large body of water. Families of ten, for example, live together in a little tiny houseboat, with no electricity and no plumbing system of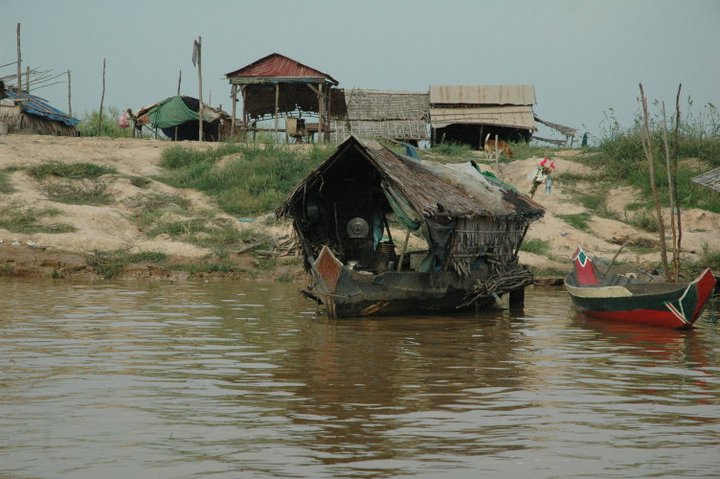 any kind. The poverty in the floating village was staggering.
I kept looking around at all the water…water everywhere. The people who live on Tonle Sap use the water to get around in any manner of floating vessels—many of them not boats at all. They also use the water to bathe, to cook, to deposit sewage, to drink. For someone coming from my comparatively sterile environment, witnessing all of this was rather shocking.
After what I saw I have no idea how these folks eek out an existence and stay relatively healthy. With my limited perspective I kept wondering: do they know there's a way to have clean drinking water? Don't they want that? Why don't they set up a sewage system so they don't have to use the lake water for everything? I felt almost panicky about it.
The guide telling me about the village said the government has tried to offer village residents options of resettlement, education, etc., in the city, but without fail those who are resettled return to the floating villages within a matter of months. There's something about the community that they love, something about living all together in one place and having the water under your feet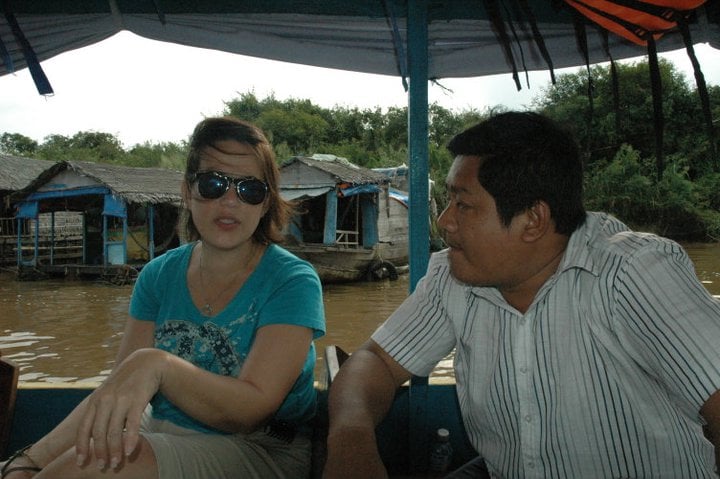 all the time.
I'm still processing this experience, for sure. I can't get the image of the water out of my mind. Maybe it's because a side effect of growing up in Hawaii is my strong association of God with all the water that was always around me. In the ocean in particular I always felt a sense of God's immensity and power, but also the gift of life that is readily apparent wherever you see the water.
The water I saw at Tonle Sap, though, stunk of poverty and desperation…and sewage. I wondered about a lot of things as I looked out over that brown water. I wondered if sometimes the church feels like Tonle Sap lake to some people…with trappings of God all around, but no God really.
I thought about that as I sat, that afternoon, water all around me…and I was so thirsty.