Esperanza…it's the Spanish word for "hope."  Strangely enough, it seemed to be the theme of the day.
Today, our third day in El Salvador, our experiences ranged from confusion to grief to frustration to despair as we heard experts talk about social and economic realities in El Salvador; saw the graphic pictures and somber memorials recalling the murder of close friends of Pastor Edgar's, Jesuit priests brutally murdered during the armed conflict here; and toured some of the poorest neighborhoods in the urban slums of San Salvador, all of us crowding into one tiny room that serves as home to a family of 10 while residents proudly showed us their home.  It was an exhausting day, much like yesterday, filled with many different experiences and perspectives.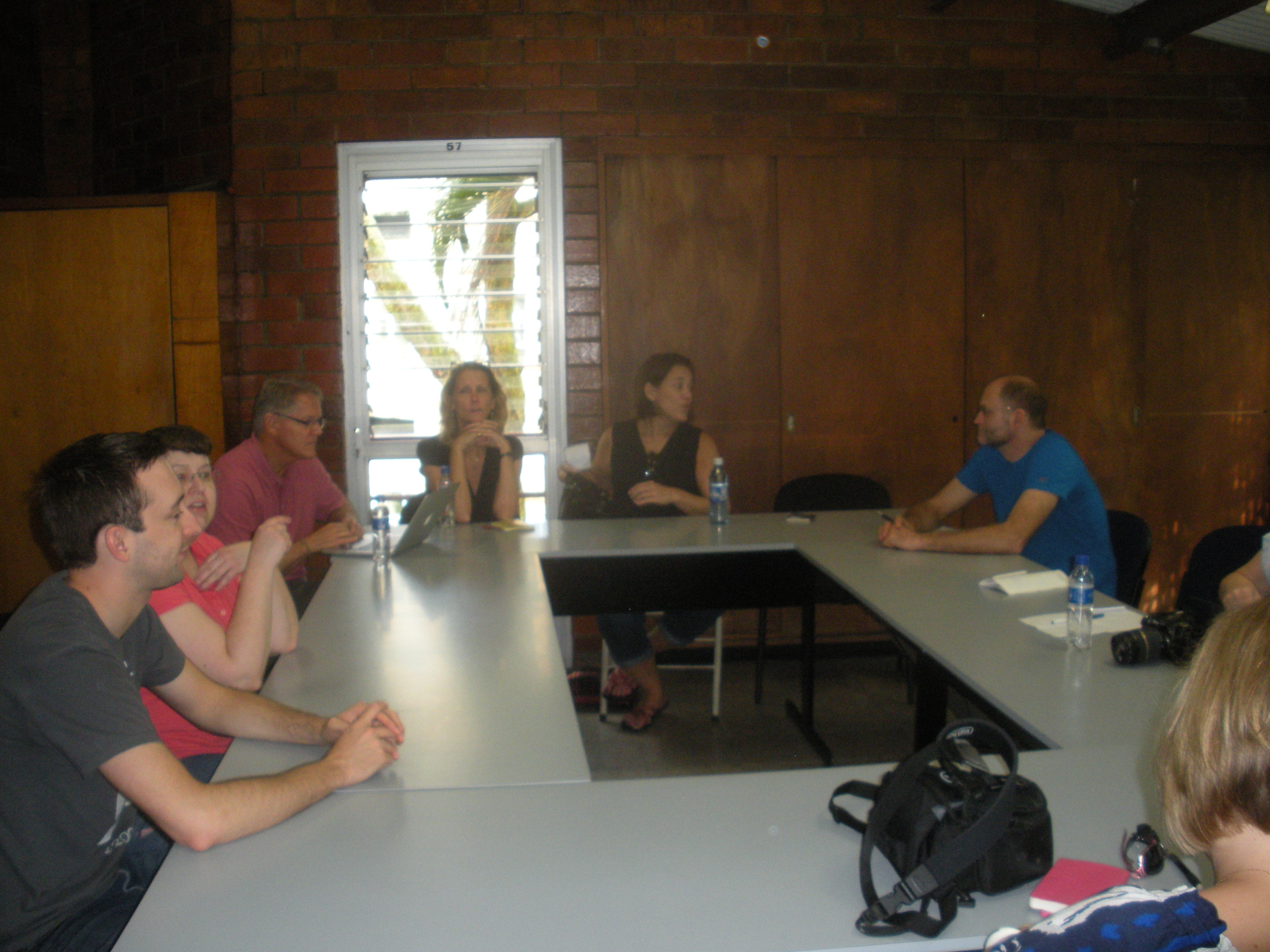 We began at the University of Central America, a Jesuit University in the heart of San Salvador.  We met with a team of professors there, all studying as part of an interdisciplinary approach to understanding emigration—the incredible reality that 25% of El Salvador's population lives in other countries around the world.  This is a huge number, the result of so many social, ideological, political, ecological, and economic realities plaguing this little country.  It was quite an experience to hear experts from El Salvador talk about their perspectives of this problem—a significant problem in many different expressions not just in the countries receiving immigrants from El Salvador, but also in this country which is losing its workforce and becoming economically dependent on remittances sent from far away.
This was a riveting, yet overwhelming, experience.  "How can we fix this?" seemed to be the question of the day.  The answer from all corners was, "We don't know."  It felt like a huge and unsolvable tangle.  Hopeless.
But in the wake of all the staggering statistics we heard, ideas began to bubble up within the group.  What does it mean to do justice?  How can we protect the human rights of those who become immigrants?  What can we do to help El Salvador heal?  One little church group, one huge problem, some small yet powerful ideas.  Hopeful.
Next we visited the Romero Center, a religious studies center that is also a memorial to the many religious professionals, priests and nuns, who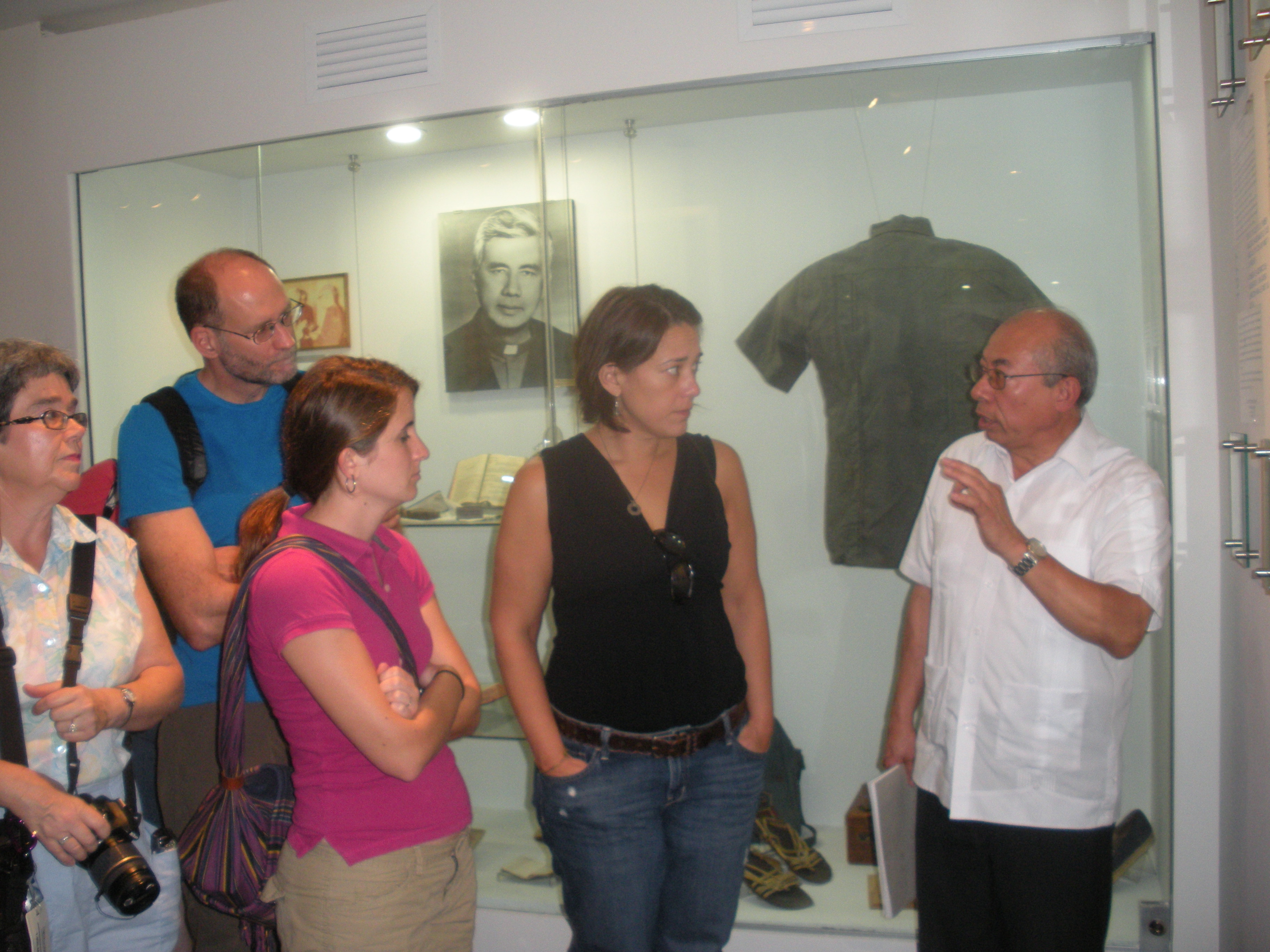 died during the armed conflict in El Salvador.  In their lives and witness was the birth of liberation theology, the understanding that God is an advocate for the poor and oppressed.  What happens when you teach about a God who takes the side of the poor and oppressed?  The powerful and entitled get mad—that's what happens.  And sometimes they get so mad that they kill you.  The pictures we saw were gruesome.
The memorials were heartbreaking.  Watching Pastor Edgar remember these men, his friends, was stunning to some of us.  How could humanity be so misguided that we could ever, ever behave in this way?  It felt rather hopeless.  But as we gathered around Pastor Edgar and learned his story, we realized that we are people who live in Christian community with one who has seen up close and has even lived a commitment to justice and peace so radical it could cost your life.  If we learn to live our faith alongside others who really, tangibly understand this, maybe we could learn it, too.  And if we could learn radical discipleship, maybe our lives could be part of God's transformation of the world as we know it.  As this realization dawned for each one of us, this experience, exhausting and unbearably sad, became somehow hopeful.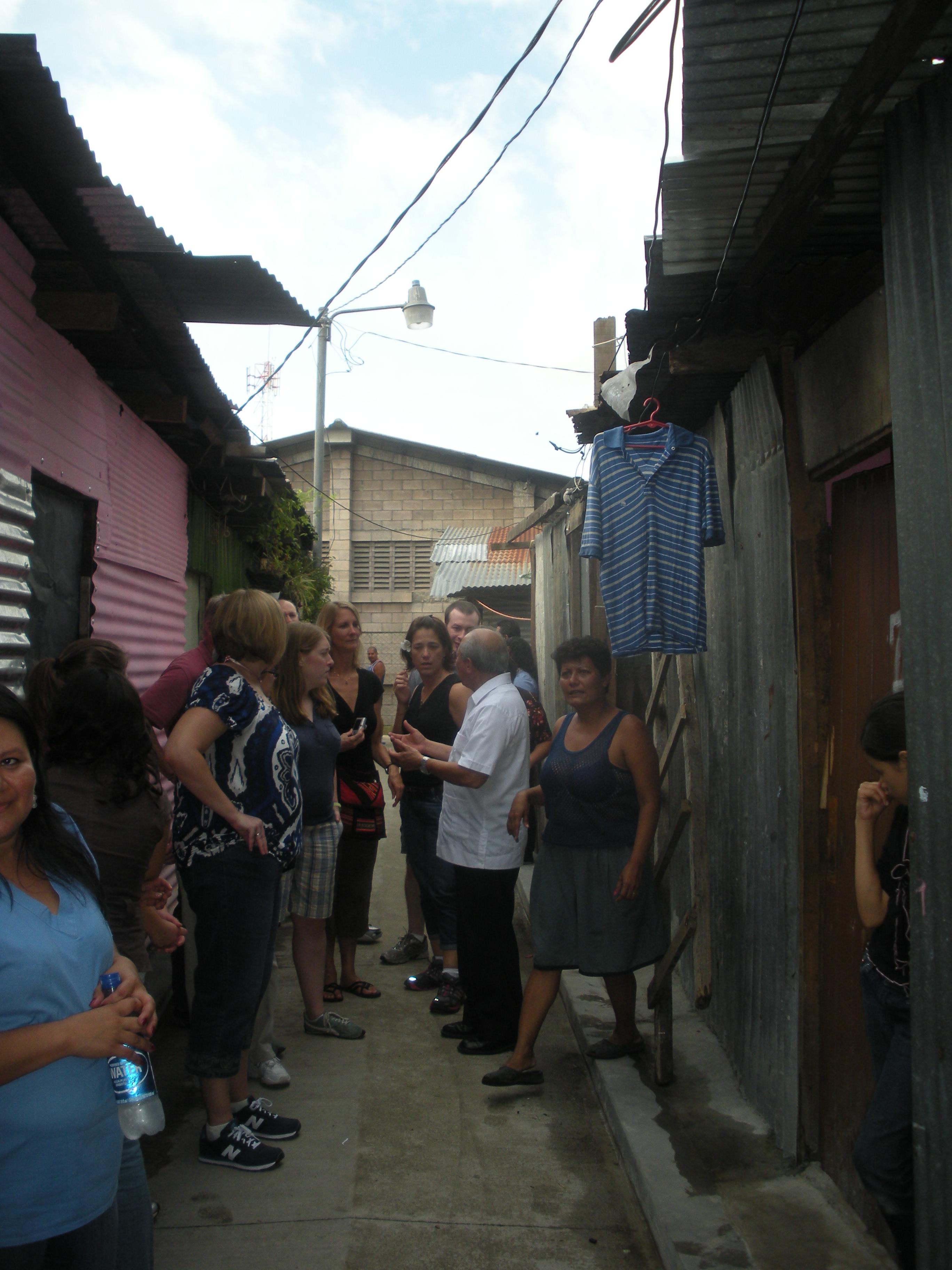 Then we spent the afternoon walking through some of the poorest and most blighted urban slums in the city of San Salvador.  The living conditions of these people were totally foreign to us, for sure.  Violence and fear rule these neighborhoods; basic standards of living—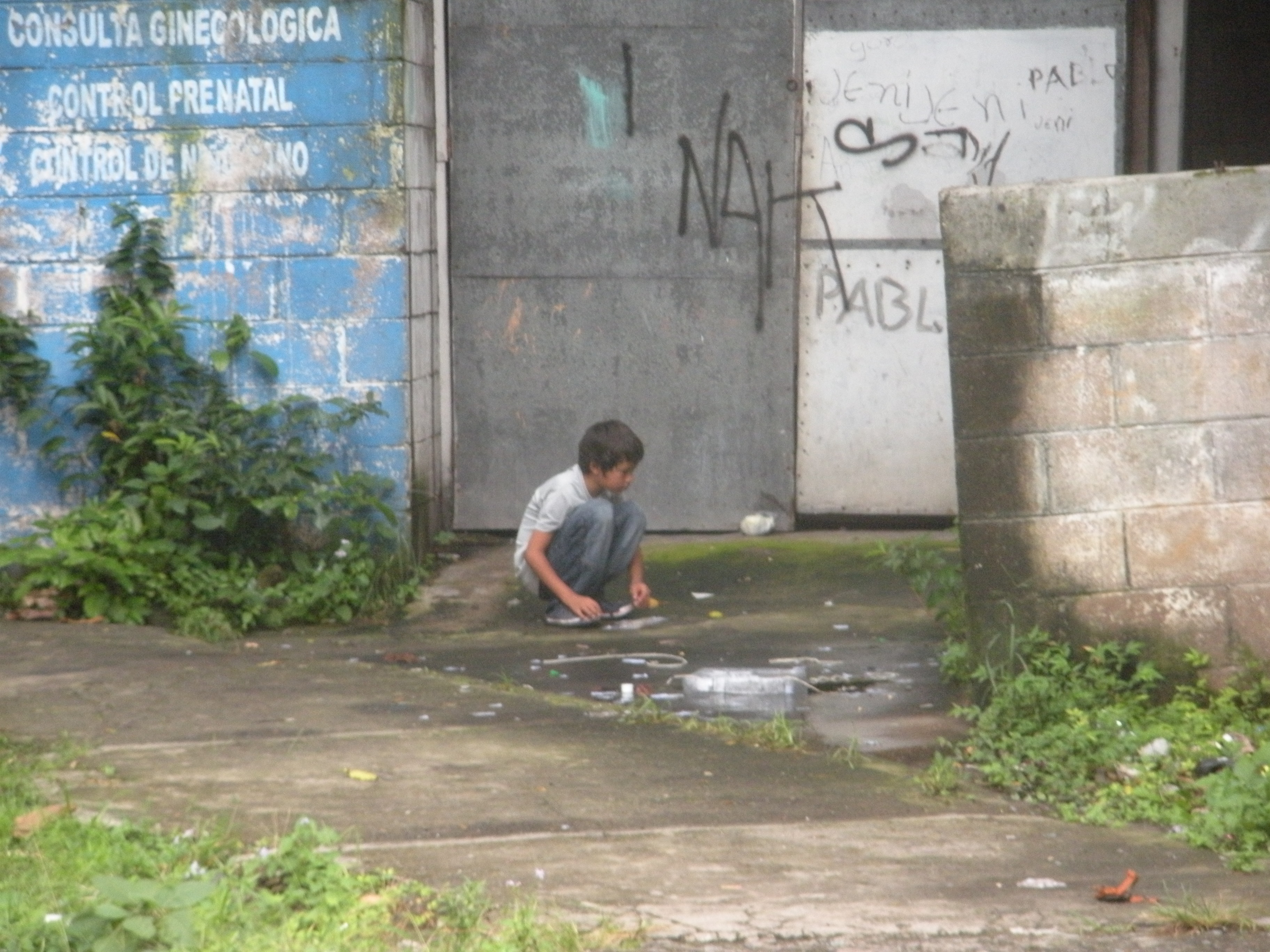 running water and electricity, for example—were few and far between.  The poverty is staggering.
As we walked though running streams of sewage and piles of garbage, we came across a little community of corrugated metal shelters, neatly clean, brightly painted and secure behind a fence.  We were met at the front gate by one of the leaders of the community—mostly single mothers working together to make a safe home for their children.  The woman let us in and showed us her home—one room with partitions, leaky metal roof, packed dirt floor.  We listened as she told us about her family who lived there and had since 1986.  She spoke with pride about the safe little neighborhood they'd all built together.  She smiled as she spoke.  She told us her name…Esperanza.  Hope.
There was more to this day: relationships deepened, perspectives altered, convictions born.  And all of these experiences were buoyed by hope.  Thanks be to God.