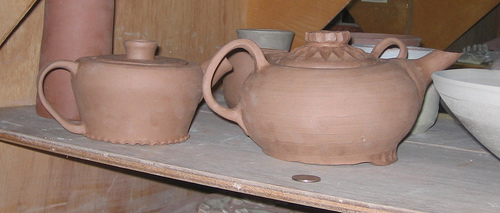 Permit me this shameless bragging over poetry written by my son Sam.  His assignment was to write a poem from the perspective of a minor character in a children's story or song.  Sam, now 13, was always the cutest little tea pot when he was a baby.  Sigh.
The Big Tea Pot, at a Funeral, 2011
He was a little
teapot.
I always heard him
singing.
He was never picked
for sports.
Not only was he
short,
But he was kind of
stout.
He had a little
handle,
And he had a little
spout.
Then one day all the
teapots
Went to the amusement
park.
But that poor little
teapot
Was too little to
ride the rides.
He got all steamed
up.
We all heard him
shout.
Until someone tipped
him over
And poured him out.