We Are the Church: Commissioning for Service
This morning the work of being the church together continues for us. Last week in worship we remembered the life of one of our Calvary saints, Dee Robbins, and today we continue tangibly exploring in Sunday morning worship some of the ways we function as the church together.
Today we are ordaining one of our own to the Gospel ministry, calling her out and recognizing her gifts as we bless her for the work of ministry. In the Baptist tradition, it's the congregation that does the work of ordaining a new minister, and as Pastor Leah explained, this is how:
As a congregation we live life together in such a way that we know each other well, well enough to challenge each other when we see gifts for ministry in each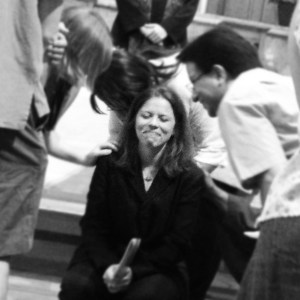 others' lives.
As a congregation we examine the candidate for ordination in a rigorous process that helps the candidate and helps us listen carefully for God's direction.
And then, as a congregation we, all of us, ordain a candidate to the Gospel ministry.
And so, today as part of the work of worship, we will hear Morgan Caruthers take vows; we will make our own commitments to her; and we will bless her for the journey ahead. To that end, this sermon has two parts: the first is a conversation with you, the church; the second is a few words for Morgan.
First, church:
We continue today with the lectionary readings telling the story ofIsrael's most famous king, King David. Curiously enough, as Morgan will leave today with a new title in front of her name, today's passage tells the story of the time when the people ofIsraelgave David a new title, too. King!
Don't get any big ideas, Morgan.
Today as you do the work of ordaining Morgan to the Gospel ministry, you are doing the profound and miraculous work of the church: you are bearing responsibility for each other.
When all the tribes of Israel gathered around David at Hebron, the first thing they said to him was this: "We are your bone and flesh…". By this startling opener they meant something like: we're related. We're connected to each other in deep and powerful ways. We rise and fall together; we are responsible for each other. And because we're related, we know each other very well…as well as family members know each other. For the Israelite people this connection led them to confront David with the challenge of being their king.
Like the people of Israel we live life together in a community of faith in which we know each other. We know each other in deep and elemental ways that don't often come to flower in other places in our society. We feel each others' joys and sorrows; we hear each others' hopes and dreams. We are a family. And because we are related to each other in that deep and profound way, we are led sometimes to call individuals out from among us to be our leaders. We know them; they know us. We observe their gifts; we intuit their callings. When they feel the pull of God's Spirit to lead the church, we challenge them to step boldly into the role that God has planned for them.
And, church, today as you do the work of ordaining Morgan to the Gospel ministry, you are doing the profound and miraculous work of the church: you are discerning the will of God for the people of God.
I often tell new members of this church that one of the requirements of membership is to listen carefully for the direction of God for our community. Individually we listen for God, of course, but there is a larger calling, the calling of community, for which we must listen carefully. Together. To the soon to be King David the Israelite people said: "The LORD has said to you: it is you who shall be shepherd to my peopleIsrael." Together they discerned the will of God for them all.
And together WE discern the will of God for our community, and through the structures in place for ordaining candidates to the Gospel ministry, we are declaring today that we have felt the direction and leadership of God in this matter. Together, like the people of Israel, we have done the work of discernment and listening.
And, today as you do the work of ordaining Morgan to the Gospel ministry, you are doing the profound and miraculous work of the church: you are challenging each other to covenantal promises.
Once the people of Israel had gathered on the river bank at Hebron and announced what they knew to be true about the gifts and calling they saw in David, they made a covenant with him. They entered into a special relationship with David in which they would always be the ones who anointed him and called him to the service of leadership. While David covenanted to lead, the people covenanted to always remember their conviction and blessing of his leadership.
Today we will hear Morgan take vows…serious vows of commitment to the work and calling of ministry. And we will enter into covenant with her by voicing our conviction that this is right and good, and then ordaining her to the Gospel ministry. After today, no matter where Morgan goes in all the many adventures ahead of her, this community of faith will always be the community that called her to lead. And that is a strong, lasting, and powerful covenant between us.
Like the people of Israel who took their responsibility to call and anoint a king very seriously, we, too, church, should enter into our task today with the awareness that what we do together here is serious business. And, we do.
And Morgan: if you've ever wondered what David felt like that day when the people anointed him, maybe you're getting a little taste of that in your own life today. Today we celebrate you and your considerable gifts for the ministry of the Gospel. Today we also place upon you a heavy mantle of responsibility.
So I have two things I want to say to you as you set out on this journey of answering God's call to ordained ministry. First, listen. Listen very carefully to everything you hear from us today. We, your community of faith, are speaking the truth about your life. We know you well; we have watched your work; we have examined you closely. We see in you gifts and a calling that, in the challenging work of professional ministry, will from time to time grow dim to you.
In the days ahead, your job will be to walk with people in times of celebration and in moments of unbearable grief. Your job will be to remind people that God is real and working in our world, even when all evidence points to the contrary. Your job will be to interpret Holy Scripture in such a way that it becomes a living, breathing, compelling part of peoples' lives. Your job will be to envision and shape the future of the institutional church so that it continues its impact in the world. Your job will be to mold and nurture new disciples. In short, your job is to represent God to those whose lives cross your path.
No pressure.
And as you go about the work of the Gospel ministry, all of this and more, there will be times when you question your own fitness for this work. You will ask yourself questions like: Am I holy enough to do this work? Do I have the skills I need to do a good job? Am I worthy of the regard in which people hold me? Can I bear one more tragic situation or pain-filled confession? How can I possibly keep this up?
You will also wonder things like: Why does Sunday morning come every single week, and what kind of shoes should I wear with my robe?, but I'll have to address those in another sermon.
When you ask yourself these questions…and, you will ask yourself these questions and more, I want you to pause to listen. Pause to listen again to US, to our voices.
Like the people of Israel who observed David's gifts as a leader and anointed him king, we have observed your life and seen in you many gifts for the ministry of the church. We see passion and commitment, wisdom and faith, courage and resilience. We see all of those things and more, and we are telling you on this day that you have what it takes to be called out and recognized as a minister of the Gospel.
In a few moments we will come forward and share words of blessing for you. Listen carefully, because we mean what we say today. Listen carefully because our affirmations and statements of recognition are true and right. Listen carefully because today we speak the truth about your life, and you will need to remember tomorrow…in many of the tomorrows ahead of you…when you momentarily forget that truth yourself. Let our words echo in your mind and your heart in all the years ahead of you, because we have witnessed the truth of your life. May our recognition embolden and encourage you for all that awaits you.
Second, I want to say: this is not about you.
The writer of 2 Samuel reports that over the years of David's reign as king he became greater and greater…because the Lord was with him. We have seen your gifts and we have named them aloud; we predict that you, also, will become greater and greater as you proceed in your work as a leader of the church. And when that happens, remember that it is not your gifts, considerable though they are, that have propelled you to successful leadership. It is, instead, the Spirit of God.
The truth about being a minister is that, while talking about what you do for a living can kill a good party, it can also be a pretty heady job. Walk with people through the most important times of their lives? Have a captive audience once a week? Represent God?? The truth is that this job can be kind of fun. It can be so fun, in fact, that the thrill of the work can quickly become addicting. You can forget all the doubts you had. You can forget that you answered the call kicking and screaming. You can forget the enormity of the task. You can forget that this, Morgan, is not about you: it's about God.
As you begin your professional life of ministry, you will have lots to do; a congregation to care for and to-do lists so long they never get done. But in the middle of all of that…in the day to day work of ministry…don't forget that the work you do isn't really your work. It's God's work. And God was doing this work long before you showed up on the scene…and God will continue this work long after you're gone. It's God's Spirit that is about the work of transforming the world; we are only helpers in the process.
And so, let us pause now for a few moments of musical mediation as we prepare to administer the vows of ordination.