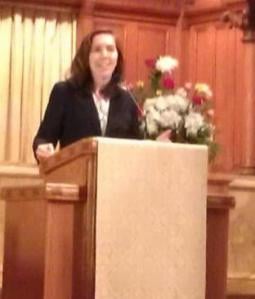 Calvary member Rachel Johnson recently sent me this reflection, just "a thing she wrote." As it is a quite beautiful thing, I asked her permission to share it here. We've begun lately a series in worship called We Are the Church, where we do the work of the church in Sunday morning worship a little more unconventionally than normal. We began the series with a service celebrating the life of Calvary member Dee Robbins and lifting up the work of the church as we comfort one another. Rachel wrote about this. So, please welcome guest blogger, Rachel Johnson!
Living Church
My home church, Calvary Baptist Church, Washington, DC, lost one of our saints recently. I did not know Dee Robbins as well as many who have been at Calvary longer and so I will leave it to others to eulogize her in the ways that they find best – in word and song, tears and laughter, and the comfort of community.
Instead, my reflections are of a different sort.
Watching one's family of faith walk alongside a beloved friend in her final days is a particular kind of grace. As I've listened to the stories they've told of their life together, I have been struck by the knowledge that what I am witnessing is nothing short of Gospel community as it is called to be.
The existence of genuine community in a city – and in a world – marked by impermanence and isolation is nothing short of a miracle. Dee is the most recent of Calvary's saints to join the great cloud of witnesses who helped form this miracle in our particular corner of the world on H & 8th St. I am blessed to be a member of a church with a rich history, a place where relationships run deep.
Close to closing our doors only a few years ago, now the walls of coffee hour reverberate with the laughter of young children. In our small groups, young adults wrestling with leaving church altogether form meaningful relationships with members who have been here for 50 years or more. Within our walls, people of all ages yearning for love and acceptance are enveloped by the sacred blessedness of community. We knit blankets for our babies, call each other to just say hi, make casseroles in illness, and bake cakes for birthdays; we erupt with laughter together, and offer each other a shoulder on which to cry.
Dee Robbins did all these things, and so much more to help make Calvary Baptist Church a safe harbor to weather the storms of life. But the miracle of genuine Christian community is not only in how it brings people in; it is also in how it sends them back out.
The last time I saw Dee was at the celebration of Calvary's 150th anniversary. During that joyous weekend, we were reminded of all the inspiring individuals who have come before us and shaped who we are today. A theme woven throughout anniversary events was that for 150 years our church has been dedicated to the prophetic tasks of loving our neighbor, welcoming the stranger, and embodying the radical Gospel of Jesus Christ.
The founding church of the American Baptist Convention, Calvary was established by people faithful enough to believe that the bonds of Christian love could not be broken even by Civil War and so desired to pray for both Union and Confederate soldiers. The church integrated as early as the 1950s, refused to move as the neighborhood around it deteriorated during economic depression, and to this day opens its doors to any who are marginalized or oppressed.
The people who have been formed by and drawn to this community include Bob Abernethy, host of Religion & Ethics News Weekly, former Congressman Brooks Hays, who lost his congressional seat over his support of Civil Rights, Presidents of the American Baptist Convention, the Southern Baptist Convention, and the peace and justice driven Alliance of Baptists and countless others who have striven to do justice, love mercy, and walk humbly with their God.
It would be easy to view these two portraits of Calvary – one as a church of abiding community, the other as a people advocating for peace and justice – as separate and distinct identities that happen to reside in the same building. But to do so, I think, would be to miss a significant part of what Jesus was all about.
Throughout his life, again and again Jesus revealed that he was calling his followers not just to a particular set of beliefs, but to a whole new way of living. Jesus modeled for us a radical way of inhabiting the world in which the ideals of community and justice are dependent on one another. He was the man who called the least, the last, and the lost and welcomed them into community, who broke bread with his friends, and offered a healing hand. He is also the one who came to bring good news to the poor and release to the captives.
Being the church is a call to particular expressions of community formed by relationships of interdependence and love; it is also a call to view every person as our brother and sister and view the world as a place where God's peaceable kingdom is breaking in all around us. True church is not just about what we receive, it's about how we live. It's about caring for our community, and for the poor. It's about loving those we see on Sunday morning, and allowing that love to transform us into agents of peace and justice in our daily lives.
When done right, the reconciliation, and nurture offered by genuine Christian community serves as a prophetic witness that the same kind of healing is possible for our entire hurting and broken world.
As the people of Calvary try to discern our call for the years ahead, I do not know what the future of our church will look like. But my hope is that, in the ways that really matter, it will look just the same as the 150 years that came before us. I hope we have people who love God and love each other with their whole hearts, who are crazy enough to believe that love can move mountains, and heal the broken. I hope we have a Brooks Hays, someone who is willing to lose position and power to stand for what is right. And I hope we have a Dee Robbins, someone who welcomes all she meets with a hug and a smile and a promise to walk alongside all daring enough to follow in the footsteps of Christ.