I first read some version of this prayer more than ten years ago.  It was written by a friend and mentor of mine, Rev. Sharlande Sledge, who probably was the first woman I ever saw in a pulpit wearing a clerical robe.  As you will see, she also has a gift with words beyond compare.  With her permission I first used this prayer at a community Thanksgiving service many years ago.  The experience was so moving that it has become my Thanksgiving practice to offer some version of this prayer every year in Sunday worship before Thanksgiving.  It changes all the time–all the details and specifics of the prayer shift each year to speak to God out of the life of this congregation here and now.  But the essence of the prayer remains the same.
It would have been enough, Lord, to live on this earth, to have the holy privilege of being human, to be able to breathe deeply and move and touch and taste, to get to hug and cry and sing and sigh with relief, to take sips of water and feel the wind on our cheeks, to pick up smooth stones and hear the rain on the roof, to stand beneath the wondrous sky with our souls swaying in awe.
It would have been enough to have the gift of one day, but instead you gave us the rhythm of work and rest, seven days that cycle through the bare branches of winter into the growth of spring and summer to the harvest of fall.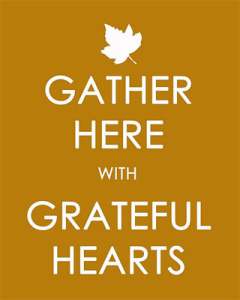 It would have been enough, Lord, to have one source of water, but we have oceans full of another world of life, waves washing the shore, rain to sustain the land, rivers to baptize our spirits, streams in the desert, and, when we need it, a cool cup to quench our thirst.
It would have been enough to be nourished by manna in the wilderness, but we get to savor the taste of bread made of wheat or corn, oats or rye, sometimes shaped into tortillas, sometimes laced with cinnamon, with walnuts or blueberries tossed in.  And to our table God added peaches and pumpkins and pomegranates, eggplants, mushrooms and apricots—and a circle of people who feast with us in communion.
It would have been enough to inhabit the earth with humankind.  But you created elephants, caterpillars, lizards and ladybugs, giraffes and wild turkeys.  O God, you filled the air with butterflies and dragonflies and the ocean with starfish, turtles and whales.
The privilege of living in communion with you, Lord, would have been enough, but we also get to live in neighborhoods and in community, to feel connected to brothers and sisters around the globe, to share our wealth with the hungry, to visit Pakistan, El Salvador, South Africa, Greece, Germany, Turkey and Burma through the stories of others; to marvel at language beyond words and in words, to travel and to return home.
Talking to communicate our simple needs would have been enough, but we also get to sing in harmony and laugh until our sides ache, offer healing words and embrace each other with our prayers.  It would have been enough to watch the passage of time from afar, but we get to express concern for each other in times of grief and fear and joy, to hold hands and whisper prayers, to welcome new babies and to say goodbye to saints among us.  To walk with each other through the passages of life: what a deep and profound gift.
It would have been enough, Lord, to hear our own voices, but you gave us the sounds of Mary Oliver and Garrison Keillor.  It would have been enough to have one way to make music, but we have Bach and Handel and the organ and the voices of our children.  One book would have been an incredible gift, but we have been lavished with Dr. Seuss and E.B. White, Emily Dickinson and Annie Dillard, Wordsworth and the Apostle John and Anne Lamott and Frederick Buechner.
It would have been enough to be blessed with arms open to receive God's gifts, but we are also blessed with the chance to participate with creativity and imagination in bringing healing to a broken world.
It would have been enough for you to offer us love once, but your love comes over and over again, every moment of every day, and it is so much more than enough.