Proverbs 17:22 A cheerful heart is a good medicine, but a downcast spirit dries up the bones.
Well, it begins.  Next Sunday is the first Sunday of Advent, which means we're celebrating Thanksgiving this week, and I know as well as you do that the craziness of the holidays is upon us…and has, in actuality, already been here for quite some time.
You may not know this, but Thanksgiving is not actually a liturgical holiday.  If we were doing things strictly liturgically, we'd be talking about Christ the King Sunday today.  But there are theological issues with talking about Christ as a "king," as Carol Blythe would tell you.  And, the reality of our day to day living leads me to believe that if we don't take a moment to talk about Thanksgiving, about the spiritual practice of gratitude, we'll only get dragged along toward Christmas without even the hope of celebrating Advent in these intervening weeks.
And you'd think that talking about the spiritual practice of gratitude this week works well with our four-week sermon series, "Morality Tales," in which we've been taking a tour through the Proverbs (okay, not really a tour…just a verse a week, which would make a total of four verses).  We're basically trying to step out of our comfort zone, our typical practice of following assigned lectionary texts and staying largely to narrative passages—stories.
As you know, we try to be rather rigorous in our study of scripture around here, so pulling one verse out of its historical and literary context and applying it to our lives as a "moral lesson" is really out of character for us.  But that's exactly what the Proverbs were written to do—they are a collection of small wisdom sayings that were assembled into a book.  They don't necessarily have any literary connection to each other, but they are all meant to be little reminders about living whole and healthy lives.
So, just because this is out of our comfort zones doesn't mean we can't try to glean a bit of spiritual direction from these wisdom sayings that are largely topical in nature.
I had, of course, picked our Proverbs well ahead of time, based on their familiarity.  But as we approached this Sunday I decided to rethink: to do a search of the Proverbs to find one little wisdom phrase that would sum up everything we need to remember as we go into this week ahead of us—you know, something about giving thanks or being grateful or something.
Right before the book of Proverbs, of course, is the book of Psalms—the songbook of the Bible, in which there are many Psalms of thanksgiving, singing thanks to the Lord for any number of things.  With that in mind, I started searching for the very best Proverb on giving thanks.
Shockingly, I found that there is…none.  Not one Proverb mentioning thanksgiving or gratitude.  None!
This discovery was quite unsettling.  How could there not be one verse in the entire book of Proverbs about giving thanks?  Disbelieving, I turned back to the Proverb I'd selected for today: Proverbs 17:22 A cheerful heart is a good medicine, but a downcast spirit dries up the bones.  And, the more I thought about it, the more I thought that this Proverb may be better for us this week than a directive to give thanks.
Why?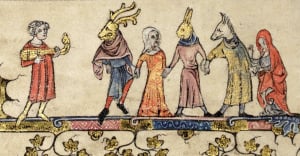 Because a life lived with true gratitude is something deeper and more challenging than reciting a yearly reminder about giving thanks.  A life of gratitude is an entire way of living, in thanks for and in spite of the circumstances.
What I mean by that is: I don't know about you, but at my house growing up (and even now) there was always a flurry of activity, a lot of stress, dragging out the tablecloths and silver that had been stored away all year long, arduous trips to the grocery store which, inevitably, upon return home you would discover the one thing you forgot…so you had to go back, and when you got back to the grocery store you couldn't remember what you forgot?  Then, finally, everybody gathered around the table—usually somebody was mad at somebody else, or at the very least the seats were assigned, "politically,"—and then we'd all do our best to recreate the Norman Rockwell Thanksgiving painting, "Freedom From Want."  And then, usually Mom would say: "Before we say grace, let's all go around the table and share with each other one thing that we're especially thankful for this year!"
Can I get a witness?
And as we went around the table we'd all try to sound more virtuous than the next: "I'm grateful for food to eat." "I'm grateful for my family." "I'm grateful to live in a country where we can worship freely."
And it wasn't that we WEREN'T grateful for those things—of course we were and we are.  But the work of gratitude is deeper and harder than this once-a-year recitation—you know it and I know it.  And, as it turns out, this work is laid out pretty succinctly in this proverb:
"A cheerful heart is a good medicine…."  That is, perspective—active gratitude that stays at the forefront of our lives, informing our behavior each and every day—is good for us.  It gives us a lens through which to view the world, a lens that helps us see clearly, even in the hardest and most pain-filled moments of our lives, that we have so very much to be grateful for.
What's the alternative?  Again, clearly stated in this proverb: "but a downcast spirit dries up the bones."  That is, when we live resentfully focused on our own pain or misfortune, the things we have in less measure than others, the circumstances that aren't fair at all…well, then our hearts become dried up and shriveled, unanimated and uninspired, self focused and myopic, limited and limiting in such a way that cuts us off from others and breeds bitterness and anger that can eat us up inside.
You know it as well as I do.  And this is not an exercise in diminishing our pain, but rather an opportunity to open our hearts, to view the world in such a way that we see gifts and possibilities instead of burden and limitation.
As you go into the week ahead, I hope you can think of something really awesome to say you're thankful for at Thanksgiving dinner—something way more virtuous-sounding than your sister sitting next to you.  But more than that, I hope this Thanksgiving you and I can take an opportunity to shift our perspective, to live our whole lives—not just one day a year—with gratitude that is good medicine, that heals us and makes us whole, even in our most broken places.
Today I want to finish the sermon a bit differently.  You probably don't often get a chance to watch CBS Sunday Morning—I know I don't.  But I happened to see this segment recently, and the powerful ways in which it speaks to the challenge of living with gratitude far exceeded anything I could leave you with today.  Perhaps, upon watching this, you'll be convinced that living whole lives of gratitude—more than just an exercise once a year at family Thanksgiving dinner—can actually heal us—heal us from some of the deep pain we carry, and set us to living joyfully in this world filled with so many gifts.
See what you think: