Calvary had the holy honor of affirming the ordination of Rev. Allyson Robinson this past Sunday. As more LGBTQ brothers and sisters gather the courage and step into the opportunity of a fullness of life on every level, the church has the wondrous opportunity to be present in these beautiful moments, to name the work of God in a life and in the world, and to declare for the world the blessing of God. Below is the liturgy we used on Sunday. What an honor for me, what an honor for the Calvary congregation. Congratulations and many blessings, Rev. Allyson Robinson.
Throughout the biblical witness there are occasions of God intervening in the human story, shifting perspective of the most unlikely characters, and setting them on a course to change the way the world understands God's work in and among humanity.
Very, very often, this intervention involves a fundamental shift in identity.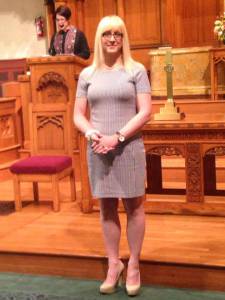 Sometimes that shift happens with a change of vocation; many times it happens with the start of a journey; and very often it happens with the giving of a new name. From the start of our biblical story we have come to know characters whose lives have displayed this: Abraham and Sarah, Moses, Joseph, Mary Magdalene, Peter, Paul. In the shadow of their witness, it would be wise of us to take a moment and notice how God is working to intervene in the human story through our very own lives.
Today, we, the community of Christ at Calvary Baptist Church, are doing just that. We are pausing to notice God's work here, and to affirm that work by blessing one who has lived a life of faithful witness among us.
Allyson Dylan Robinson is a minister of the gospel, trained for the task, and ordained to the gospel ministry by another community in which she has served as pastor. Over the course of her journey, God has invited her to step into the faithful witness of a new identity, a true identity, and a new name.
While we have always known her as Allyson, she was ordained with a different name.
And so, today, as witnesses to the ongoing work of God in her life, we want to pause to bless her, to reaffirm her ordination as Rev. Allyson Robinson, to add our voices to the many that witness God's good work in and through her life.
I'd like to invite Allyson to come forward now to speak again the vows of ordination and to receive her community's blessing and affirmation.
Moved by your love for God and a sincere desire to proclaim the gospel of Jesus Christ, do you reaffirm your commitment take upon you this holy task and faithfully serve?
(I am ready, the Lord being my helper)
Will you tend the community of Christ committed to your care, serving in the capacity to which you are called with faithfulness and integrity?
(I will, the Lord being my helper)
Will you continue to faithfully administer the ordinances in purity; preach in such a way that listeners come to know God; proclaim the gospel of Jesus Christ; lead disciples into the presence of God and God's healing Spirit; guide them in the way of Jesus?
(I shall so endeavor, the Lord being my helper)
Will you endeavor in the strength and grace of Jesus Christ our Lord to live a life of sincere discipleship; to tend to your own spiritual life, faithfully pursuing relationship with God and a deeper understanding of God's work in your life and in this world; and to faithfully discharge all the work of the ministry entrusted to you?
(I shall so endeavor, the Lord being my helper)