Tonight I had the opportunity to share my experience of traveling to Ferguson, MO yesterday. And as our church community made its way to worship tonight, our city was, and is, erupting in protest over the decision in Staten Island not to indict the officer who killed Eric Garner. The hopelessness we felt hung heavy in the room. And, the tears and stories and music and candles and hands clasped reminded us: we're not alone. And so, we will go on. Here are the words I shared:
I went to Ferguson, Missouri yesterday. I went to attend a faith leaders' meeting, where 30-40 faith leaders from all over the country were invited to travel to Ferguson and to talk with each other about the Church's response to growing unrest in our country about rampant racial injustice, income inequality, and cultural wounds that fester unattended until someone else gets killed and people start paying attention.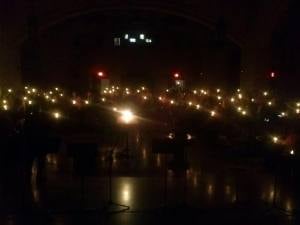 That's why I went to Ferguson, I would tell you.
But maybe the real reason I went to Ferguson with a bunch of people, most of whom I don't know, is because, perhaps like you, I have watched the news these last 117 days since Michael Brown died and have lived with a growing sense of dis-ease. I suspect there are deep changes that need to happen; I suspect there is a gospel mandate in our response—the church must be a leader in this response.
And, most days I don't know what to say or think or do. I just don't.
That's why I went to Ferguson, really.
Here's what happened.
Very early yesterday morning I got on a plane with some colleagues from Union Seminary. We landed in St. Louis and you could feel immediately a shift in culture. It's the Midwest—the racial divide, though subtle, was clear. Everywhere people were talking about Ferguson, and on the van to the rental car office I overheard a conversation that set the somber tone for the trip. A man sitting across from me was telling a friend what a shame the Ferguson situation was. There's one of the best Italian restaurants in Ferguson, you know! Too bad he would never going back there again—those people up there are crazy.
I listened and I confess that I wondered if he was saying such things in such a loud voice so my friend, the only African American in the bus, would overhear. I looked over at my friend with a question in my eyes and he said, "It's okay—you get used to it."
Maybe that's what's wrong. Maybe we're too used to it.
Shortly after we arrived at a Catholic retreat center in South St. Louis, we were introduced to a panel of folks from the St. Louis community. They were lawyers, politicians, academics, and even the former Police Chief of St. Louis County. Here's what I learned about the community of larger St. Louis:
St. Louis, by the panel's description, is a very fragmented city, with over 90 municipalities, each with its own government, police force, mayor, etc.
St. Louis is a border town to two rivers, the Mississippi and the Missouri Rivers. Our panelists told us that one had been a tributary for the slave trade; the other a highway for white flight.
Because of the fragmentation in the city, the systems in St. Louis reflect no parity. There are gross racial inequalities in the educational systems, medical systems, recreational facilities, mental health services. One academic described a map he and his research has produced; he called it, "the geography of inequality."
St. Louis has the 3rd largest United Way annual giving campaign in the country, which is to say that the community is very good at providing services. When Michael Brown was killed, for example, agencies stepped up to make sure there was food in the food pantries of Ferguson. But while there is a huge culture of charity, there is very little structural change or even accountability happening. The city desperately needs people working in areas of organizing, training, building capacity. Why? Because what happened in Ferguson 117 days ago is not an anomaly in St. Louis; two more young black men have been killed in that city since Michael Brown died.
Policing in the city of St. Louis has evolved from a model of community policing, where we shared relationships and watched out for each other, to almost a police state kind of feeling. (Late last night we drove by the Ferguson police department and saw police lined up in riot gear along the streets. This was, for me, perhaps the most gut wrenching, stunning sight. In America? This?) The former police chief of St. Louis County told us that whenever you need a police force to control your community, the system has failed. Because when people don't perceive the system as legitimate, when people do not have a voice in the conversation or relationships on which to build, you cannot control them. You can't. Violence doesn't stop until everyone has a seat at the table.
With that context, we all boarded a bus and made four stops.
First, we stopped at The Big Mound. This is a site where an Indian burial ground was destroyed so that the city of St. Louis could build a massive highway, under which there is a large correctional facility. The sight was striking: a huge new highway; a tiny plaque marking the former holy site; a sprawling correctional facility. The stop was meant to show us: something is wrong here.
Second, we stopped at the St. Louis courthouse, where Dred and Harriet Scott brought a lawsuit in 1857, asking for their freedom. That case went all the way to the Supreme Court, where it was ruled that African Americans were not, in fact, citizens, and as such did not have the right to sue in federal court. It was striking to stand there on the courthouse steps, where slave auctions took place, and look toward the Mississippi River, across which is the state of Illinois, a state in which those slaves would have been free. They could see it, but they couldn't reach it. This stop was meant to show us: the wounds of systemic injustice run deep; they are stamped on our psyches through generations of history; they will not let us rest.
Third, we stopped at the apartment complex where Michael Brown was killed. The road where he lay for 4 ½ hours after being shot runs through a quiet, middle class apartment complex. My first thought was: "What must it be like to live here now?" In the middle of the road where he died and along the sidewalks there are makeshift memorials—notes, flowers, stuffed animals. I didn't stay there long; I went back to the bus, because it felt to me a bit like voyeurism. And, while any child's death is tragic, what I came to Ferguson to learn was not about Michael Brown. This stop showed me: making this about Michael Brown will cause us to miss the boat, to miss the deeper opportunity of this moment to confront large and insidious structural problems to which Michael Brown fell victim.
Last, we stopped at Greater St. Mark's Family Church in Ferguson, where we met the pastor of that church that has had its doors open 24 hours to shelter protesters who needed a place to rest, get something to eat, charge their phones. This church, as you may have heard on the news, has been breached by police three times. We shared a meal last night with 8 young organizers who have been on the front lines protesting in Ferguson and behind the scenes organizing volunteers for nonviolent direct action. They spoke with passion, as they did on Monday, when several of them met with President Obama at the White House. And they said, with weary voices, some very hard things.
They said:
"Where have you been? Why did you give up on the Civil Rights Movement without seeing it through?"
"We are not reliving the 1960s in this country; our movement looks different. It's more diffuse; there is an elaborate network of leaders. Don't criticize us because our work looks different from what you remember."
"We are not professionals. We don't know how to do this, and we don't have the answers! We just woke up one day and realized: this is wrong, and I don't want to live in a world where I have to fight to be…an American, a human being, …to be free."
"This is not about black people. This is about all people. Don't bother us with your curiosity unless you are serious about making society free and fair for all people, even if you don't agree with them."
"We are tired. We have spent the last 117 days acting as human shields, giving up our studies, our work to do this; running out of burning buildings, getting arrested and unfairly charged because of what we're doing. We are tired, and we need help sustaining this movement toward structural and economic and political change."
One of the pastors deeply involved in the work of these young people admonished us to listen to them; to give them the lessons of the Civil Rights movement without a critical assessment of their own work; to support them with our voices and our money.
She told a poignant story about one of the young women there with us that night. The pastor said that the group was in a meeting the night after the Grand Jury decision was announced. A bullet was fired through a window, nearly missing her and one of the others in the group, so the whole group exited the building. As they did, they encountered a group of young men carrying lighter fluid, intent on torching the building as an expression of their frustration and rage. A young organizer, early twenties at the most, stepped out into the middle of that group and said calmly: "We are with you. Don't do this. Help us make real and substantive change."
And the group dispersed.
I was struck by the eloquence and bravery of these young people. They were not angry, hormone driven teenagers. They were exhausted young people who spoke in the language of vocation and said over and over that they were called to give up their lives to fight this fight. This stop was meant to show us: there are people ready to make change; they need our support.
All day long I wondered: what does all of this mean for the Church universal? A few thoughts:
The Church has lost its voice. I am speaking here of the Church, large C. What we remember as a definitive authority in the Civil Rights movement of the 1960s is gone. It's gone. Why? Well, for one, we—both in individual congregations and in larger church organizational structures—are not organized to respond prophetically. We don't have a clear sense of what our gospel call is. Somehow it has gotten watered down, comfortable. We don't know each other and we spend most of our time fighting internally over who is in and who is out, and living with panic about our institutional decline.
And secondly, we have lost our standing in society. NOBODY CARES WHAT WE THINK ANYMORE. That may be a bit of an overstatement, but I share it to say that you cannot show up in a clerical collar and command the respect of the room anymore. I heard it in the voices of those young people: where is the church? What does the church have to say for my life, for this situation?
One of the clergy organizers gave us an example. The night the Grand Jury decision was announced, over 60 clergy members showed up on the protest line with garish, bright orange vests with the word CLERGY printed in large black letters on the vests. In the course of the evening—nobody knows exactly how—one female clergy member got caught in the middle of an altercation between police and protesters. In that altercation her vest was somehow ripped off—they all thought it was part of the scuffling. The next day, there was the vest, torn and hanging on a pole right out front of the Ferguson police station.
Given that—given the fact that our voice has been diminished, and largely by our own doing—how shall we respond? It's a question for the Church big C to keep exploring, but if you're like me, you probably want to know: what can WE do?
And that's the question that was closer to my heart as I rode on that bus. What can WE, The Riverside Church, DO…right now? What can we do? I heard over and over these past 24 hours that the greatest threat to this moment of decision in our society is apathy. The greatest threat is throwing up our hands and saying—this is too big and too complicated; I don't think we can do much to change things; I don't know what to do; oh well. If we give in to apathy we will miss an opportunity to make a change.
And every little change is movement toward transformation.
We are The Riverside Church. We are a place where change by the impetus of the gospel has been born. This is what we do so well. So I'll take a risk now and challenge us to five immediate responses we can take as a church.
First, we will begin immediately exploring how we will divest from any company supporting the Prison Industrial Complex in our country. I spoke to our Finance Committee chair today and that committee will move forward with this as soon as possible. Her words, "As fiduciaries, The Finance Committee is charged with prudent management of the church's portfolio as well as to ensure that our values are squarely aligned with it. We agree that those who fashion policy or wear police badges in Ferguson or Cleveland or Staten Island or "name the city" are more likely to respond to economic stimuli than they are to the violence and senselessness of rioting. Several calls have been made this afternoon to source investment ideas, term sheets and actionable solutions to address the brokenness of policing strategy in this country. Our partners, advisers and asset managers have been put on notice that The Riverside Church stands ready to put its own long term capital to work to bring about the change we wish to see in this world."
We can accomplish this in a matter of days, and by doing this we can send a message—a loud and clear message—that we will not participate in industry that profits at the expense of young black men of color, women and children of color, and our entire societal structure. Let's do it immediately and we will tell the world why.
Second, support. Let's support young organizers by giving them money, by sharing lessons learned in the Civil Rights Movement, by offering them respite, by standing in solidarity with them. I will be working with Union Theological Seminary to welcome these young activists for periods of rest and reflection to that campus and to our church. Make yourself available to share your wisdom. Don't criticize; stand with them. And let's send money. Give money—tonight, in the weeks ahead. Let's make The Riverside Church a visible supporter for these amazing young people.
Third, education. I heard over and over and over again in every forum yesterday that educational inequality is at the very core of every kind of inequitable system there is. Here at The Riverside Church we have three amazing programs that, from what I can see, have been largely peripheral to the life of our congregation these past years. The Weekday School, The Riverside Hawks, and the Riverside Language Program are all providing access to education and relationship in ways that are excellent and transformational. I have been talking with the leadership of all three of those programs to begin again building bridges to use these amazing Riverside-born efforts to reach out into our community even further. We don't need to start something new; we need to collaborate with the amazing things we already have here. Briefly, plans are in the works for an early childhood education component partnering with the families who use our food pantry, to provide early childhood education experiences in the amazing facility we have, for children who could not otherwise have access to such. Support this. The Riverside Hawks begin this year a literacy program to bring their players up to grade level and beyond. Let's volunteer, support, and own this effort. The Riverside language program is welcoming immigrants from over 30 countries to our building every day to learn English. Where will these new immigrants have Christmas dinner? They should be in our homes, building relationships with us, learning English and becoming part of this community.
Fourth, listen. I've invited Rev. Tracy Blackmon, a UCC pastor in Ferguson, to come to New York on December 18 to speak with a group of clergy about her experiences. She will be with us December 21 in worship preaching and you need to hear her. Listen. Listen hard.
Fifth, pray. Pray for each other, pray for the community in Ferguson, pray for our country. This is a pivotal moment for us. We need to keep praying for God's Spirit to help us see a vision and hold onto it tightly, to not be dismayed or discouraged, but to be brave and good and courageous in proclaiming what we know to be true.
I might tell you that I came home from Ferguson today overwhelmed, stunned, ashamed, scared. What I saw was so broken and so fear-inducing. On the surface that's what I would tell you about coming home from Ferguson.
And now Eric Garner. More fear, more rage, more feelings of powerlessness.
But sorting through those feelings, underneath it all, I realized there's more that I came home to. What I really came home to is this: a church that has a history and a voice, and a moment in which we are being challenged to find our own Fergusons and to listen closely: if what you hear does not align with the gospel, you must change it.
We must change it.