As the days have passed since the verdicts in the Eric Garner and Michael Brown cases and, as Charles Blow so eloquently describes, "the jagged slope of truth replaces the soft slope of fantasy," all of us have watched the protests all around the country, wondered about the ways in which our own hearts and minds need to change, and pondered the challenge and opportunity of a thoughtful response. I'm deeply grateful for the ways in which you have shown up to pray and act and be in community during these days.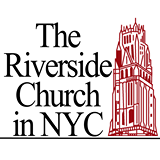 Last week, as you know, I traveled to Ferguson, Missouri. When I returned, I articulated five areas around which we, The Riverside Church, might fashion an ongoing response to recent events. It's of deep importance to me that whatever we do together be thoughtful, coordinated, and have lasting impact. To that end, your staff has been working hard to coordinate our response, and I wanted to update you.
Divestment/Investment. Thanks to the work of the Finance Committee, we have looked closely at our investments and insured that we are not actively investing in any company that supports the prison industrial complex in this country. With that assurance, both the committee and our staff have taken this response as a challenge to be even more proactive making sure our money sends a message about our values. The Finance Committee is now working on a statement of responsible investing, and our operations staff is auditing our vendors to make sure we do not do business with companies actively supporting the prison industrial complex.
Support. Our church has sent a financial gift to a UCC church in Ferguson to support the work of organizers there. Our money will help fund the training of nonviolent protesters to keep the movement there alive. You can give money to help, too, by giving through this link https://donate.theriversidechurchny.org/responds or by making a notation on your check.
Education. As I said last week, it is universally acknowledged that education is a key factor in changing systems. We have several programs in our building that are already doing amazing work in our community. Our staff has worked with their leadership to find actual, hands-on ways you can participate and support their work. Here are some:

The Riverside Hawks: congregants will be working with Riverside Hawks players to conduct educational workshops on racism based on the curriculum that was developed from Michelle Alexander's book, "The New Jim Crow." You can join in.
The Weekday School: congregants are in the planning stages of developing a way to contribute to the fundraising efforts of the school ($150,000) in order that 15 underprivileged kids would be able to attend the school; I am personally contributing, and I'd like to invite you to join me.
The Riverside Language Program: you can donate money, subway cards, and other tangible support for students. You can welcome students into your home, or spend time in conversation with students who need to practice their English.
To participate in any of these or explore other ways to be hands on, please contact Carol Nixon at 212-870-6853 or response@trcnyc.org.
Listen. Last Sunday we began a three week Advent Sunday School class called "Advent of Hope: Conversations About Race and Reconciliation." Please join us for ongoing study and reflection as Advent continues. Further, on December 18, next Thursday, we will host a breakfast for clergy and others at Union Theological Seminary, at which we will hear from our friends in Ferguson and participate in an action together. Please register here: bit.ly/UnionAction. And join us. We'll gather the night before, Wednesday the 17th, to make signs and to meet some of our Ferguson friends at Space for Grace. Stay tuned for more information.
Pray. Please join me in ongoing prayer for our community and our country as we live through these hard days. Look for a prayer station set up at the church, where you can come to pray. And, of course, it's so critical to be present in worship as often as you can. Remembering who we are together will help us sustain a shared public witness.
Thank you all again for your commitment to living gospel transformation in the world. Together, The Riverside Church is reminding the world that God's dream for beloved community is coming to be here, among us. And we can help it happen for our larger human family, too.
God's peace to you all,
Pastor Amy