Illumine Joy
In and among this reality of human life we come today to the third Sunday of Advent, the Sunday of joy, when we read the words of Luke's gospel, a song attributed to Mary, the mother of Jesus. You may know it as The Magnificat, Mary's treatise about the state of the world and her stubborn insistence that it doesn't have to stay that way.
You'll recall, as the story goes, an angel came to a young, unmarried woman and told her she would give birth to a baby. That all sounds so nice and sweet to our modern ears, given perhaps, as the NY Times reported a couple of years ago that more than half of the women under 30 who gave birth in the US in 2012 were unmarried.[1] That, however, was not the case back in Mary's day. She was likely a young teenager in a culture oppressed by Roman rule and held together by strict social and cultural rules in which women were like property. A baby out of wedlock rendered a woman damaged goods; her life was ruined.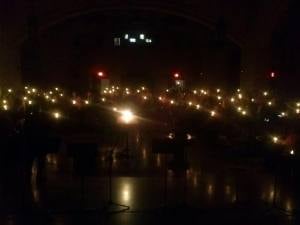 On this Sunday of joy we note the desperation of Mary's situation. Her life is scored with discordant notes of fear, desperation, uncertainty, devastation even. And still, she sings a song of liberation and freedom, of righting old, old wrongs, of bringing life and healing and hope into a situation—into a world—where these are not readily apparent.
She sings them in the past tense as if to say: "Even in the middle of all of this pain, I already know what God is up to. I defiantly claim joy—God has already redeemed even the darkest pain of my life. You feel sorry for me? Don't, because God has scattered the proud, brought the powerful down from their thrones, filled the hungry with good things, and kept his promise. God has already done it. And God will do it again."
This is joy. Speaking promise into pain. Not sugary, smiley, everything-is-just-great giddiness, but an assurance in the middle of the desperation, that this is not the final word for us.
Writer Joyce Hollyday writes of visiting a Salvadoran refugee camp in Honduras, where injustice and suffering were daily realities. Yvonne Dilling, a church worker there on mission from Indiana, told a story of a refugee woman who asked her why she always looked so sad and burdened.
Yvonne answered by talking about the grief she felt over all the suffering she was witnessing and her commitment to give all of herself to the struggle of the refugees.
"The [refugee] woman gently confronted her [and said]: 'Only people who expect to go back to North America in a year work the way you do. You cannot be serious about our struggle unless you play and celebrate and do those things that make it possible to give a lifetime to it.'
And they meant it, too. Every time the refugees were displaced and had to build a new camp, they immediately formed three committees: a construction committee, an education committee, and the comite' de alegria—'the committee of joy.' Celebration was as basic to the life of the refugees as digging latrines and teaching their children to read."[2]
Mary's words are not words to take lightly; they are defiant, subversive words whenever they are spoken. She sang them in the face of a culturally devastating pregnancy, a life ruined. But what about us? How can we sing words of joy in this season that reminds us at every turn how broken our lives and our families are? How can we sing words of joy in a city and country shocked again by the racial injustice permeating our society? And how can we sing them today, two years since the day that 20 innocent children died in an elementary school and we pretended to be outraged but still have done little of substance to address gun violence? Sing words like this into situations like these?
Yes, yes, like Mary, we will, because this is the radical act of Advent. Of joy: the unwavering insistence that God has already done what we cannot manage to do on our own, and we will celebrate that. We will raise our voices and sing defiantly of the God who shows up in barren places and creates life out of death. We will sing with Mary, "For the Mighty One has done great things for me, and holy is his name!"
And we will hear now the voices of our children, the very embodiment of subversive joy, who remind us that, in what seems like overbearing darkness, Christ is our light.
[1] http://www.nytimes.com/2012/02/18/us/for-women-under-30-most-births-occur-outside-marriage.html?_r=0
[2] Joyce Hollyday, Clothed with the Sun: Biblical Women, Social Justice, and Us, (Westminster John Knox: Louisville, 1994), 225.