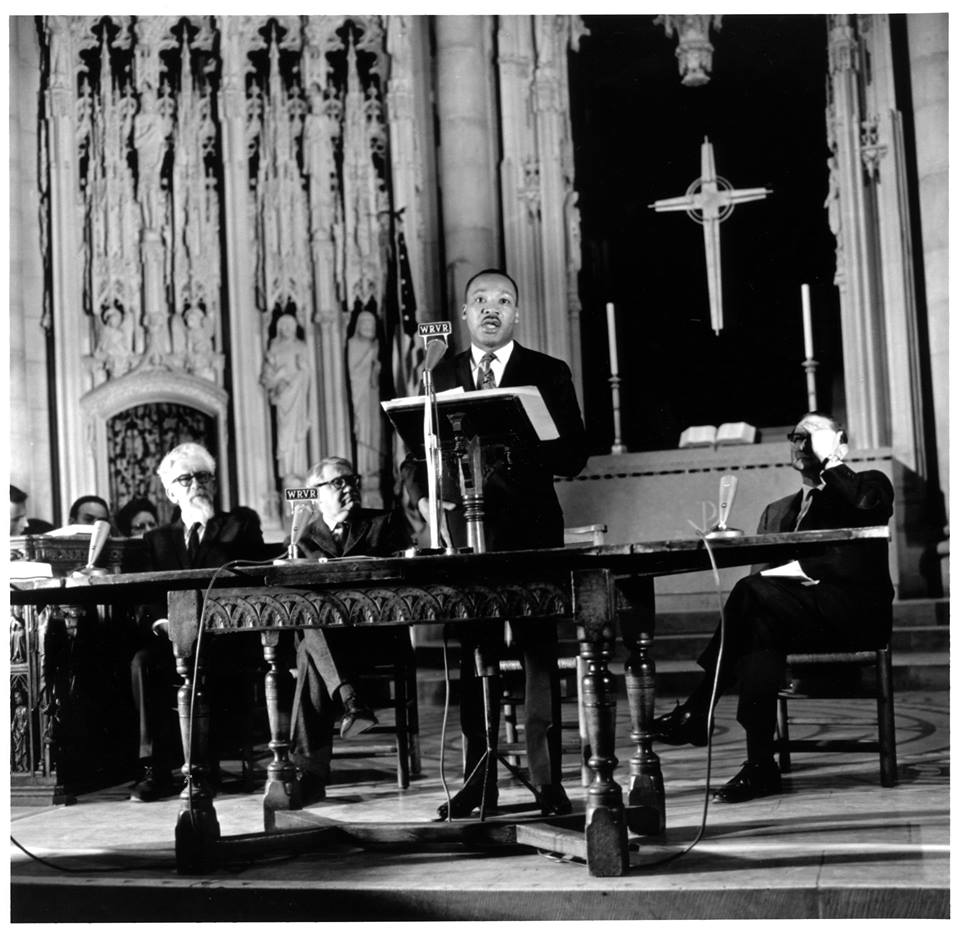 The following are remarks I shared at the Martin Luther King, Jr. Day Service at The Riverside Church on January 18, 2015.  As you will see, Dr. King had a strong connection to this congregation; it was an honor to celebrate his legacy here.  Special thanks to church archivist Ricki Moskowitz, who helped unearth historical details.
Today we gather to recall Dr. King's personal reach to this congregation and his greater reach to our country and the world.  Surely, his words called forth in us dreams for what we might dare to become together, dreams that were unrealized in his lifetime.  We gather to remember him and celebrate his legacy because we can still hear his voice echoing over the years, reminding us of what we might become together.
On August 13, 1961, Dr. King delivered his first sermon at The Riverside Church, entitled "Paul's Letter to American Christians" right in the middle of the 1961 "Freedom Riders" civil disobedience protests. From May through November of that year, hundreds of activists faced arrests, jail time, extreme hatred, violence and police brutality, all in order to test and draw attention to the 1960 US Supreme Court decision that declared segregated facilities for interstate passengers unconstitutional. Through these efforts, in November 1961, the Interstate Commerce Commission prohibited the use of segregated terminals for all interstate carriers.
Dr. King preached his second sermon at The Riverside Church, "The Dimensions of a Complete Life" on November 18, 1962. In the months before Dr. King's sermon that November, the Fifth Circuit Court of Appeals ordered the University of Mississippi to admit James Meredith, the first African American student to attend the university, and a constant and brave activist in the Civil Rights Movement. And just two days after Dr. King stood in this pulpit on that occasion, President John F. Kennedy issued an executive order on November 20, 1962, which prohibited racial discrimination in the sale, rentals, or use of all federally owned housing and all housing built or to be built with the use of federal funds and support.
Seven Sundays before Dr. King delivered his third sermon at The Riverside Church, entitled "A Knock at Midnight," 1964 "Freedom Summer" volunteers James Chaney, Andrew Goodman and Michael Schwerner, who were helping register people to vote, were murdered by Mississippi klansmen. Twelve days after that violence, President Johnson signed the Civil Rights Act of 1964. On that preaching occasion, I'd imagine the atmosphere in this Nave to have likely been somewhat bittersweet. There was much to celebrate, with the signing of the Civil Rights Act. Yet, no one could help but think of three young activists, so recently tortured and murdered, and two of them, Goodman and Schwerner, natives of New York.
In March 1965, the Southern Christian Leadership Conference organized the pivotal voting rights march from Selma, Alabama to the state capitol in Montgomery. Several hundred activists were beaten and tear-gassed by state and local police on March 7th as they reached the Edmund Pettus Bridge. Known as "Bloody Sunday," the police violence and our national shame was broadcast around the world. Two days later Dr. King led over 2000 marchers across the bridge and President Johnson addressed a joint session of Congress on March 15, calling for the passage of a new voting rights bill.
Under federal military protection over 25,000 people began the march again, finally reaching Montgomery on March 25th. Just over four months later, the Voting Rights Act of 1965 was signed into law, three days before August 8, 1965, when Dr. King preached his fourth sermon at The Riverside Church, "The Man Who Was a Fool."
Dr. King preached his next sermon, "Transformed Nonconformist," from the Riverside pulpit on January 23, 1966, three days before he moved his family to Chicago to work on drawing attention to poor housing conditions and other issues of urban poverty, discrimination and injustice.
And on April 4, 1967, Dr, King spoke in this Nave for the last time. During a conference of the group, Clergy and Laymen Concerned about Vietnam, Dr. King delivered his speech, "Beyond Vietnam: A Time to Break Silence."
This address is considered to be one of Dr. King's most consequential and bravest speeches. Many colleagues in the civil rights movement urged him to not deliver this speech. They believed it would alienate or worse, enrage allies. Nevertheless, Dr. King would not be dissuaded; he felt delivering this message was a matter of "conscience."  In this address, Dr. King publicly condemned American involvement in Vietnam and he demanded we embrace a mission to combat the real enemies of our society: racism, classism, inequality that kept people down and divided from one another. His words on this occasion:
"Our only hope today lies in our ability to recapture the revolutionary spirit and go out into a sometimes hostile world declaring eternal hostility to poverty, racism, and militarism. With this powerful commitment we shall boldly challenge the status quo and unjust mores and thereby speed the day when every valley shall be exalted, and every mountain and hill shall be made low, and the crooked shall be made straight and the rough places plain…Now let us begin. Now let us rededicate ourselves to the long and bitter–but beautiful–struggle for a new world."
In the next few minutes, hear again the words of Dr. Martin Luther King, Jr., words that called forth the conscience of a nation; words that enraged those who held power and wielded it to suppress the voices of those who objected; words that gave other voices the courage to speak; words that cost him and others their lives.
And, as you listen to his words, consider the way in which you use your own voice, because he would not want us to gather here to enshrine his memory and bind his words to a limited historical context.
He would want, instead, for you and me, people of faith, to find our own voices, our own words, to speak truth to power, to insist that righteousness be the order of the day, to keep speaking until this church and the world in which we live truly becomes the beloved community, you and me and all of us, together—God's best hope for the whole world.