Happy Pride weekend, New York City!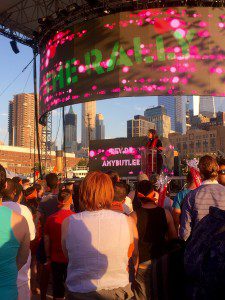 I bring you greetings tonight from our community in which the oldest LGBTQ religious organization in America is vital and thriving.  For almost fifty years The Riverside Church has welcomed, affirmed, and celebrated our LGBTQ brothers and sisters, working to create a community so diverse and beautiful that it constantly reflects the love of God for the whole world, the truth that, even in this broken and pain-filled world, it's love that will always have the final word.
This Pride weekend as I look out at all of you gathered here in this beautiful, messy, colorful celebration, I can only think one thing: LOVE MARCHES ON.
As preachers rail for "traditional values" and bakeries screen wedding cake customers, marriage equality is now legal in all fifty states, because…LOVE MARCHES ON.
As bathrooms become battlegrounds and the land of the free seems like a country where some people are still enslaved to unjust laws and exclusionary policies, still…LOVE MARCHES ON.
As hate-filled picketers perverting Christianity protest funerals, angels spread their wings and raise their voices in amazing grace…and LOVE MARCHES ON.
And in the wake of the deadliest mass shooting in our nation's history, an act of violence and bigotry targeting members of our community who have already suffered too much.  We show up today and LOVE MARCHES ON.
No matter how strong hatred seems to be, it cannot stop love from marching on.  When the families
we're born into cannot love us for who we are, love will march on in the families of our choosing.  When our houses of worship fail to provide sanctuary, love marched on when we find a holy welcome in other sanctuaries and grace-filled communities.  When the world sends the message that we are marginal, other, outsider, we will gather in massive, celebrating crowds to show we are here, together, because LOVE MARCHES ON.
Love will not be stopped in its relentless pursuit of this world, of our communities, and of our lives.  Because we are all, every one of us, beloved children of God, precious reminders that hate will never win, and LOVE MARCHES ON.
(Brief remarks delivered at NYC Pride, June 24. 2016.)