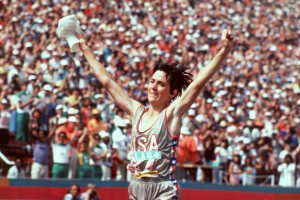 I don't know about you, but I haven't given much thought to what I'd like printed on my tombstone. I guess I've never really thought that choosing what appeared on my tombstone would be my responsibility. Apparently, however, some people do, and they spend considerable time thinking about what their last word to the world will be. I hunted around for some epitaphs of note this week, and here are a few I found:
"I knew this would happen."
"He never voted for Republicans, and had little to do with them."
"I was supposed to live 'til 102 and be shot by a jealous husband."
And, on Merv Griffin's tombstone: "I will not be right back after this message."
The passage we heard today from the very last part of the book of 2 Timothy seems to be something of an epitaph, a concluding few words from the writer of that letter to someone we presume was a beloved friend and student. And today we finish up three weeks of sermons on passages from 2 Timothy, a set of instructions about how to navigate organizational challenges and conflicts within and around the early church.
As you know if you've been around these past few weeks, so much of the language in these letters is built around a sports metaphor—references to the life of an athlete as it compares it to the life of faith. The writer of 2 Timothy seems to think that essential qualities of an athlete: strength, endurance, and flexibility, are characteristics that are also important for the life of a disciple.
Recall, the first Christians struggled to live their faith in a first-century world that found their small communities strange and threatening. Many of those Christians were persecuted for their faith, almost all of them had given up family, stability, comfort, societal position to become followers of Jesus. Their lives and their faith were characterized by hardship that you and I can barely understand.
Parsing what seems to be a farewell letter from a mentor to a younger student or friend, we began our consideration of 2 Timothy by remembering the gift of what lies behind—how so many who have gone before us modeled for us the kind of strength we would need to live the life of faith, and cheer us on when we get weary. Two weeks ago our passage talked about what lies within—the faith we claim that we can return to again and again when endurance is what we need. Today: what lies ahead. The promise of a strong finish that we must hang onto when it feels like we've already reached the end.
"What lies ahead" may seem like overly optimistic language, as today's passage seems to be something of an epitaph, an ending. It contains the most familiar verse in 1 and 2 Timothy—we read it often at funerals: "I have fought the good fight, I have finished the race, I have kept the faith…". The writer of 2 Timothy is tired, beleaguered, and, in short, finished. You'll notice our reading today leaves out several verses, which, if you go back and read them you'll see they sort of read like a last will and testament—some personal instructions, final warnings, tying up loose ends. The writer discouraged by the resistance he's met, warning of folks who claim to be part of the Christian witness but behave in destructive ways, and he's just plain tired. The whole chapter sounds as if he's about ready to put in the order for an inscription on his tombstone.
But the very curious thing about this passage for us modern biblical scholars is the note that, while we read these verses often in the liturgy of a funeral…nobody in this passage is dead. While the writer of 2 Timothy may have felt like giving up, he is not at the end of his life just yet. And when you're not dead yet, then the question is not really: "What do you want printed on your tombstone?," but rather: "What lies ahead…and how can I flex my muscles just enough to take on the immediate challenge with which I'm being presented?" And this morning this is the question the text offers us Christ-followers, too. When we feel like we're at the end, the discipline of the Christian life invites us to ask instead: what lies ahead?
I have been disgusted of late, as I am sure many of you have as well, with all the news coming out of our presidential race. In particular, the comments we have heard about women are unacceptable—not just the words and behavior of Donald Trump, but also and perhaps especially the excuses and accommodations we've heard (most egregiously from the Christian evangelical right, people who claim to be the most ardent followers of Jesus' gospel). It seems ludicrous in 2016 to even have to stand in a public pulpit and say that women have equal gifts, abilities, and rights as men, that every girl and woman deserves respect, but apparently this is still a question for some people. It seems especially appropriate, then, to illustrate this call we have as Christians to embrace with courage what lies ahead, to keep faithfully moving toward the goal of finishing the race, by telling you a story…about a woman.
I was only 14 years old: a freshman in high school, but Rev. Livingston, who was well into adulthood by then told me he was there, in the stands, on the hot, muggy summer day in 1984 when the first women's marathon was run at the Olympic games in Los Angeles.
Joan Benoit was the American runner. She opened up an early lead and held on to it for the entire race, even though the steamy heat made running excruciatingly difficult that day. As she neared the stadium for the final lap her picture was up on the monitors. The crowd saw her coming, and when she entered the stadium they went wild. It gave me goosebumps just to watch that part of the video, to see those people leap to their feet and roar their approval. They cheered her all the way around that final lap and when she took a victory lap, carrying an American flag, it seemed they cheered even louder.
But that wasn't the part of the race people were talking about the next day. The next day, everyone was talking about Gabriela Andersen-Schiess, the Swiss runner who finished 37th out of 44, who took that last lap leaning to the left, barely able to stay upright, exhausted, dehydrated, overheated—staggering on legs that would no longer obey her will.
When she talked about that finish years later she said, "I wish I could have had more water. I missed that last water station. I just got dehydrated…and that was my main problem. My head was still functioning. I knew where I had to go and I kind of told myself, 'Try to keep running. Try to stay upright.' But my muscles just didn't respond, so then, it just deteriorated over the last 400 meters…I just started to fall apart."
If you watch the video you will wonder how she managed to stay on her feet at all. One television commentator suggested she had brain damage and begged someone to stop her. In fact, there was a lot of criticism from the press—they said the doctors on the sidelines should have intervened. But the doctors there could see she still knew where she was going, she could see what was ahead and she wanted to get there. So they let her keep trying.
How did she do it? She said, "I distinctly remember the last mile. I had to slow down. I really remember coming into the final tunnel and thinking: I don't have that far to go. But when I got into the stadium the heat was more intense in there."
"But having just made it that far…I had to try to finish. At that point it was just: I'm in the Olympics, I want to finish this race, this is my one and only chance! I was so happy that I got to the finish line. I didn't care about anything; I just was so glad I made it. At the time I would have traded anything for tenth or fifteenth place, for not having lived for the whole world what I thought was me making a spectacle of myself."
"But now looking back with time I can see that people identify with me because they saw my struggle, and they see if you set your mind to accomplishing something you can overcome a lot of obstacles. Looking back on my experience I would tell others who are struggling to take one more step: just look forward and don't dwell on the obstacles."
Look up, at what lies ahead…and keep going.
That's really a fundamental challenge of the Christian life, isn't it? We run the race of faith because, like the beleaguered writer of 2 Timothy, we believe with all of our hearts that we are part of something bigger than just our one little life.
And because of that conviction, we live as people who are not preoccupied with the end, with carefully composing the perfect, pithy phrase that will be carved onto our tombstones.
The end, after all, is up to God.
What must occupy us instead is what lies ahead; the day-to-day living of Christian life, running the race of faith…one step beyond where we are right now, and summoning the courage to flex the muscles of our faith one more time to keep moving toward what's next.
Nobody knows exactly what happened to the writer of 2 Timothy. Scholars think that whoever wrote this letter—Paul or somebody else—was certainly imprisoned when he wrote it and probably headed shortly for execution. But when he wrote this letter, he wasn't at the end yet. And even though it may feel like the end for us sometimes—a situation where taking even one more step seems just out of the question—the very basic truth of the matter is this: the end doesn't belong to us. It belongs to God.
What is in our purview is what lies immediately ahead: the next step, the next task, the next challenge.
If you feel you are nearing the end…of your strength, of your courage, of your hope for a better tomorrow, hear the voices that speak from the pages of ancient scripture, the stories of many who have run this same race of faith, who have felt this pain, who have asked all of these questions before us. And then take a page out of their playbook and remember what lies behind: the terrain you have already traveled, the impossible feats you have already overcome.
Don't forget what lies within, the faith that has been planted deep in your hearts, a wellspring on which you can draw in times of desperation and parched need.
And for sure, don't forget to raise your eyes to take in what lies ahead. There may be a long road stretched out in front of you, or just a few steps. Whatever it is, it's enough to remind you that right now is not the end. It's just the next invitation to keep on going.
Amen.