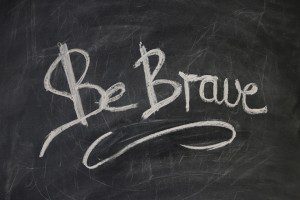 For these weeks on Sunday mornings we're doing the work of worship: hoping to try to demystify different parts of the worship service.  You'll notice your annotated bulletin; you heard the exegetical summary of the gospel text.  It only seems fair that at least one of these weeks you get a little bit of insight into how the sermon gets written.
It's the biblical text that always take the lead in the sermon, so every Sunday it's the preacher's job to help us find a way into the passages we've been given—to open an ancient text to the eyes and ears and hearts of modern readers.  A good way to do that is often to tell a story, or better yet a joke (if you can find one that's actually funny).  The goal is to help listeners begin to see how the text speaks to their own personal life situations.
But this week is an unusual week.  All of us begin the week remembering the life of Martin Luther King, Jr., prophetic preacher who offered words of challenge and truth from this very pulpit.  He had a dream, for sure, but we're in the habit of sanitizing his memory, and we rarely remember that voice that became so unpopular he was murdered.
Martin King was the one who, in addition to working to build a country where his four little children not be judged by the color of their skin but by the content of their character, said this—from this very spot: "I knew I could never again raise my voice against the violence of the oppressed in the ghettos without first having spoken clearly to the greatest purveyor of violence in the world today: my own government."[1]
King's life and witness collide this week with our country's inauguration of a new president.  In the flurry of inauguration, there is no talk from our new leader of accountability or raising our voices; no honor for different colors of skin and certainly no content of character.  Donald Trump has tweeted his way into the forefront of American consciousness with taunts and insults, threats and fearmongering.  He has awakened the basest parts of our American identity, demonstrating with his own behavior the kind of violence against women and disrespect for those who are different that we would never want to hold up as examples for our children.
And so, this morning, I don't think we enter the text through a joke—even a good one.  I think we enter the text through our own hearts, unsure about a future we cannot see and very deeply afraid.  We own our fear of what we're called to do as we hear the words of Martin King, reminding us to step up and tell the truth.  And we're also afraid that the tweets of a demagogue will soften our resolve, that we will buy into the lie that collusion with any power is better than sitting outside the halls of power, or that our hope will be snuffed out altogether.
What we need on the edge of this week is a word that will make us BRAVE, that will infuse us with the courage we need to meet the fear of the future head on, that will imbue us with a prophetic zeal we don't even know that we have yet.
And so we turn to this little passage toward the end of the first chapter of the book of John.  This passage comes right after John's famous introduction we read during the season of Advent, where John writes about the light coming into the world. In today's verses, John is telling us his own testimony.  He's recalling his experience, what he knows to be true about Jesus Christ, and what he now believes with all of his heart.
And what he believes points us to three important lessons to which we would do well to pay attention.  First, John declares that Jesus is the Lamb of God.  As you heard earlier, this phrase could have many meanings – and likely John chose it for that reason, to urge us to reject reductionist definitions of Jesus' identity and instead open ourselves to the mystery of incarnation.  And yet, whatever the multi-varied meaning of this phrase, one thing is clear. John was declaring that through this man, Jesus, God was working out in the world God's plans of redemption and reconciliation.
The second lesson in this little passage comes in this troublesome phrase "who takes away the sin of the world."  I'm not going to try to unpack millennia of atonement theory and Jewish sacrificial theology here, but we should pause on the words "the sin of the world."  Sin, most simply defined, is separation.  It is anything within us and the systems we create that separates us from each other and from God. John is saying that Jesus stood in stark opposition to all forces that would strip humans of their God-given dignity and worth – that it is in Jesus' life and death – not in the Roman government or even the Temple system – that we encounter God offering us a relationship which will bring life to us and to our world.  For John to say this was dangerous—it was an outright criticism of the government and a radical message that spoke hope into the lives of those who had been oppressed for so long.  But he preached it anyway.
And a third lesson in this passage is that in following Jesus, we too are called to live lives of transformational relationship. When John was standing on the road with his disciples he cried out "Behold, the Lamb of God" and for those who were listening, hope was born.  They became followers of Jesus – a man who gathered around his table cut-throat finance sharks and pathetic street walkers, the handicapped and the homeless, right alongside the Roman military officer.
In this passage John has given us a roadmap for following Jesus in deeply troubled times.  In a world of fear, where powerful governments oppressed vulnerable people, John had the courage to remember who he was, to speak prophetically with no regard for the cost, and to nurture relationship.  To him it must have felt like just braving the present moment, but look what happened: his courage helped build a movement that changed the world.
Many, many people have asked me in these weeks: what are we going to do?  How does The Riverside Church in the City of New York respond to very real threats happening all around us, to the fear that we and so many of our neighbors are feeling, to the hateful rhetoric and hurtful policies that are already beginning to roll out of a new congress and administration?
We could jump at every opportunity to express outrage and watch our witness diluted without any deep conviction or strong foundation; we could shrink back, walk the line, give the administration a chance, climb into bed with power and see where that will get us; we could harden our hearts and in our self-righteousness completely alienate those who hold different convictions.
But I don't want us to do any of those things.
Instead, let's read this passage on the edge of this coming week and reach for the handholds it offers us as we take on the work of being brave.
First, we will speak and act with the conviction of our faith.  The Riverside Church in the City of New York is a community guided by the gospel of Jesus Christ.  Our identity is our touchpoint.  This identity does not exclude those of other faiths or convictions – in fact this very evening we will host a multi-faith prayer service for our city.  Instead, saying we are followers of Jesus Christ anchors us to the substance of what we believe.  What we do is a function of who we are, so we do not take our cues from Donald Trump or any other human leader, but from the word and witness of Jesus Christ.
Second, we will follow John's example and find the courage to speak prophetically with and for those who are most at risk.  We will not compromise the truth; we will not dilute the message; we will never cede to anything less than a call for God's will to be done on earth as it is in heaven.  As a cathedral that draws many powerful and influential people, The Riverside Church will never sacrifice the integrity of this pulpit, mute the call to prophetic witness, or trade this platform for monetary gain.  Even those who spend their days in the White House will never enter this place and forget that this is God's house.
Third, we will work to offer ourselves in relationship that moves us toward reconciliation.  Even those who do not agree with us will be welcomed into dialogue and treated with respect and dignity.  We will hear each others' stories and the stories of people who are different than we are; we will open our hearts to be reconciled; we will work to soften the hearts of those who may not have considered another way.
Friends, in the days ahead we will need to be brave, there's no doubt about it.  But sometimes when we hear the word brave used as an adjective it seems too lofty, too far off and unattainable for our fear-filled hearts.
Who me?  I could never be brave—at least not brave enough for this!
But let's try this morning to use the roadmap we've been given in John's gospel and think of the word "brave" as a verb instead.  The people on the muddy banks of the Jordan River who were listening to John preach that day, the disciples who believed and got up to follow Jesus because they bet their lives on his message of justice and radical love, they didn't do that because they were brave.
What they did was they braved the situation in which they found themselves.
They might have described themselves as just "doing the next right thing," but what they were really doing was summoning their courage, remembering what they believed in order to confront the present moment, and then determining to brave the moments to come with faith, courage, integrity, and hope.
This is what I want us to do, church.
I want us to brave this moment.
I want us to remember who we are: followers of Jesus Christ, who rendered unto Caesar what was Caesar's…and rendered unto God what was God's.
I want us to speak and act: loud and clear, for all who cannot speak for themselves and in every moment when justice and love are compromised.
I want us to listen to each other and to others—even those who don't agree with us.  Hear their stories, and risk relationship, for nothing is substantively gained in a hard fought effort to change minds—we only shift in meaningful ways when our hearts are changed.
And most of all, church, I want us to keep braving: all the moments that goodness and right seem too far off; all the times when we feel tired and hopeless; all the crises that require every ounce of courage that we can summon.  This week we raise up the words of a modern prophet, who told us: "Human progress never rolls in on wheels of inevitability; it comes through the tireless efforts of men [and women] willing to be co-workers with God."[2]
There are in every life, moments that define us.  Church, this is your moment.
Be brave.
Amen.
As your clergy and staff leaders work together with the lay leadership of this church in the days ahead, we will seek to embody these three principles to make our action and witness in this world impactful, influential, and faithful.  Over the next few weeks you will be learning about ways in which you can engage in faithful witness as part of The Riverside Church.  For example, starting with our participation in the NYC Women's March next weekend, we will organize monthly Living Justice Now events, where you or anyone will be able to log onto the website and find a concrete action that you can take in response to injustice happening around you.  Our new volunteer portal launching in February will give you opportunities to lend a hand in the many social service ministries of this church, sure to become even more critical than ever for New York's unsheltered and working poor.  And you're invited to participate and volunteer at special gatherings, like tonight's 6 pm multifaith service to honor Martin Luther King, Jr., and Thursday's inauguration eve service of light.  Look for these and many more opportunities to engage in faithful witness, and bring your thoughts and ideas to the Mission and Social Justice Commission and the staff; we are doing this work together.
[1] From "Beyond Vietnam: Breaking the Silence," delivered at The Riverside Church in the City of New York, April 4, 1967.
[2] Martin Luther King, Jr., Letter From a Birmingham Jail, April 16, 1963.