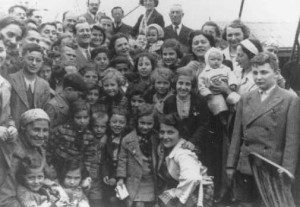 My name is Max Wolff. The US turned me away at the border in 1939. I was murdered in Auschwitz.
My name is Siegfried Wilmersdörfer. The US turned me away at the border in 1939. I was murdered in Belgium.
My name is Regina Blumenstein. The US turned me away at the border in 1939. I was murdered in Auschwitz.
My name is Erich Weltmann. The US turned me away at the border in 1939. I was murdered in Auschwitz.
My name is Werner Stein. The US turned me away at the border in 1939. I was murdered in Auschwitz.
On May 13, 1939, the German transatlantic liner St. Louis sailed from Hamburg, Germany, for Havana, Cuba. On the voyage were 937 passengers. Almost all were Jews fleeing the Third Reich. Most were German citizens, some were from eastern Europe, and a few were officially "stateless."
The majority of the Jewish passengers had applied for US visas, and had planned to stay in Cuba only until their final paperwork had been processed and they could enter the United States.[1]  But because of political unrest in Cuba, most were unable to get off the boat there.  The ship was forced to turn around and set sail back to Europe.  As it did, passengers could see the coast of Florida, freedom off in the distance.  Despite desperate pleas, the United States would not allow the St. Louis to dock or any of the refugees to enter the United States.
This week on Friday, Holocaust Remembrance Day, a Twitter account called St. Louis Manifest tweeted the names, one by one, of passengers on the St. Louis who were denied entry to the United States and eventually killed.  The folks who planned to call the names of the victims on Holocaust Remembrance Day did not know, of course, that our new president would sign an executive order the same day that severely restricts the immigration of Muslims to the United States.
The executive order itself is long and contains a lot of "pursuants" and "notwithstandings," but essentially it immediately bars the entry of any refugee who is awaiting resettlement in the U.S. for 120 days. It also prohibits all Syrian refugees from entering the U.S. until further notice. Additionally, it bans the citizens of seven countries—Iraq, Iran, Syria, Somalia, Sudan, Libya, and Yemen—from entering the U.S. on any visa category. This includes those individuals who are permanent residents of the U.S. (green-card holders) who may have been traveling overseas to visit family or for work.  That's LEGAL immigration.
An Executive Order.
At the end of week one of President Trump we are seeing what we saw over and over during the presidential campaign: the articulation of opinions and policies that go far beyond political ideology and fly blatantly in the face of the fundamental, core teachings of Jesus Christ.  Not only have we seen an impetuous rush to use the power of the executive branch of our government to begin implementation of these policies, we have also heard from congress the cheering voices of sycophants and a whole lot of crickets.  Among the President's many egregious actions this week, perhaps the worst was Friday's executive order on immigration.
Controversy around this issue is nothing new; for several years now immigration has been the subject of a divisive national debate as we consider the struggles of millions of undocumented immigrants who live in the United States, many of whom are critically important to the health of our economy and who, in their settling in this country, are melding their lives into the rich fabric of America, even as the immigrant ancestors of every single one of us did at one time or another.  Yes, all of us.
Born in Boston, Massachusetts, while my father was in graduate school, raised to speak English as my first language, you might not readily recognize me as an immigrant, for example. But my maternal great grandparents stepped off a boat at Ellis Island—strangers in a strange land, speaking only German, risking everything they had to make a new life in a country very far away from everything dear and familiar.
In fact, my childhood is peppered with memories of the handcrafted staircase business my Pop-Pop started from nothing and grew into a thriving business in the boroughs of New York.  And I remember my Mom-Mom's noodle kugel and the strange but comforting Yiddish words she sprinkled throughout her broken English.  Only two generations ago, my family was a family of immigrants.
And I bet you have an immigrant story, too.  Where are you from?  Where did your family come from?  Are you married to an immigrant?  Is a language other than English the language you heard and spoken as a child?  What's your immigrant story?  Take a moment to turn to your neighbor in the pew and tell your neighbor where your family comes from.
Here's the truth: we're all immigrants in one way or another.  And that reality calls us to remember that our entire faith story is bound together and interwoven with the theme of migration.  From the beginning of the biblical story, when the Spirit of God came, migrated, moved over the face of the waters, all the way through the book of Revelation at the end of our Bibles, where we find the Apostle John a migrant, exiled far away from home on the Island of Patmos, all the Judeo-Christian tradition we hear and live and embody is the story of being immigrants, strangers.
We mustn't forget, either, that Jesus Christ, the one whom we claim to follow, was an immigrant himself.  He and his parents fled from Galilee, fearing for his life, and settled far away . . . as immigrants.  The first Christians were mandated by God—and they did—to open their doors and their homes and their lives to people who were strangers, different, who came from far away places.
All throughout the biblical story—without exception—we find these themes, both of remembering that we were the stranger and of radically welcoming the stranger, as mandates from God.
Immigrants. Always. That is our story. We never forget that we were once the stranger and that we are called, always, to be like the faithful welcomer whose place of lodging, gift of sustenance, and protection of community made the difference in life or death for Abraham, Joseph, Moses, Ruth, Esther, Ezra, Jesus and his parents, you and me…immigrants, all of us.
Politicians in our country, our new president now chief among them, would like to raise this issue to increasingly heated debate, blatantly discriminating against our Muslim brothers and sisters, further endangering newer immigrants among us, and making the world less safe.
We might have different ideas about policy and implementation, but on our basic stance, there is no debate for people of faith. We are always called to welcome the stranger, to create a society in which immigration policy and practice are just and fair and compassionate. And as people who claim to follow in the way of Jesus, we remember that whatever we do for one of the least of these, we do for Christ.
But how?
How do we bridge deep divides that are fracturing our country?
We remember that we belong to each other.  All of us.
A few years ago when I was a pastor in Washington DC, our church was facing some serious issues of conflict, broken relationship, inability to understand each other, around the issue of immigration.  We were together trying to cultivate diverse community in a city with the largest concentration of undocumented immigrants from El Salvador, together with federal employees who were tasked with the enforcement of strident immigration laws, including routine detention and deportation.
In our church, many of these people sat in worship together at 11:00 am every Sunday, but as issues around immigration enforcement and reform began to escalate, it was clear that national tensions outside our church walls were increasingly making their way into the life of our faith community.
What could we do? The health of our community on the line.
With some prayer and thought, wise leaders in our community began organizing conversations.  They were little house meetings all over the city, where 8-10 people from diverse backgrounds would agree to hear each other's stories over a meal on an evening together.  Just one evening; just a small group of people.
The house meeting I attended is an experience I will never forget, in all of my life.  About eight people where there, including a few single folks; me and my kids; one gay man who came with his partner, and who worked at a very high level at Immigration and Customs Enforcement; and a family of four undocumented immigrants from El Salvador.
I didn't know what to think when I walked in that night, but as the evening unfolded I swear I saw something that changed my perspective forever.
The mother in the family from El Salvador began to talk about her life there, why she and her husband—both college educated teachers—decided to risk everything to bring their two children, then 3 and 8, across the border to America, where they might have a shot at avoiding the violence and gang culture in which they were immersed in their rural village, where they all might have a chance at a different future.
She talked haltingly and with tears, while her by then19-year-old eldest son translated, about saving and saving and scraping the money it would take to hire a coyote, a guide, to get them across the Colorado River into Texas, where they would try to make it to their families in the United States.
They traveled through treacherous terrain, threats of the violence they were trying to leave behind dogging them at every step; pushing their young children to walk endlessly in the heat; running out of water and food; being taken advantage of at every opportunity, until finally they arrived at the river and got ready to cross.
She spoke then about the fear—dread, really—of navigating through the rushing current.  They were holding onto a rope, she said, one by one, following the guide through the river.  Her husband was up ahead of her, leading their 8 year old.  She was toward the rear, with the 3 year old strapped to her back.
Suddenly, about halfway across, he slipped off.  Her baby slipped off and the current caught him and pulled him away, out of her grasp, under the rushing water.
By this time in her story, the entire room was silent.  Her son, who was translating, could only speak in a halting whisper, too choked up with the memory.  Her husband sat in silence, his head in his hands.
She continued: she let go of the rope and went after her baby, of course.  Diving under the water she managed to grab a pants leg and desperately, with all her strength, pull him back to her.  Together they came up gasping, out of the water, the baby crying, the current pulling them away from the rest of the family.
In the end, they made it across.  And they made it, through many other harrowing experiences, to the safety of family in the DC area, where they began to build a life from scratch.
It was a stunning story, but the most stunning thing of all is that this was no anonymous recounting.  We were all in tears with the power of their story and realized: right there, on the couch across the room from us, sat people with whom we worshipped every single Sunday.  And to think that 11 year old Miguel, who brightened up the Sunday School every single week, loved to sing in the children's choir, and who hugged me at the door after worship on Sundays could have been lost to the current of the river…these are people we love!
These are people God loves.
All of them.  All of us.
Jesus came to teach us about God's dream for the world.  He called it the Kingdom of God.  In the Kingdom of God we are all mixed together–we can't tell anymore where you end and I begin.  We need each other.  And, we belong to each other.
Anytime we exclude or subjugate each other, anytime we refuse to offer justice or healing or hope to one other, anytime we mistake ourselves for better or more beloved of God, more deserving than others, we are forgetting that things are different in the Kingdom of God.
In the Kingdom of God, we nurture and need each other. In the Kingdom of God, we never deny healing or hope or justice or dignity to one another.  In the Kingdom of God, we open our hearts and our hands, we make extra room at the table, we let the boat dock and the traveler clear customs and the children find safety…because no matter our differences, when we look at another human being we can recognize in each other the very face of God.
Listen again to the words of scripture:
For I was hungry, and you gave Me something to eat; I was thirsty, and you gave Me something to drink; I was a stranger, and you invited Me in; naked, and you clothed Me; I was sick, and you visited Me; I was in prison, and you came to Me.' Then the righteous will answer Him, 'Lord, when did we see You hungry, and feed You, or thirsty, and give You something to drink? And when did we see You a stranger, and invite You in, or naked, and clothe You? When did we see You sick, or in prison, and come to You?' The King will answer and say to them, 'Truly I say to you, to the extent that you did it to one of these brothers of Mine, even the least of them, you did it to Me.'
This.  Now, this is an Executive Order.
Amen.
[1] https://www.ushmm.org/wlc/en/article.php?ModuleId=10005267