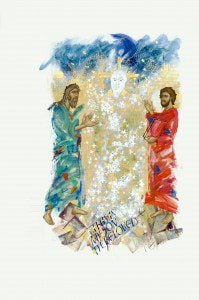 Early in my career I was responsible for planning and leading a women's retreat. I made up a carefully detailed schedule and lists of preparations that began the very first night with an ice breaker. We went around the room and everyone was asked to describe and demonstrate, if possible, a special talent they have. We were about a quarter of the way around the circle when I suddenly had the panicked realization that not only had I not prepared a special talent to display, I couldn't even think of one.
Had I prepared to share my own talent, I would have undoubtedly thought to demonstrate my exceptionally well developed skill of sword drill. Some of you have heard me talk about this before. Sword drill is a skill taught to children in many conservative, evangelical Bible churches, like the churches in which I grew up. It's a game in which you compete to see who can find passages in the Bible the quickest. It's called sword drill to reference the book of Ephesians, where Paul refers to the word of God as the "sword of the Spirit."
Anyway, the way I learned, all the kids would line up seated in a row of chairs. We'd stand, draw our "swords," and compete to find the passage the Sunday School teacher would call out. Once you found the passage, you'd sit down, and first person to sit down was the winner.
As I mentioned, I am very good at this.
Today I want to share with you one of the secrets of being a champion sword drill competitor. Take out your Bibles—there are some in the pews if you don't have one with you. Now, open the Bible to the middle—just estimate. Chances are you've opened the Bible to the book of Psalms, the prayer book of the Bible. Psalms is in the exact middle of the Bible, and once you find the book of Psalms, it's much easier to gauge where you are in terms of the rest of the book, so as to easily find the passage you're seeking. See? Insider's tip. For the next time you compete at sword drill….
I bring this up because today in worship and in the revised common lectionary gospel passage from the gospel of Matthew, we find ourselves in the exact middle—not of the Bible, but of the story of Jesus' time on earth. Today we're at the end of the season after Epiphany, part of the church year that begins with Jesus' baptism, when the heavens opened up and he heard God's voice. During the weeks following Epiphany, we read the stories of Jesus and his disciples and we experience what my friend describes as the knob on a light switch not unlike you might find in the dining area in my apartment. Once it's clicked on, you can turn the knob to adjust the brightness of the bulbs in the light fixture. We've been following Jesus and his disciples around, listening to what Jesus has to say, watching him bless and heal and feed people, and with every story we read, the light gets turned up just a little bit, letting us in on more and more of the story and the message that will change the world.
Today is Transfiguration Day, the very middle point of Jesus' earthly ministry. Today the light is turned up to the very brightest setting and we're standing on edge of Lent, where Jesus will be required to set his human face toward Jerusalem where he will suffer and die because of the message he preached.
And for those first disciples—and us, too!—today we're beginning a descent into darkness, 40 days of looking hard at what happens when the rubber meets the road and the cost of following Jesus begins to be counted in earnest. Once we're not dazzled and squinting with the glory of encountering God, we will begin to make out the road ahead, and this midpoint moment of decision—will we go with Jesus?—is right where the disciples found themselves in today's passage.
By the time we get to Matthew chapter 17, the political situation surrounding Jesus and his disciples was getting tense. Jesus had known for some time, even if the disciples didn't, that he was soon going to have the spotlight of legal scrutiny fixed upon him and his followers with an intensity the disciples had not experienced up until that point and, frankly, for which they were totally unprepared.
Chapter 17 begins with Peter, James, and John joining Jesus on a hike up a very tall mountain. Maybe asking the disciples to go on a strenuous hike was just what Jesus needed to do then…perhaps it was symbolic of this life-cycle event for Jesus, during which he needed to assess who among his disciples had the stamina and courage it would take to stick with him in times like this one, at the very top of that mountain surrounded by all kinds of tangible evidence of God's presence and plan…all the way down the mountain, to the dusty streets of Jerusalem, up a winding path to the place of the skull, and down then to the lowest place any human being can go—the place where we look death straight in the eye and where God seems utterly, totally absent.
But for the disciples, following Jesus up until that time continued with the same adventure and possibility with which it had been laced since they first laid down their fishing nets and left everything to follow him.
You can see it in Peter's reaction to their experience. You'll recall that once they'd hoofed it all the way to the top of the mountain, they had something of a vision. Jesus suddenly began to glow, to shine like the sun, and his clothes were dazzlingly white. Moses and Elijah—two of the greatest Hebrew prophets—appeared in person and began talking with Jesus.
Well, Peter was not about to let this miraculous event pass by without proper acknowledgement, so he suggested what any good Jew would suggest: that they build three shelters—tents, monuments, something permanent to mark the place where this great appearance had occurred. That way they would never, ever forget it.
And then they could go back to life as they knew it.
But the next thing they knew a bright cloud enveloped them and they heard God's voice, of all things. It was utterly, completely terrifying, and in that moment if they had not realized it before, they knew that their lives had changed…that nothing would ever be the same again. There they were, cowering on the ground, couldn't even think straight. In the silence that followed God's voice they remained there, quaking, "overcome by fear," the text says.
…until Jesus reached down and touched them. He told them to get up. And he told them not to be afraid.
When they finally managed to stand up, brush the dirt off their robes, rub their eyes, and look around…well, they saw the top of the mountain as it had been when they'd arrived after their long hike. And, the text says, they saw Jesus, alone. Only Jesus…nobody else…only Jesus and the decision before them: would they remain there, overcome by fear? Or would they return, would they hike back down the mountain, would they face the changes that were coming with courage and conviction, overcome, instead, by faith?
While they do not universally include the appearance of famous Biblical heroes, all human life presents us with moments like this, moments where we are overcome by fear, just knocked down and kicked to the curb with the breath-taking terror of human living. The disciples felt it that day—an unknown future stretched out before them, fear sucking the breath from their throats, and Jesus standing at the edge of the path back down the mountain—toward an uncertain and fear-filled future—and beckoning them to get up and follow. And it was this—Jesus himself—that helped them finally get up, overcome by faith that was stronger than fear.
Earlier this week I received a text message from a pastor friend who lives in another state. Her text read, "What do we do with fear? I am scared we may be called to give up our lives with this administration. That scares me and keeps me up at night. I am wondering what my limits will be—how will we get through this?"
I wish I had easy answers to questions like this. Most days I only have my own questions and fear to grapple with. But no one should think about faith and fear, about the cost of being a disciple of Jesus, without thinking about Dietrich Bonhoeffer. And with the current political climate in which we're living, I don't think we can remember his story often enough, especially here, in this corner of Manhattan, where he spent so much time in the 1930s.
Dietrich Bonhoeffer was a German pastor and theologian who spoke, wrote, and pastored in the 1930s and early 1940s in Germany.
Recall that the German people were demoralized after the defeat of World War I and the resulting depression they suffered; right then, the charismatic Adolf Hitler appeared on the scene. Not many questioned Hitler's rhetoric, but one who did was Dietrich Bonhoeffer, who found the politics of Nazi Germany completely counter to the gospel message.
Bonhoeffer had been born into a nominally religious aristocratic family, his father a prominent neurologist and professor of psychiatry at the University of Berlin. After graduating from the University of Berlin in 1927, he came Union Theological Seminary right across the street to study for a year. As the story goes, he attended church here at The Riverside Church a few times, but found it a bit "dead" for his tastes. He underwent a huge theological transformation just down the street at Abyssinian Baptist Church instead.
After finishing his studies, Bonhoeffer returned to Germany, where Hitler was quickly rising to power, becoming chancellor of Germany in January 1933, and president a year and a half later. Hitler's anti-Semitic rhetoric and actions intensified, and Bonhoeffer was particularly concerned that the Christian church in Germany was not speaking out loudly or clearly enough against the hateful rhetoric of the time. Together with other pastors and theologians, Bonhoeffer organized the Confessing Church, which announced publicly in its Barmen Declaration (1934) its allegiance first to Jesus Christ, not the German government or the Nazi party.
In the meantime, Bonhoeffer had written The Cost of Discipleship (1937), a call to more faithful and radical obedience to Christ and a severe rebuke of comfortable Christianity: "Cheap grace is grace without discipleship, grace without the cross, grace without Jesus Christ, living and incarnate."
By this time, Bonhoeffer was teaching and training pastors in an underground seminary because the government had banned him from teaching openly. But after the seminary was discovered and closed, the Confessing Church became increasingly reluctant to speak out against Hitler, and moral opposition proved increasingly ineffective. The fear had begun to take over as Christians in Germany faced the landscape ahead of them.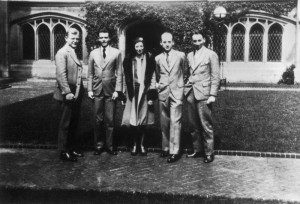 It was during this time that Bonhoeffer had returned to our neighborhood to teach at Union, but he couldn't shake a feeling of responsibility for his country. Within months of his arrival, he wrote, "I have made a mistake in coming to America. I must live through this difficult period in our national history with the Christian people of Germany. I will have no right to participate in the reconstruction of Christian life in Germany after the war if I do not share the trials of this time with my people."
It was a moment in his life when he had a choice: would he be overcome by fear? Instead, he was overcome by faith.
He did, in fact, return to Germany, and eventually his resistance efforts, his involvement in a plot to assassinate Adolf Hitler and his role in rescuing Jews were discovered. On an April afternoon in 1943, two men arrived at his home in a black Mercedes, put Bonhoeffer in the car, and drove him to prison. And on April 9, 1945, one month before Germany surrendered, he was hanged with six other resisters.
This story of resistance, of speaking up for the way of radical love against political policies that exploited and destroyed weak, vulnerable, different cost Bonhoeffer his life. His story is not ancient history, nor is it foreign to this very place. Only a few decades ago, this man walked down Claremont Avenue and listened to jazz in Harlem. And what he lived—the decision to let faith overcome fear—is not outside of our own realm of experience as we face the human question of how to handle fear every single day of our lives.
And now we find ourselves living in a political climate where every single day we are hearing of policies that exploit and destroy those who are weak, vulnerable, and different. And the message of the gospel—that we claim to follow—will not allow for us to stay silent.
Perhaps, with me, you are feeling the witness and presence of so many who have gone before us, even in this place, and asking similar questions to those of my friend: "What do we do with fear? That keeps me up at night. I am wondering what my limits will be—how will we get through this?"
Here's what we will do: we will do what Jesus' first followers and every faithful follower since then has done. We will feel ourselves overcome by fear, but we will then fix our gaze on Jesus alone and allow our fear to be overcome by faith. And then we'll turn and walk down the mountain into the darkness of Lent, toward the reality of the cross, and in the way that leads toward life.
Beginning this Wednesday we will enter the season of Lent, forty days that lead us straight to a cross. As we prepare to go with Jesus, may we feel overcome, not by fear, but by faith. Amen.