On Monday we started our day in Bethlehem at the Church of the Nativity, traditionally celebrated as the birthplace of Jesus.  The experience was much like other Christian sites in the Holy Land: overly ornate and run by different Christian groups jockeying for ownership and control.  All around the church, however, the atmosphere felt tense.  Palestinians largely populate Bethlehem, and political and social conflict is high.
We spent most of the morning meeting with powerful women working to transform their society from the inside out.  First we met Suzan Sahori, director of Bethlehem Fair Trade Artisans and obviously a tremendously gifted business woman.  Her work empowers impoverished and exploited Palestinian women by marketing and selling their products for a fair price and paying them a fair wage.  Suzan showed us their newly renovated headquarters (a transformed dump) and eagerly shared plans to expand the business.  She told us she started this work because life can sometimes feel hopeless in occupied territories like Bethlehem.  It's hard for many to see a future filled with peace, equality, and prosperity.  "I need to do something in which I can make a change," she said.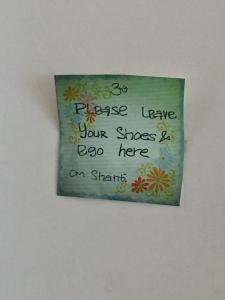 We stopped next at a community center in Bethlehem, where the neighborhood comes together to practice yoga (I especially liked the sign on the wall).
There, we had the tremendous opportunity to meet Dr. Vera Baboun, former mayor of Bethlehem (and first woman to hold that position).  Dr. Baboun's family has suffered tremendous loss in the last decade, including the death of her husband Johnny, a political detainee who was arrested for working to resist the effects of Israeli occupation in Bethlehem.  After Johnny died, Dr. Baboun was asked to run for office.  She says she did it in Johnny's memory—and also because the state of her community was dire: Bethlehem had 27% unemployment; most people were leaving (there are now over 300,000 Bethlehemites in Chile, for example); and the 6 million Palestinians who have fled the region have lost any claim at citizenship or power to return.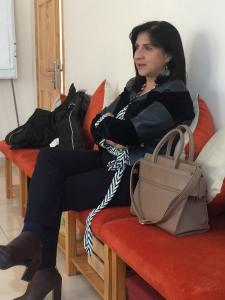 It's difficult to describe the powerful presentation we heard from Dr. Baboun, so here are some of her own words, as told to our group:
"I cannot give up the hope and possibility of a different future…on the other side of the wall is my neighbor!"
"Jerusalem should be the place that ensures peace for the whole world, not vice-versa."
"We have to think ahead: where do we want to see our community, our world 40 years from now?"
"We must remember that abnormal living creates abnormal behavior.  People need to know that Palestinians have a national conscience.  We can be good partners and neighbors."
"I think peace requires courageous hearts.  What if those hearts are women's hearts?" 
"Sometimes I lose hope.  Women in my society are very restricted.  I often wonder: what if women stood together?  What if we said no to sexual and political harassment?  You have to remember that your body is your original territory.  And your embodied voice is your original authority."
"What the average Palestinian wants is not the recognition of a state; it is the recognition of a life."
"Wherever there is a wall there is the absence of a bridge."
"The world we live in is a practice of the binary.  But the world has become one village.  The wall we live with—and all the restrictions—this is a binary.  Double perspectives come from our own fears.  Don't accept this binary.  This is a disgrace for humanity."
"Only peace brings security.  We cannot resolve by ignoring or denying; we must resolve by facing the truth.  Together."
"You have a voice as women of faith.  Remind us that the problem is not with Jews or Arabs or Christians.  The problem is with the government.  Please carry the message of peace in your hearts.  Either we go together to build a better world, or we don't go anywhere at all."
A special part of hearing from Dr. Baboun was meeting her 20-year-old daughter, Natasha.  When asked what she thought of her mother's work, she said: "The young women of Palestine see in my mother another way to live their future."
Would that all our daughters said that about us…and that we'd have the courage to speak brave words..and do brave things…like these amazing women.
(Side note: some of the women who practice yoga at the center made us Maqluba for lunch.  It was, perhaps, the most delicious thing we ate on the entire trip.)