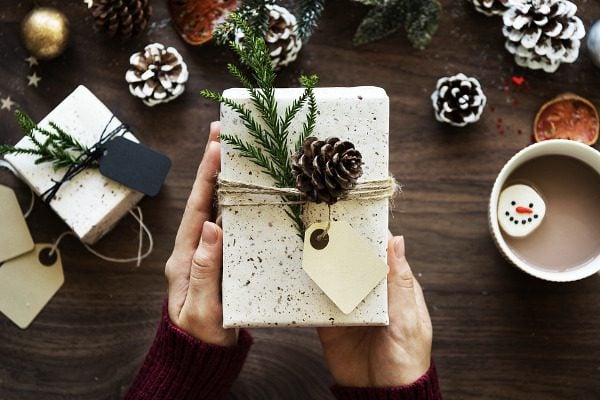 Odds are pretty likely you're still shopping for holiday gifts, or perhaps you haven't even started yet. And maybe you have that friend whom you know is either a witch, pagan, polytheist, or some general form of occultist. What in the name of the gods above and below can you get them that doesn't look like some generic "Here's a random candle, knock yourself out!" type of a present? Or worse yet getting them something like a particular book they already have?
Fear not, gift buyers: I'm here to help.
Here are some fantastic gift ideas for that person in your life:
Amazon gift card. I can guarantee if they're anything like me, the list of books they want to purchase is HIGH. This may seem like a generic gift but trust me, Amazon gift cards never go out of style.
Michael's, Joann Fabrics, or other local crafts store gift card. I've lost track of how many things I've obtained for tool making, altars, etc that I've obtained from places like these.
AzureGreen gift certificate. This online store is well stocked, reasonable prices, and they could get basic things that they need.
Incense burners and incense.
Candle holders and an assortment of different colored candles.
Charcoal burners, charcoal, and/or loose incense to be burned on charcoal burners.
Blank journals. These are great for dream journals, magical journals, note taking–you name it.
Homemade or prepurchased spell kits. This one is particularly useful if you know of any personal issues in their life they may want a boost on, whether that be finances, school, job, or home. Good generic ones to get when you don't know would be things like luck, blessings, health, etc.
Divination tools. Some have a preference on what they want to use, so this one might be tricky. But if you know that they're interested and/or are involved in Asatru, a nice set of runes is always good. If they like art and/or have a liking for tarot, there are a million different decks out there of all different types and themes.
Artwork pertaining to their interests/faith/path. Do they like Greek gods? Working with the fae and/or nature spirits? Are they involved in ceremonial magic? Thelema? Hermetic Order of the Golden Dawn? The possibilities are endless.
If you're lucky enough to be near a local New Age and/or occult store, a gift certificate to there always works. Otherwise, there are fantastic websites online, all of them small businesses, who would be happy to have your support. Some of them may or may not offer gift certificates, but you might find something on them which would make a great gift.
Here are a few of my favorites:
When in doubt, ask around and see if anyone whom you know runs their own pagan, polytheist, or magical business. Support people in the craft in their craft!
If you have any suggestions and/or have a business, please feel free to share in the comments. After all, I could always use some new places to check out myself.