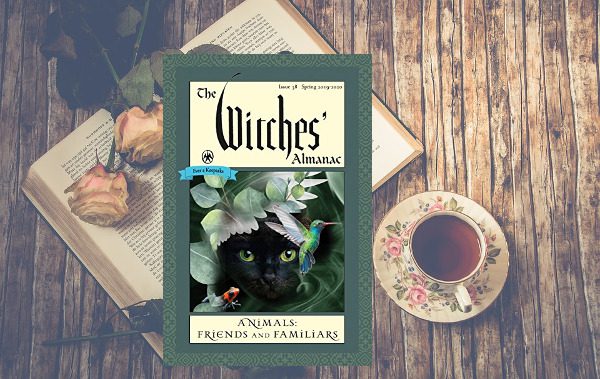 When I first got this book to review it was actually a few months ago, but at that time I didn't want to even THINK about 2019. Let's face it, how many of us feel like they just got used to writing 2018? So I waited until December when 2019 was about to be freshly upon us because I figured like a lot of other people, this is the time when we start to actually think about the new year and what it may bring. Or at the very least, this is the time of year when we have no choice in the matter!
I've long invested in The Witches' Almanac, personally. I feel that it's a highly underrated publication that benefits both traditional witches and magicians. This issue is definitely one of the better ones, and the theme for the year is "Animals: Friends and Familiars".
There are a lot of great authors in here whose works I'm already familiar with and was happy to find in this issue, including Mat Auryn, Sorita D'Este, Ivo Dominguez Jr, Morven Westfield, Lee Morgan, David Rankine, Laura Tempest Zakroff, and Lon Milo Duquette.
Included in this volume are excellent articles on the deities of animals, familiar spirits, and faeries.  There is an amazing amount of folklore in this book that may be of interest to many trad witches, including writings on corvids, plants, divination including animal omens, and recipes for both spells and food. For those of you who are ceremonial magicians, you will enjoy DuQuette's article on the Holy Guardian Angel. I particularly enjoyed reading about the different legends, myths, and perspectives on various deities and magical beings. There's also an interview of Dolores Ashcroft-Nowicki and her family's background in the occult and how it got her into magic.
In addition you'll also find a fantastic piece on trans people in the craft which gets into some of the logistics of gendered initiations and the need for witches to "overcome fear and discrimination and become a place of peace and understanding where we can all come home." I think it's wonderful that a publication like this is covering this topic and I hope to see more relevant social commentary in the future and how it's impacting the evolution of the craft and the pagan, polytheistic, witch, and occult communities in general.
As usual you'll find useful astrological and historical information about upcoming dates, events, traditional holidays and practices, and influences for the upcoming year. For people who like a quick reference at hand to what's going on when, this book is extremely helpful. It comes in paperback form for those who prefer paper and writing notes in margins and in Kindle for those of us who have our Books of Shadows on our iPads and other assorted tablets.
Links to purchase:
The Witches' Almanac – paperback