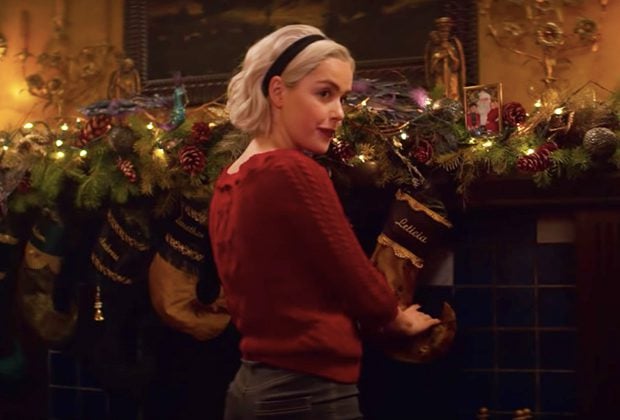 So before I begin, I just want to say that I'm a huge fan of the show. I went in with low expectations, figured it'd be a nice, campy witchy drama. Good popcorn fare. I was surprised to really enjoy the show on the whole, and while it's had an occasional problematic element or two, overall it's been fantastic.
Please note: this review contains spoilers for season one of The Chilling Adventures of Sabrina with some minor spoilers for the holiday special. If you have not seen it yet, you may want to skip reading this until you have.
I was pleasantly surprised to see how much real folklore and witch influence this show had (and has) despite the show's obvious fantasy elements. Other pagans, polytheists, witches, and Satanists have broken down the reality vs the fantasy in numerous fantastic articles, so I won't rehash them for this review.
The Chilling Adventures of Sabrina: A Midwinter's Tale features many elements from actual mythology and lore: its Yule lads, Grýla, and their mischief is well documented lore. Grýla on the show is a witch versus a giant, but the obvious research and influence of historical folklore remains present on the show. The Yule log is another nice touch, as well as dipping into traditions that hold that the winter solstice, not Samhain, is the time of the year when the dead and other spirits walked. When Susie disappeared, I wondered if they'd do a divination spell to help find her and sure enough, Sabrina even mentioned doing one. There's a lovely blend of realism and fantasy on this show that keeps me watching and engaged.
There are also some sly nods and winks to other fiction. I found myself thinking of Beetlejuice during the seance with the wedding dress, the movie The Witch during the "peek-a-boo" game with the baby before it was stolen away, and of course A Christmas Carol when at the end Sabrina toasts her family with the words "Satan bless us, every one." The blend of horror with the holiday spirit is not unlike the mashup of The Nightmare Before Christmas, so if that're your thing you will love this particular episode.
There are some flashback scenes to Sabrina's youth, and the special picks up where season one left off, with Sabrina still adjusting to life after having signed the dark book, breaking up with Harvey, and wanting to know more about what happened to her parents, particularly her mom, before they died. Her friends are still very much a part of her life, thankfully, and as this episode demonstrates they are dragged into Sabrina's world now more often than not. Given the things that happen to them and their own backgrounds, they have their own worlds that are definitely of the magical/psychic/supernatural bent so it's likely that their friendships have deeper meaning than any of them currently realize.
The pacing was different than in the individual episodes, likely owing to the fact that they had to successfully do a one-off special with a satisfactory plot and conclusion. I think they could've gotten away with making the special a bit longer to accommodate for this, perhaps the length of a short movie. It's 56 minutes long, and I think making it 70-90 minutes long instead would've been better.
The trailer for the special is on YouTube.