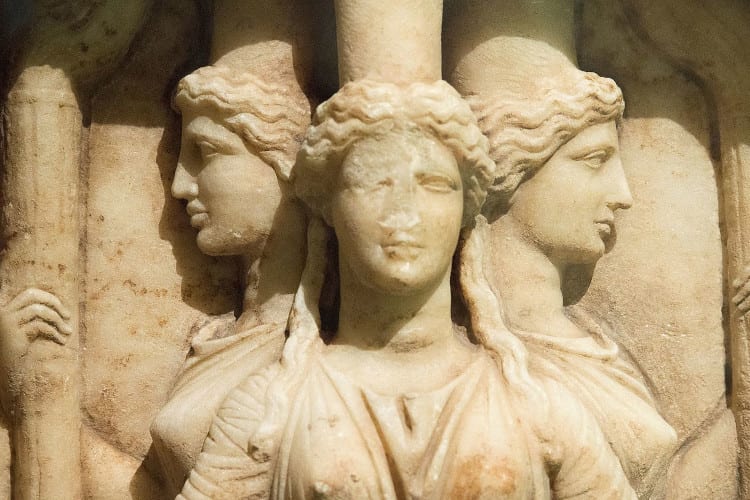 A fantastic online class is starting up soon called Hail Hekate: Walking the Forked Path. I had the chance to participate earlier this year. Quite honestly, very much worth the time spent.  I can't possibly overstate how much it's influenced my work. One of the things I plan to do over the next couple of months is go over the material again. There's so much to take in, and I love it all. You get both videos and personal instruction, plus a group to chat with other students.
As I've mentioned in the past, Hekate is amazing. She completely transformed my life, and I can't state that enough. Anything I've found which has made me connect more with her, I recommend to others.
This class is definitely an example of one of those things that helped me to connect! It's absolutely amazing. I've had a number of revelations on the goddess since taking it and can't recommend it enough.
How is it different from Jason Miller's Sorcery of Hekate?
As mentioned in my bio, I took both Sorcery of Hekate and Hekate2 by Jason Miller. Miller's classes are well known enough that I've been asked what the differences between the two courses (Miller's and Grayle's) are by those who are unfamilar with Grayle's. Without giving away anything in either course, Jack Grayle's class is more geared towards the PGM (Greek Magical Papyri) and the Chaldean Oracles. I'm a huge PGM fan and am always looking to learn practical ways to implement it in my current practice. So of course I had a blast.
I personally think of both classes as bookends to each other. They both can compliment each other and be useful. But they are also quite different in how they interact with the goddess. Miller's does provide academic information and is also based off of ancient practices, at least to an extent. However, Miller's SoH (Sorcery of Hekate) is more modern with ancient influence, transmitted to him through his revelations with Hekate and taught to others. Simply put, SoH is its own tradition. Grayle's class gets more into historical Hekatean practice and how to do such practices in the modern day.
Grayle's class is extremely useful all on its own. You don't need to have taken one in order to appreciate the other. I just happen to have taken both classes because I adore Hekate. I'm always looking to learn more about the goddess in order to appreciate her more and see her in other contexts.
If you are at all familiar with the Blackthorne School and/or Grayle's book Hekataeon on Hekate, you will definitely enjoy Grayle's class. The book is not required, but you may find it useful in taking the course. If for some reason you are not yet able to take the class, definitely get the book when you can.
What does the class entail?
From the website:
Participants in this course will plunge into the world of ancient Hellenic magic, exploring and implementing the surprising technologies relied on by sorcerers of Hekate for a thousand years, many of which are all but forgotten today.

The course will take place over thirteen weeks. In the first month participants will encounter HEKATE THE TITAN. By immersing themselves in the devotional practices of the Hellenic world of late antiquity, they will discover the true difference between magic and devotion, and master the strange techniques of divine compulsion, which sorcerers believed could bend the very skein of Fate.

In the second month they will encounter HEKATE THE PSYCHOPOMP by descending into the Underworld to engage in the necrosophic praxis of Hekatean magic, which is nothing less than raising and commanding the restless dead, as revealed by curse tablets, defixiones, and the spells of the Greek Magical Papyri.

Finally, in the third month, they will ascend to the heights of heaven to experience HEKATE THE CREATRIX by defining the dizzying declensions of Neoplatonic thought, and partaking in the fiery theurgy of the Chaldean Oracles.

All weekly classes will include both live and recorded presentations, and participants will be provided with numerous esoteric primary sources to study, to include the writings of Plato, Aeschylus, Apollonius, Iamblichus, the Gnostic gospels, the Chaldean Oracles and the Greek Magical Papyri. Students will receive private consultations with Jack Grayle as well, and will have the option of customizing course assignments to their specific path in order to gain a lasting, personal experience of the Queen of the Crossroads.
Okay, great! How do I sign up?
Class starts October 28th. It runs for 16 weeks with breaks for the holidays. Cost is $400 up front. Given the videos, material, and online support it's frankly a steal. You can either pay all up front, do monthly payments of $102 for four months, or bimonthly payments of $45.60 every two weeks for 18 weeks.
You can learn more and sign up for the class here.