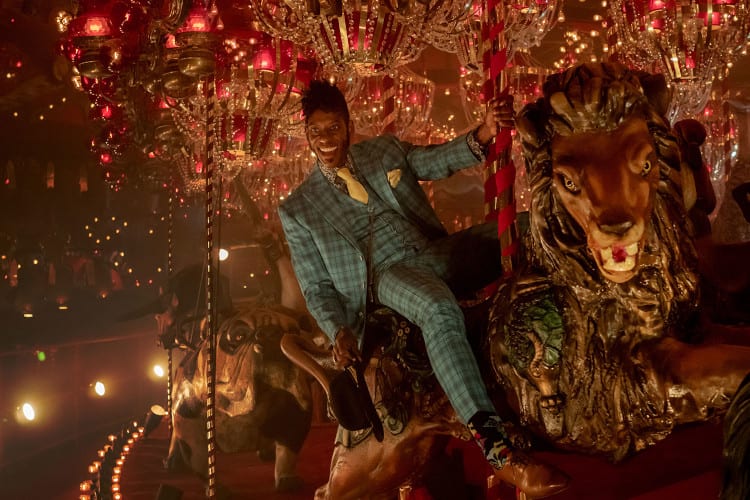 You can appreciate and honor the gods from other cultures. You can put them into fiction and give them life. But you cannot tell their tales and discuss their history without being brutally honest, not just to others but to yourself. And the tv show American Gods did a great job of that, up until this point.
Cultural appropriation is a form of whitewashing. It's not appreciation, it's theft of marginalized people's culture without paying the appropriate respect. I've explained in the past what goes into cultural appropriation so I won't rehash it here.
Needless to say, it has everything to do with this topic.
Why I've loved the American Gods tv show
Even if you don't watch the second season (and despite its issues, you really should), I highly recommend at the very least watching the first season of American Gods. It's honestly one of my favorite tv shows due to how unapologetically pagan it is. Like the book, it does not focus strictly on the European gods but also gets into African, Eastern, and Middle Eastern ones as well.
Yes, some characters fall under the daimon category (like the Jinn and the leprechaun) versus being purely about gods. Cosmology in religions is vast, particularly in polytheistic ones. I'm very used to dealing with more than just simply "humans and deities", as are various other polytheistic traditions such as the Celtic ones, Greek, Roman, etc. Regardless, this show is honest about the past of their worshippers of said gods. The show demonstrates both how immigration and slavery brought the many gods and daimons of different cultures to the United States. It gives a fresh perspective on how they've fared since. It also showed how black people and especially black women have been treated. It's reflected in black goddesses and gods, the pain and the anger.
Anger got s— done
You cannot cover how black and brown gods got to the United States without getting into the history of slavery, racism, and genocide in this country. Mr Nancy (Anansi), played to perfection by Orlando Jones, was a crucial, much needed voice in this regard.
Unfortunately, he was also removed from the show along with various other non-white actors. It's extremely irresponsible to do this form of storytelling without that honesty and that voice. Anything else would be exploitation of black suffering or a literal whitewashing to ease white feelings. Even more unfortunately, a white man has taken it upon himself to decide that he's the one who knows how to speak for the black community and that the character of Mr Nancy "sent the wrong message".
As a white person, I don't need my feelings eased. I need them challenged. And given that this clip of Mr Nancy's speech in episode two alone got many people watching the show who otherwise wouldn't have been, I'm clearly not alone in feeling that way either.
We need more Middle Eastern history representation, LBGTQIA+ as well.
Mousa Kraish, who played the Jinn, was also told his character would not be returning to the show. Anyone familiar with the plot of the novel and/or has seen the show knows that his character hooked up with a Muslim man named Salim. And it wasn't just sex, but love. This pairing in the face of so much Islamophobia and homophobia present today was one of the best things I've seen happen on tv.
My reaction to the introduction of the pairing on screen as well as the racist and homophobic outcry, as posted to Facebook:
I finally got to watch the latest American Gods. First of all, my ferocity of love normally reserved for the Magicians is beginning to be matched by this show. Secondly, I am super glad that they remained true to the book so that all of the whiny f—boys who didn't read the book and were So Not Prepared could get all hot and bothered and start b–ching about the man on man action that would test both homophobia AND Islamophobia, two for the price of one. I want all of those bigoted a–holes to get the f— out of my fandom so I enjoy watching a Middle Eastern man f—ing a male Djinn in peace.

And don't let the door hit them on the way out.
Love is love. This is the one pairing on that show that I invested heavily in, and wanted to see where it went. Especially since so much happened with them in season two! Now I never will.
This was representation that we needed, and it's been removed. American Gods was full of good things and due to new showrunners who don't like those good things, we can't have them.
Much of the history of polytheism is about the conquering and oppression of polytheistic people
You can't tell any honest story about polytheism and how the gods reacted to what happened to their worshippers over the centuries without getting into the facts. Polytheists were tortured, murdered, all over differing beliefs on the number of deities people honored. And we're still very much a minority series of faiths today.
This was the first show I've ever seen that didn't try to play "placate the Christians." No deities were made into a stand-in for Satan, which is something that has been done to Hades time and time again. At no point was there any attempt to play the "but we rescued the polytheists from the evil, evil gods".  You even had Jesus hanging out with Ostara! This was a truly, truly polytheistic show that didn't play favorites and was an honest look (and commentary) on the United States and our culture through the lenses of both old and new gods.
Maybe not totally accurate, but certainly more respectful than most
Were all of the depictions completely and utterly true to the gods? I'm sure that could be argued one way or another by their devotees. On the whole I feel that it was the most balanced look out of any show that I've seen. Given how often gods have been portrayed purely as evil jerks or otherwise complete idiots on numerous other shows, this show was a breath of fresh air.
The dialogue and stories are incredibly powerful. Without any spoilers, the end of last episode of season one legitimately did an invocation that makes my hair stand on end every time I watch it. I don't even have any connections to the pantheon in question, and I feel it every time.
We need more non-white, non-straight, non-monotheistic stories on tv
I want more diversity on tv. Honest diversity at that. There needs to be more honesty on history in general. We need to not shy away from telling the truth about what has been American. And what Americans have done to other cultures and people. You can't appreciate black and brown gods and daimons without a very wide-eyed look into the history of their worship and their devotees. It's both irresponsible and reprehensible.
If you want to appreciate culture, tell the truth. Honor that truth. Respect it, learn from it, and teach it to others. Anything else is whitewashing and cultural appropriation.
White people stole so much, it's long past time to give back.