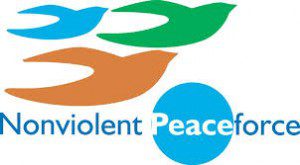 How does God answer our prayers for peace? Looking around at the violence at home and abroad, we could be forgiven for feeling that our prayers have fallen on deaf ears. But God hears our prayers and answers with a call of His own, a call that is being answered by courageous peacemakers in the most dangerous and violent places on earth. One such peacemaker is Mel Duncan and the organization he founded, Nonviolent Peaceforce (NP). NP provides protection to civilians by fielding teams of unarmed civilian peacekeepers in combat zones. That's right – unarmed civilians who live in the communities they serve and who earn the trust and respect of all sides in a conflict by not taking sides. Their only goal is to protect the local population from becoming what is so dismissively referred to as "collateral damage".
Thanks to Mel's vision and leadership, NP has had remarkable success saving lives in dangerous places like Myanmar, Kyrgyzstan, Sri Lanka and South Sudan. As the failure of "armed peacekeeping" becomes more apparent, NP's approach is being welcomed by governments and international organizations. This week I received an inspiring email from Mel about the latest NP developments, which I'd like to share with you. As you will read, NP has forged an important partnership with the United Nations and is being funded by the EU to provide civilian protection training in Syria. I invite you to read what Mel has to report in full and to consider joining me and my husband, Keith, in making a financial contribution to NP. When you join NP, you help Mel and NP save lives in war zones as they answer God's call to be peacemakers.
Dear Suzanne and Keith:
A lot has happened since we last talked.  In fact a lot has happened in the last few weeks.
We were recently notified that the European Union is giving NP 2 million€ for a civilian protection project in Syria!  
We will be working with the Syrian organization, 
Madani  
< 
http://www.madanisyria.com
>, and 
Cure Violence
 < 
http://cureviolence.org
> to train and support locally tailored civilian protection and violence interruption programmes in up to 45 locations throughout the country.  We will offer intensive training and training of trainers to Syrian civil society leaders- some opposed to the government, some neutral and others who support the government.  This will be followed by hands-on support and consultation with groups as they implement their plans in their local areas.  Periodically we will bring people together to reflect on their experience, identify lessons learned and strengthen relationships among each other.  We believe that a strong and active civil society working across political, religious and ethnic boundaries provides a foundation for a future pluralistic and peaceful Syria.  When appropriate and safe, we will consider sending in international unarmed civilian protectors.
The project that will begin in April will last for three years.
My heart is in my throat as we start to plan for implementation, yet, as Liberian President, Ellen Johnson Sirleaf has observed,
"If your dreams do not scare you, they are not big enough."
I also want to let you know that two weeks ago the UN General Assembly passed a resolution on the Culture of Peace that included language noting unarmed civilian protection.  This is the first time in history for such recognition- a small but significant step.
Ann Frisch, senior advisor at NP, is currently in Thailand where she is coordinating with local Rotary clubs three trainings on civilian based ceasefire monitoring like we successfully carried out in Mindanao
I hope you had a blessed holiday season.  In a world where hope and sorrow are always companions, may our hearts break along with those who suffer while at the same time break open with love and compassionate action.
With hope and resolve,
Mel
There are many ways to support NP: consider a gift today.