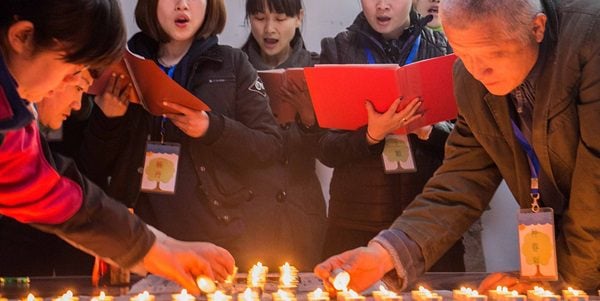 God is our refuge and strength, a very present help in trouble. Therefore, we will not fear, though the earth should change, though the mountains shake in the heart of the sea; though its waters roar and foam, though the mountains tremble with its tumult. – Psalm 46:1-3
It was a time of radical change. The earth was shaking. The seas roared against the people. They were in severe trouble. But they did not live in fear.
One of the most repeated phrases throughout the Bible is "do not fear." And yet, the ancient Jews had a lot to fear. Their history included being enslaved by the Egyptian empire, then they were conquered by the Assyrian empire, then the Babylonian, the Persians, and the Greeks.
The ancient Jews lived in political turmoil. The earth was always quaking. The sea was always raging. Chaos was everywhere.
The phrase "do not be afraid" isn't some naïve statement that believes everything will be okay because God is in charge. The psalmist knew that bad things happen. Divisive and hateful political rulers can come to power. But in the midst of political chaos, the Bible calls us to not be motivated by our fear. That's because fear causes us to forget who we are.
Remember Who You Are
Who are we? According to the Psalmist, we are the ones who believe that God is "a very present help in trouble." We believe that God is present with us. God goes through the political tumult and chaos with us. No matter how much trouble we are in, no matter how much the mountains shake or the waters roar, God is with us.
But there's more. God doesn't abandon us. Neither should we abandon one another. Faith calls us to go through difficult times together, trusting that as a community we will make it through.
You are not alone. God is with you. And we are with you, too.
Political Chaos – Maybe You Can Relate
Many of us are going through this sense of political chaos right now. After Donald Trump won the election last week, many of us are afraid. It feels like the earth is changing, the mountains are shaking, and the waters are roaring.
My 9-year-old son is scared. His good friend, Adrian, is also scared. You see, Adrian is living in fear that any day someone is going to knock on his door and take his parents away from him. He's afraid his family will be torn apart.
Christians need to believe in family values now more than ever. If family values mean anything, it better mean that we refuse to allow families to be torn apart.
After Trump won the election, my son cried uncontrollably for his friend Adrian. I was proud of him. In that moment, he was learning the truth about the psalm 46. In the midst of political chaos and violence, we are a people who stand together. He is learning how to empathize with others and how to stand up for justice
Thoughts for Families and Children
The point of the psalm is not to bury your fear deep down, but to trust in something bigger than our fear. It's to trust that God is with us and that together we can make it through our fear.
One way to make it through our fear is to talk about it. Ask one another, what are your fears? And in the midst of fear, where are you finding hope?
It's important to learn how to manage our fears in productive ways. Fear is contagious; it's an emotion that spreads like a disease. We can get ourselves worked up in a fearful frenzy. That frenzy creates a violent mob that is controlled by fear.
But more fearful violence is not the answer. The answer is intentional acts of solidarity with one another, but especially with those who are most vulnerable.
Imagine with your family – how would the world be different if we had the courage to follow the God who doesn't abandon us? How would your school or workplace be different if you stood with those who were bullied, those on the margins?
---
Image: By Huang Jinhui (Own work) [CC BY-SA 4.0 (http://creativecommons.org/licenses/by-sa/4.0)], via Wikimedia Commons
Stay in the loop! Like Teaching Nonviolent Atonement on Facebook!