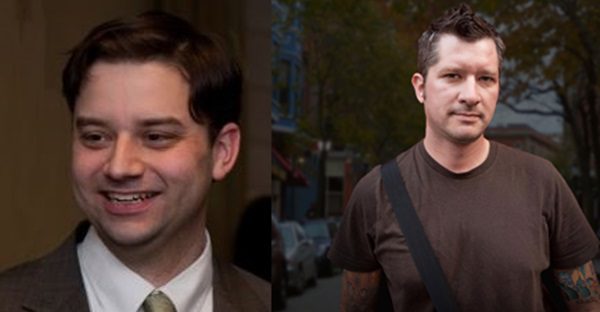 Click here to join this live and free webinar this Thursday at 12:00 CT! We encourage you to bring your comments and questions to the live show. If you can't make the live show, a recording will be posted on this page on Friday. 
The joy and radical grace of Easter cannot be contained in just one Sunday. In fact, the liturgical season of Easter lasts for 7 weeks! But Benjamin Corey and I only have 1 hour this Thursday to plumb the divine depths of the Easter mystery.
So, let's start navigating the new life of Resurrection together. You're invited to join me and Dr. Benjamin L Corey in a live RavenCast webinar this Thursday at 12:00 CT as we discuss the many wonders of the Resurrection with you. Join us as we take your thoughts and questions during the live webinar! Ben is a popular blogger, author, and speaker. You can read his blog Formerly Fundie and his book Undiluted: Rediscovering the Radical Message of Jesus.
 Click here on Thursday just before 12:00 Central to join the conversation. Below are a few of the topics we will explore:
A Literal Resurrection?
Can modern people really believe that Jesus was raised from the dead? Or are we supposed to take the resurrection as a metaphor?
The Resurrected Jesus – Nice Guy? Or the Divine Terminator?
Jesus sure seems nice, nonviolent, and full of love in the Gospel resurrection stories. But what's up with Revelation 19 when Jesus seems to come back as for revenge?
The Resurrected Jesus: Women Should Preach!
The resurrected Jesus told Mary to proclaim the Good News of the Resurrection to the men. So, why have men throughout Christian history stopped women from proclaiming the Good News?
Resurrection and Hope
In a world on the brink of war, what hope does the Resurrection offer us today?
Join me and Ben as we discuss these important questions and more!
---
Benjamin L Corey is an author and speaker who discusses faith and culture on his Patheos blog Formerly Fundie. He contributes to TIME, Sojourners, Red Letter Christians, Christian Weekly, Mennonite World Review, and The Good Men Project. He earned his doctorate in Intercultural Studies from Fuller Theological Seminary. Benjamin is the author of the book, Undiluted: Rediscovering the Radical Message of Jesus.
Stay in the loop! Like Teaching Nonviolent Atonement on Facebook!