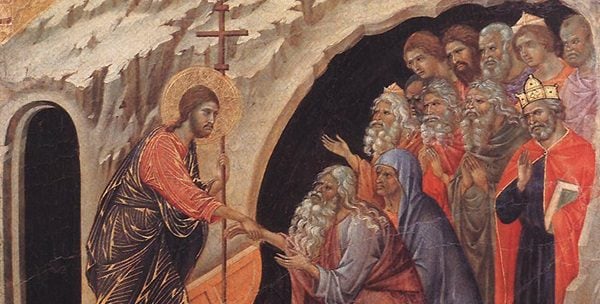 It's Good Friday! The day Christians throughout the world celebrate the Atonement made on the cross. But what does Atonement mean? And how was it accomplished?
In this episode of the RavenCast, Suzanne Ross and the Rev. Adam Ericksen discuss the history of Atonement theories and what the Atonement means for us today.
Stay up to date on the RavenCast by liking the RavenFoundation Facebook page! 
Video
MP3
Show Notes
N.T. Wright claims that Jesus did not give us a theory of Atonement to explain his death. Instead, he gave us a meal. We might say that Jesus gave us a life of Atonement.
In old English, Atonement literally meant, "at-onement." We were meant to be at one with God, humanity, and creation. Jesus reveals what that at-onement looks like in his life, death, and resurrection. It's a nonviolent love that seeks reconciliation. As Paul put it in 2 Corinthians 5:19, "In Christ, God was reconciling the world to himself, not counting their trespasses against them, and entrusting us to the ministry of reconciliation."
Atonement is about reconciliation. God reconciles the world, not by counting our sins against us, but by inviting all people, including people like Judas, to the table to share in a meal.
A key formula in understanding the Atonement is from John Duns Scotus, a 13th century theologian. According to Richard Rohr, Duns Scotus believed that, "Jesus did not come to change the mind of God about humanity (it did not need changing)! Jesus came to the mind of humanity about God."
Mimetic Theory
Atonement theories generally emphasize a cosmic struggle between God and Satan, or satisfying God's honor or wrath.
Mimetic theory helps us see that the problem at the cross was not God's wrath. Rather, the problem at the cross was the human tendency towards violence and scapegoating. We generally find a sense of unity, or at-onement, by uniting against a common enemy. Or a scapegoat. James Alison claims that there as an angry divinity at the cross, and it was humanity.
Satan is the Accuser. The cross reveals how easily we get caught up in the satanic mechanism of accusation. God responds not by mimicking our accusations, but by modeling forgiveness. Jesus prays, "Father, forgive them, for they know not what they do." As Duns Scotus claimed in the 13th century, this was to change our minds about God. God is the Forgiver, not the Avenger, and invites us to live into that spirit of forgiveness.
Penal Substitutionary Atonement – A Modern Heresy
Penal Substitutionary Atonement is not the traditional Atonement theory. It is an early modern heresy created in the 16th century. It claims that God is infinitely holy and infinitely just and infinitely wrathful at human sin. God's infinite wrath against humanity was channeled against God's Son, Jesus. This is a modern heresy because traditional Atonement theories do not say that Jesus saves us from God's wrath.
Ransom Theory – The Traditional Theory of Atonement
Traditional Atonement theories, such as Ransom theory and Christus Victor, claim that Jesus atones for human sin by either ransoming us from Satan, or by conquering Satan in a cosmic war.
For example, Irenaeus (2nd century) claimed that after the fall of Adam and Eve, humans belonged to Satan. He stated, "For at the first Adam became a vessel in his (Satan's) possession, whom he did also hold under his power, that is, by bringing sin on him iniquitously, and under color of immortality entailing death upon him." Andrew Sung Park explains in his book, The Triune Atonement, that Irenaeus believed, "Adam's fall made all of us captives of Satan, and Jesus gave himself as our ransom to free us."
Gregory of Nyssa (4th century) used a metaphor of Jesus acting like bait that hooked the Enemy like a ravenous fish. Once inside the Enemy, the light of God shines within the darkness, destroying the Enemy. Who is the enemy? Gregory was a bit ambiguous. It could have been Satan or death, but it certainly wasn't God. Andrew Sung Park states that Gregory's metaphor, "… pictures God as a fisher hooking the devil with the bait of Jesus's body" (The Triune Atonement, 6).
Christus Victor – Another Traditional Theory of Atonement
Gustaf Aulen published Christus Victor in 1930. It depicts Christ as a military leader in a cosmic war against the powers of Satan, death, and the powers of evil. We see this in Revelation chapter 19. He saw many in the early church promoting a view that Christ conquered Satan on the cross. It shares many themes with the Ransom theory, but emphasizing Christ conquering Satan, as opposed to paying a debt to Satan.
Athanasius, the Cappadocians, and Atonement – Why Did God Become Human?
Beyond Ransom theory and Christus Victor, many in the early church believed God became human in Jesus so that humans might become divine, or one with God. David Bentley Hart writes in his book
The Story of Christianity,
that 4th century theologians such as Athanasius, the Cappadocians, and many others accepted the formula that, "God became man that man might become God."
This is view of God is not a God that is all powerful and can do whatever God wants to do. Rather, this is a view of God that is like Jesus. Whenever Jesus talks about his death as a ransom, he talks about himself as coming not to be served by others, but to serve others. That's what God is like, and Jesus invites us to be like God in serving one another.
Anslem and Atonement– Why Did God Become Human?
Anselm (11th century) answered the question "Why did God become man?" differently. His theory, described in his book Why God Became Man, is known as Satisfaction Theory. Anselm thought the idea that God had to pay a ransom to Satan or to death was beneath God. Instead, he theorized that Jesus did pay the ransom to God. God's infinite honor was insulted by finite human sin. Only someone on the same level as God could pay the debt owed by human sin. So, God became man in Jesus to satisfy God's honor. Anselm did not emphasize God's wrath. That emphasis came later with John Calvin, who added wrath to Anselm's theory.
Moral Influence Theory
Peter Abelard (11th-12th century) also claimed that Jesus did not deliver us from the devil. Rather, he emphasized that Jesus models for us the way of love in the world. Jesus taught God's love and modeled God's love, even love that would go to the cross. Abelard's key verse in understanding the death of Jesus was, "Greater love hath no man that this, that a man should lay down his life for his friends."
Interestingly, Abelard argued against the idea that God demanded the death of an innocent person to satisfy God's honor or wrath. In Readings in the History of Christian Theology, Volume 1, William Placher quotes Abelard,
In what manner have we been made more righteous through the death of the Son of God than we were before, so that we ought to be delivered from punishment? … Indeed, how cruel and wicked it seems that anyone should demand the blood of an innocent person as the price for anything, or that it should in any way please him that an innocent man should be slain—still less that God should consider the death of his Son so agreeable that by it he should be reconciled to the whole world!
Rather, for Abelard, the Atonement was God's way of modeling love for us and to influence us to share that love with others.
Why Does Atonement Matter Today? Nonviolent Love and the Apocalypse
On the cross, Jesus takes away violence as a method for Christians. Why? Because God is nonviolent love. Jesus says we must now live by the spirit of forgiveness and love. But for the most part, Christians seem to have more faith in violence than we do in Jesus Christ.
René Girard warns in his book Things Hidden Since the Foundation of the World, that we live in an objectively apocalyptic era because we have nuclear weapons. If there is an apocalyptic end to the world, it won't be because of divine violence, it will be because of human violence. The time has come for us to lay down our weapons, or we will annihilate one another. There is hope that God is inviting atheists and people of all religions into the way of nonviolent love. But ultimately our hope is in God, who, as Paul stated 2000 years ago, "is reconciling the world to himself, not counting their sins against them, and entrusting us to the ministry of reconciliation."
Books for Going Deeper!
James Alison, Jesus the Forgiving Victim
Brad Jersak, Her Gates Will Never Be Shut
Michael Hardin, The Jesus Driven Life
Matthew Distefano, All Set Free, From the Blood of Abel, A Journey with Two Mystics
---
Image: Duccio [Public domain], via Wikimedia Commons
Stay in the loop! Like Teaching Nonviolent Atonement on Facebook!