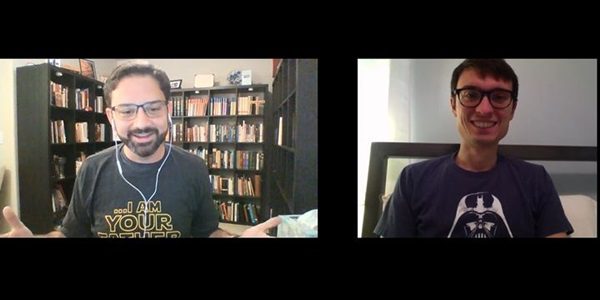 It's May 4th! Star Wars Day. May the Fourth be with you! Today I talked with my favorite Jedi Master, Dr. Ryan Hansen, about the similarities and differences between the Book of Revelation and the Star Wars saga. You can find the MP3 and video below.
Dr. Hansen earned his Ph.D. in New Testament from Garrett-Evangelical Theological Seminary. His book is titled Silence and Praise: Rhetorical Cosmology and Political Theology in the Book of Revelation.
Dr. Hansen is an ordained elder in the Church of the Nazarene. He is also a Jedi. Well, not really, but he is an expert in all things Star Wars. The RavenCast is a weekly interview webinar series. Previous discussions can be found here.
MP3
Video
The Book of Revelation and the Star Wars saga are adventure stories that engage our imaginations. They are stories about the hero's journey – heroes that must confront the evil and violence in the universe.
Both stories defy simplistic answers about good and evil, yet both claim evil hides in plain sight.
Or maybe both stories tell us an even more uncomfortable truth: evil is not just something "out there" in plain sight. Evil resides even closer. It resides within ourselves – maybe even within a Jedi.
Both stories also suggest ways to confront evil. Which brings up an important question for our times – how do we confront evil without becoming the evil we confront?
So, watch or listen in as Ryan and I discuss the differences and similarities between these two classic stories about good and evil.
Oh, and yes, May the Fourth be with you. 🙂