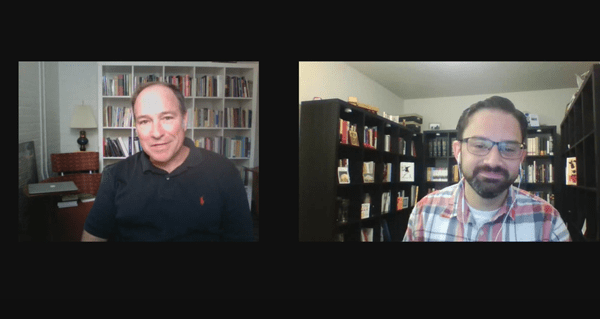 The weekly RavenCast interviews challenge "us vs. them" thinking with new perspectives on the issues that divide us. Hear from knowledgeable guests and join live with your questions and comments. Can't join live? Watch or listen to the recordings at your convenience. Listen to the MP3 of this episode or watch the video below by clicking on the links.
MP3
Video
What can we do about the hostile political rhetoric infecting our nation? And what about the cultural erosion of trust? Did we ever have an authentic sense of trust to begin with?
These are some of the most important questions facing the United States. I recently sat down with Dr. Stephen McKenna to discuss them on the RavenCast. Steve is Professor and Chair of Media Studies at The Catholic University of America, where he is also the Director of the Rhetoric Program.
You can read his books Adam Smith: The Rhetoric of Propriety and The World's Greatest Speeches. Steve has also published many articles on Adam Smith, the rhetoric of advertising, and US presidential rhetoric. Steve is organizing the upcoming Colloquium on Violence and Religion, to be held at The Catholic University of America in July. Find more information on the COV&R website.
Steve is also one of the main speakers at the upcoming celebration of the Raven Foundation's 10th anniversary. That event is titled "Hard Times for Truth." Steve and Vanessa Avery, a good friend of the RavenCast, will conduct a workshop titled "Hot Times for Scandal." That workshop is open to the public and will take place October 21 at Loyola University in Chicago. It centers around Heidi Stillman's theatrical adaptation of the novel Hard Times by Charles Dickens at the famous Lookingglass Theatre in Chicago. If you can't make it to Chicago that weekend, Steve and Vanessa's presentation will be live streamed. Click here for more information.
Show Notes:
Colloquium on Violence and Religion 2018 – After Truth
Steve is organizing the upcoming
COV&R conference
, an annual meeting dedicated to exploring the implications of mimetic theory in various fields such as literature, sociology, economics, psychology, theology, political science, conflict resolution, and economics. Composed of scholars and practitioners, COV&R provides a warm and friendly environment. The upcoming conference will be July 11-14 at The Catholic University of America.
Political rhetoric
New Orleans Mayor Mitch Landrieu's speech about taking down Confederate monuments moves us away from seeing ourselves as self-seeking individuals and towards acknowledging our inter-dividuality and mutual vulnerability. Steve was interviewed about the speech. Read more of his thoughts here.
Sacrificial Trust
Many claim that we are losing a sense of trust in the United States, but really, we never had an authentic sense of trust. We had "sacrificial trust" that is based on scapegoating. Many are wanting to rebuild trust, but it's a pseudo-trust that based on sacrificial scapegoating.
Trust cannot be built. It can only be given. This requires vulnerability.
Social Media, Russian propaganda, and Facebook
Social media makes authentic trust difficult to offer. It often creates an echo chamber of sacrificial trust.
The social media propaganda doesn't seem to have been against one said or another, but sought to sow discord and conflict. The goal seems to have been to create divisiveness. If you want to destroy a society or an opponent, you would want to magnify sacrificial trust.
Fake News, Lying, and Bullshit 
Harry Frankfurt, professor emeritus of philosophy at Princeton University and expert on bull shit (he wrote the book on it!) makes a distinction between lying and bull shit. A lie is knowing the truth and violating it. A lie leads back to the truth. Bullshit has no regard for the truth. Trump is not lying if he has no regard for the truth. He may just be bullshitting. Living in a world of bullshit complicates trust.
Reclaiming Our Mutual Humanity
One way to reclaim our mutual humanity is to not judge the other. Mayor Mitch Landrieu's speech is a good example of this. He ended his speech quoting Abraham Lincoln, "With malice toward none and charity to all." The way forward is to refuse to participate in scapegoating. We need to educate ourselves about the scapegoat mechanism, our personhood, our regular complicity in scapegoating. We need to recognize ourselves in these issues. Only then can we step away and choose non-scapegoating models who try to treat people as inter-dividuals.
---
Stay in the loop! Like Teaching Nonviolent Atonement on Facebook!