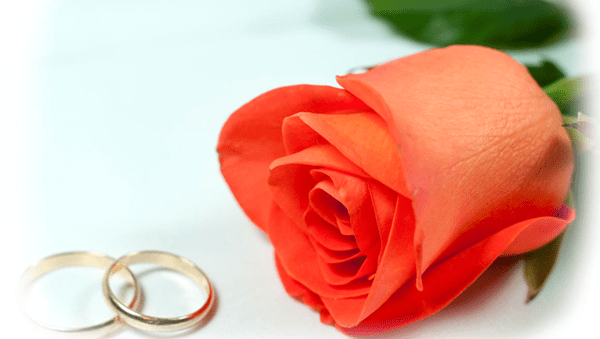 Yeah, to me it's all so clear / Every one of us is here / All because two people fell in love.
Ever since my brother and his bride took their vows last week, these lyrics to my favorite Brad Paisley song have been playing on a constant loop in my mind. Love connected more than two people that day, as it brought us all from our scattered locations around the country to a scenic lakefront flanked by mountains. This idyllic setting was where my brother and his wife chose to intertwine their lives forever, and all of us who bore witness have become threads in the tapestry of joy that they have just begun to weave. Families and friends, young and old, people of different nationalities, faiths, and ideologies – every one of us – gathered in one beautiful place… all because two people fell in love.
Eleven years to the date after my husband and I celebrated our own nuptials on the opposite coast, love brought us across the continent to celebrate another wedding. It was a beautiful day. My heart and mind are still overflowing with indescribable joy, as memories of times gone by and hopes for times to come meet in the serenity of the present, marked by an assurance that – above all else – love abides forever.
It was a day to recognize and reaffirm the beauty and wonder and mystery of love. To let the truth of love permeate our souls and penetrate to the very marrow of our bones. Love reaches out from us even as it reaches into us, connecting us, bonding us, molding us into one another. We are formed in and forever changed by love.
Watching my brother pledge his life to his new wife, I could see the difference she has made in him. His joy on his wedding day was palpable, and while feelings change, joy is constant. His wife forever enhances everything that is good about him. And the joy of his love illumined her from the inside out on their wedding day and is now a part of her forever. In giving themselves to each other, my brother and his wife are giving the world the best of what they will become together.
Weddings magnify a truth that we would all do well to remember: We are made by, in, and for love. We may not all choose to express love through marriage, but we all are made to give and receive and come together in love. Seeing two people commit their lives to cherishing and nurturing one another brings the power and necessity of love into stark focus. It is an amazing thing to commit one's whole self to another – to share all the sorrows and disappointments, to suffer the pains and illnesses, to take on an unknown future together. I believe we can only do that because we have been formed in a love that already does that for us. I believe that we are all children of Love, whom some of us call God, and thus we are made to give and receive and magnify the love already in the core of our being. Only being formed in love allows us to give our full selves to another.
I couldn't help but reflect on my own marriage as I watched my brother and his wife begin theirs. Eleven years after walking down the aisle, I know that it's not always easy. Marriage is work, but it's more than that. It's committing your life to growing in the full light of someone else's eyes, which may mean discovering things you don't necessarily like about yourself that you can't hide from your spouse. And, of course, it entails discovering where there might be differences that are not easily reconciled. It's the beginning of so many beginnings, often parenthood, but always new adventures, with futures shrouded in mystery. A lifetime commitment to another person is a commitment to grow and change with that person. Love is a force that brings beauty and laughter and joy through the struggles and adjustments and transitions as the dance of life sweeps partners along, holding us in each other's arms, twirling and spinning us even when we occasionally stumble and step on each others' toes.
And when I think about the bond of love that keeps two people connected through the stumbles of life, I think that that's the only power that can change the world. I think about how my heart has expanded through years of marriage, how my husband's heart has expanded, and how the patience and understanding and problem-solving skills we have cultivated with and for each other make us better able to care for the wider circles of family and friends and community of which we are a part. Love makes us better instruments of peace for the world. The same force that reaches deep into two people and unites them through life's volatility is the force that wrenches beauty from chaos in a world of suffering. Love that opens the arms of partners to hold each other through tears and fears and failures is the same power that opens our hearts to mercy and generosity and compassion in a world in desperate need of all of these things.
It may seem strange to connect the love that binds two people in marriage to the love that seeks to heal the world by working for justice and peace. But a full, whole-hearted love for one person expands our hearts to reach out to many people. The commitment and energy and work that it takes to see another person so clearly and to be our own most vulnerable selves is the same energy it takes to continuously strive for a world that affirms the dignity of all people. Two people are brought together into the most intimate life-long bond by the same force that opens hearts and reconciles nations, the same force that recognizes that we are all made to be cherished completely and utterly, the same force that gives us the energy to give of ourselves and the humility to receive: Love.
There ain't nothing not affected / When two hearts get connected…
The love that unites two people in the intimate bond of marriage always reaches beyond the immediate couple it unites. It spreads out into the world through all the ways it enhances the couple as individuals and as a union. The mercy and patience and generosity that such love cultivates ripple outward in every direction, touching others who go on to extend that love in their own networks of connections.
We know that individuals are the building blocks of relationships, but a deeper truth is that relationships are the building blocks of individuals. In fact, we are not merely individuals, but interdividuals, because none of us can remain unchanged when we invite someone into our lives. I am not the same person I was before meeting my husband. My brother is not the same person he was before meeting his wife. Marriage is the most profound opening and expansion of our full selves, allowing another person to build on who we are so that we become more than we could ever be without the other. And the relationships of others affect us in ways we cannot begin to imagine or untangle. We can't fathom all the generations of love that brought us to this point in our lives, from our own ancestors to those of our friends and teachers and mentors, and all the generations of love that shape our children and our children's children in the future.
Love may not be the only power that creates life or brings lives together, but it is the only power that can renew life out of brokenness. The love that unites two lives never ends in the lives it unites. It's a power that can set the whole world on fire.
Over and over and over, two people fall in love. And the world is a better place for it.
Image: Wedding Card by Free Photobank torange.biz. Available via Creative Commons Attribution 4.0 International License.