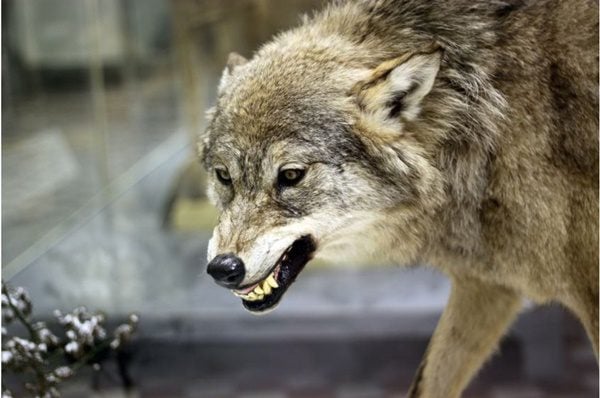 "See, I am sending you out like lambs into the midst of wolves."
Yes, United States of America, we are the wolves.
This week's lectionary tells us that Jesus sent his disciples from town to town to precede him. He knew the journey would be dangerous, yet he sent out his disciples "like lambs into the midst of wolves" because the mission was urgent. They were to go into the city, heal the sick, and proclaim that the kingdom of God is near.
It's too easy to connect this lectionary with the horrors on our southern border. It's too easy to say that Jesus is in the midst of the crowd of desperate asylum seekers, and that their arrival into the land that we call home is a sign to us that the kingdom of God has drawn near.
It's far too easy to see what this week's Gospel is telling us. But it is necessary nonetheless to repeat it. This truth should be drilled into our heads and pounded into our hearts until it transforms us from the inside-out:
Jesus is walking hundreds of miles in the desert heat seeking refuge.
Jesus is shivering in the night, dehydrated, growing sick, yet pressing on as best he can.
Jesus is being apprehended and criminalized for seeking life.
Jesus is having his child ripped from his arms.
Jesus is the pregnant teenage girl struggling to sleep on the cold concrete floor while her baby kicks in protest within.
Jesus is the child stripped of clothing and blankets.
Jesus is the eight-year-old struggling to figure out how to sooth a crying 2-year-old.
Jesus is the woman forced to drink from the toilet while guards laugh.
Jesus is… Jesus is… Jesus is…
Because God has always been among those who suffer oppression and violence, ever feeling each blow, ever grieving each loss.
And God has ever been among those who have fled for their lives. Through the Red Sea and along the Underground railroad, God has journeyed.
When God became flesh, he was bundled in his parents' arms and carried to Egypt as a refugee.
And now the Body of Christ enfolds and embraces us all, yet some of us continue to fight and demonize and wound and kill those we fail to recognize as intimately connected to us, their lives intertwined with ours. We are part of each other, and yet some of us are torturing and killing, and some of us are suffering and dying.
Jesus came among us to shine a light in the darkness of our deception, illuminating our humanity to one another when it had become lost in a fog of violence. Jesus saves us by exposing the violence to which we had blinded ourselves with justifications and excuses, with dehumanization of our victims and a false sense of identity over and against others. Jesus let our violence consume and devour him, to show us how our violence consumes and devours us all. Jesus rose again to show us that love is stronger than the forces of death, to open our eyes to the path of love that is ever before us, to teach us that true life is found in vulnerability, sharing, opening ourselves to one-another rather than exploiting, expelling or killing each other to get ahead.
Jesus exposes our own violence to us. And that is exactly what immigrants on our border are doing. Their very presence is testimony to the hell United States policy has made in their native lands. In Guatemala, El Salvador, and Honduras, the United States has backed or turned a blind eye to coups against democratically-elected leadership, allowing or encouraging militarized violence to sweep through their countries. And even when reasons for fleeing are not traced back directly to US intervention and violence (though causes for violence and poverty are often so tangled and intertwined that our nation can never be fully exonerated of its responsibility), the arrival of these migrants – refugees from poverty and violence – has exposed to us the cruelty and brutality of our nation's policies.
Jesus told his disciples to say to those whose homes they entered – whether they were received or rejected – that the kingdom of God had come near. And because God is always in the midst of suffering, God's kingdom is near in the war-torn lands where our bombs fall and our bullets fly. And right now, in the concentration camps on our borders, the kingdom of God has quite literally drawn near to us, close enough for our eyes to see and our hearts to break.
And when our eyes are forced open to the evils and horrors of our violence by the cries of the suffering right in front of us, we can begin to understand the wisdom of God that has come among us. The clear message is this: this violence is unsustainable. When powers and policies of greed and imperialism make people expendable, foment violence and drive people from their homes, the world is caught up in the forces of death. And it is not only the 24 immigrants who have already died in US custody over the course of the current administration and the countless multitudes who may die in conditions where cruelty literally fuels the contagions that bring death who are in danger. The virus of dehumanization will not stop until it has swept its way through all of us – unless we face it head on with love.
Yes, USA, we are the wolves to whom God is sending a clear message as those who suffer our violence are coming to our doorstep. And in devouring them, we are destroying ourselves. For there is no them, only us. The Love in which we were created and through whom we have our being unites us all. So we destroy ourselves when we separate ourselves from those who desperately come to our doors. We destroy ourselves when we fail to see our own children and our own mothers and fathers in the families our policies are ripping apart. We dehumanize ourselves when we keep others in dehumanizing conditions in an attempt to further separate them from ourselves, for in doing that we are unwraveling the thread of human connection that holds us together.
But the Kingdom of God is at hand, and now that we see our cruelty on our own doorstep, we can find ourselves in loving our neighbors and seeing, within our neighbors, ourselves. We can transform our cruelty into community. We can welcome Jesus in the stranger and find the Peace of Jesus among us.
This article by Andrea Gonzolas-Ramirez details many ways to help immigrants seeking refuge, from organizations that provide all things from food to legal aid to journalists who keep us informed to links that will tell us about local calls to action. Because it's all too easy to preach; these are ways we can help directly, giving what we can in time, talent, or treasure.
Jesus has come among us, and our policies have torn him from the arms of his family, caged him, humiliated him, brought him to or over the brink of death. Like wolves, we have torn him apart. Let us open our eyes to our violence and see this evil for what it is, letting ourselves be transformed from wolves into the Lamb who unites us all in gentleness, mercy and love.
Image: 123rf.com.