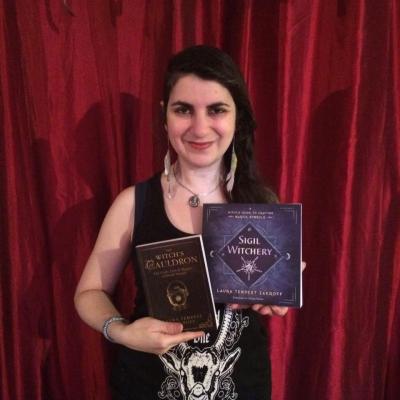 Hi folks! I'm super excited to be returning to Minnesota this week! I love the folks in MN, and very happy to be returning for my third year of Paganicon.
I'm getting into town a wee bit early to do a book signing and workshop at Magus Books & Herbs on Wednesday, March 14th. Here's the event link. I'm looking forward to seeing their new shop space!
Here's the info:
6:00PM – 6:45PM BOOK SIGNING
Magus Books and Herbs is proud to host Laura Tempest Zakroff for an evening of books and magic. From 6:00 – 6:45, Laura will be signing copies of her books The Witches Cauldron and her most recently published title Sigil Witchery: A Witch's Guide to Crafting Magick Symbols. Copies of both books will be available for purchasing at the event.
7-9PM – SIGILS IN MOTION WORKSHOP
Ritual is a dynamic union of self and spirit, above and below—so why should it be static? Learn to incorporate movement into your ritual with focused intention and discover a much more powerful experience. We'll look at the parts of various rituals from start to end, and how different sacred movements (gestures and dance steps) can be applied – for groups, covens, as well as solitary practitioners.
Held in the newly renovated Magus Books and Herbs Classroom
Before March 1st: $40.00/After March 1st: $45.00
Tickets: https://www.magusbooks.com/Sigils-In-Motion/productinfo/TEMPEST2/
Then there's the Paganicon Schedule.
All weekend during normal vending hours, the Owlkeyme Arts booth will be open in the main vendor room (situated to the left along the wall when you walk in the room). I'll also have 4 pieces from my recent solo exhibition "Embodied Sigils" in the Art Show Room.
Friday:
8:30pm – Nathaniel and I will be joining S.J. Tucker during her Friday night concert.
Then you'll find me at the Llewellyn Hospitality Suite afterwards!
Saturday:
10:30am – Nathaniel will be playing a set, accompanied by S. J. Tucker
2:45pm – Book Signing! I'll sign books! Preferably ones I have written!
4:15pm – We Are Aradia Workshop & Ritual – empowerment, education, and ritual
Sunday:
9:30am – Artist's Eye & Witch's Heart – watch an undercaffeinated and overtired Tempest lead a panel of artist folks on the intersection of art, spirituality, and magick. Seriously, it won't only be informative and interesting, it'll be highly entertaining.
1pm – The Art of Sigil Witchery – it's like my book, but with me in your face doing things!