Ah Imbolc, that sense of things being "in the belly" – that life is stirring below the surface and soon will burst through the earth into the world. Something I contemplate this time of year, though my ritual workings tend to be rather low-key.  (One day, I'll sit down and make a Brigid's cross!)  Mainly this time of year I'm focused on finances as I work to create artwork and other stock to kick off the festival season.  It's definitely a magic trick of its own, manifesting a bounty from seeds.
That keeps me pretty busy, so often I typically remember to post my schedule events just as I'm leaving for them.  Since Jason Mankey has done a lovely job of pulling together what events Patheos Pagan bloggers will be up to in February and March convention-wise, I've had a nice little push to get a head-start this time.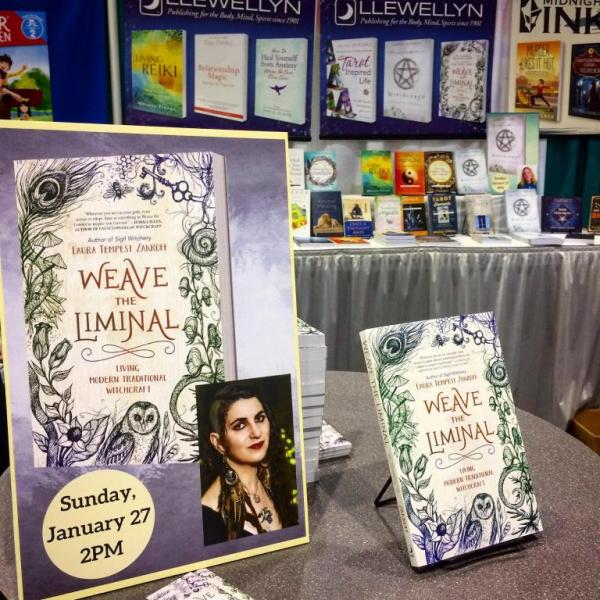 First, I'm sorry if folks didn't know I was signing books at the ALA Midwinter Conference here in Seattle last weekend.  It does seem like most of the librarians I know are indeed pwords, and the ALA program is hefty to sort through.  It was great meeting some folks and the stack of "Weave the Liminal" books were gone in 20 minutes.
But here's a list of things you can find me at:
February 8th – Portland, OR – book signing and workshop at Queen Meb – details here
February 9th – Eugene, OR – Featured performer at the MEDGE Show –
details here
February 10th – Eugene, OR – workshop – details here
February 11th – Sebastopol, CA – book signing and workshop at Milk & Honey  (follow link for details)
February 12th – Walnut Creek, CA – book signing and workshop at The Mystic Dream (follow link for details)
Then from February 15th-19th, you'll find me at PantheaCon in San Jose, CA!
I will be vending with my artwork, books, and more at my usual spot in the mezzanine (just outside the main ballroom, next to our pottery friends Gaean Allusians), from Friday through Monday.  I'll be appearing at the Llewellyn suite a couple times over the weekend so be sure to check their schedule.
My main events at PantheaCon are:
Friday, 11pm – We Are Aradia Ritual (with Phoenix LaFae)
Saturday, 9pm – A Revel for Pan (with Nathaniel Johnstone and Angus)
Sunday evening – the Feri Hospitality Suite – a performance with Nathaniel, Sharon Knight, and Winter
FYI – I have two workshops on the waitlist (Sigil Witchery and Weave the Liminal), so at any moment, either of those might be scheduled, so be sure to check the daily PCon news!
And that's my February!  My next big event will be Paganicon in Minneapolis in March.
As always, don't be afraid to stop by and introduce yourself!