A Sigil for the Dissolution of Hate was created on October 28th, 2018 during the Sigil Witchery workshop that took place at Books, Beans, and Candles in Birmingham, Alabama. The community surrounding this amazing space is large and vibrant – definitely plan on stopping at this shop if you happen to come through Birmingham. This sigil joins the previous shared magick sigils that have been posted.
Prior to this event on the tour, I've only been through Alabama while heading to New Orleans from Atlanta, so I'm glad I really got a chance to stop and see more of it. As chance would have it, Nathan and I listened to all three seasons of the podcast Revisionist History with Malcom Gladwell before we landed in Birmingham.  There are several episodes that center around Birmingham (and other places we visited) exploring the history of the Civil Rights Movement,so it seemed very appropriate and a bit fateful.  (Particularly: The Foot Soldier of Birmingham,  State Vs. Johnson, Mr. Hollowell Didn't Like That are worth a listen, if not every episode.)
I'll share more about our stay in Birmingham in a future post on places, and focus more on the timing and the sigil.  Prior to rolling into town, the news was full of the recent shooting at the synagogue in Pittsburgh and other hate-related crimes in the South. (See the sigil to protect Jewish Folk here.) So that set a lot of the tone coming into the group sigil creation part of the workshop.  And regardless of how modern-day Birmingham may feel about its legacy as the birthplace of the Civil Rights Movement, it felt like exactly the right place for this particular sigil to be born.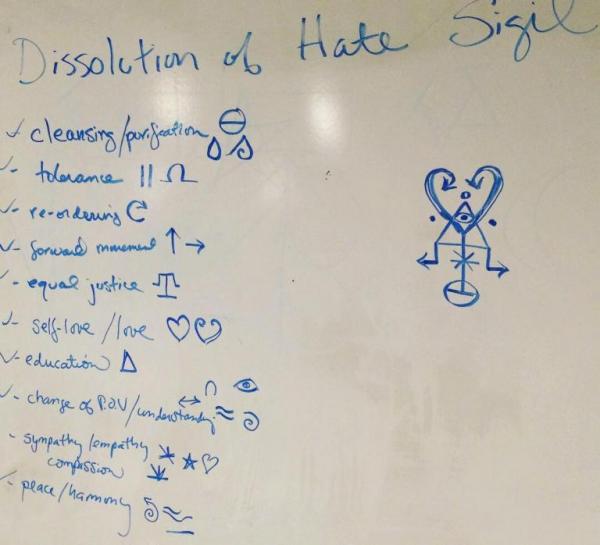 The goal of the sigil is pretty much it says: to dissolve hate.  In order to move forward as a society, we have to clear and cleanse away hate – and that which breeds hatred. We have to break the chain that can spread the seed of hate from generation to generation. Then, there is a chance for positive change and growth to take place. 
Built into this sigil:
-cleansing and purification of the spirit to remove hate
-tolerance (of diversity, not of hate)
-re-ordering
-forward movement
-equal justice
-self-love and love
-education
-power to change point of view, increase understanding
-activate sympathy, empathy, compassion
-promote peace and harmony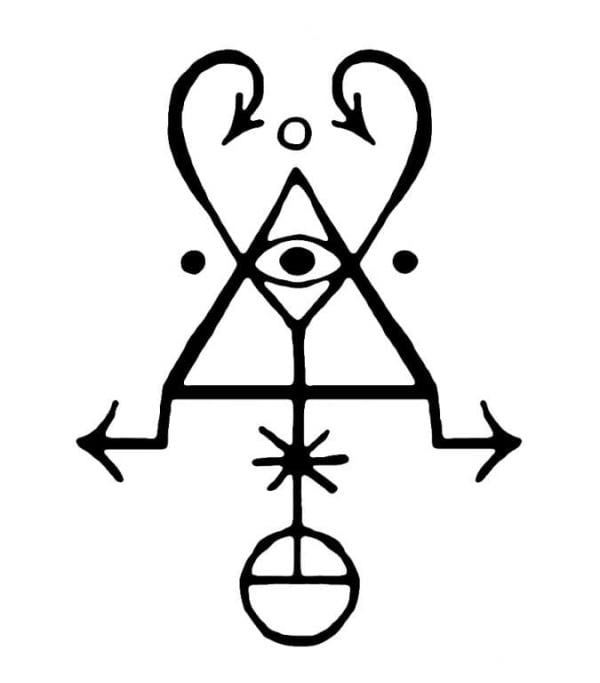 What to do with this sigil:
– You are welcome to use this sigil however you see fit that is in alignment with the intent of the sigil.  As long as it's not used for profit/commercially, you can wear it, share it, draw it in appropriate places, make signs of it, put it on candles, use it for blessings and other forms of protection, and so forth.  You  can use it to lend support to others and bring more understanding, to guide conflicts towards a positive and powerful solutions.re
It is protected by the Creative Commons License, details below:

Sigil for the Dissolution of Hate by Laura Tempest Zakroff is licensed under a Creative Commons Attribution-NonCommercial-ShareAlike 4.0 International License.
If you're interested in learning more about this method of sigil crafting, check out www.sigilwitchery.com or even better, check out the book I wrote on it – which is available via amazon, the previously mentioned website, and bookstores everywhere.  Support your local witch/indie bookstore whenever possible!