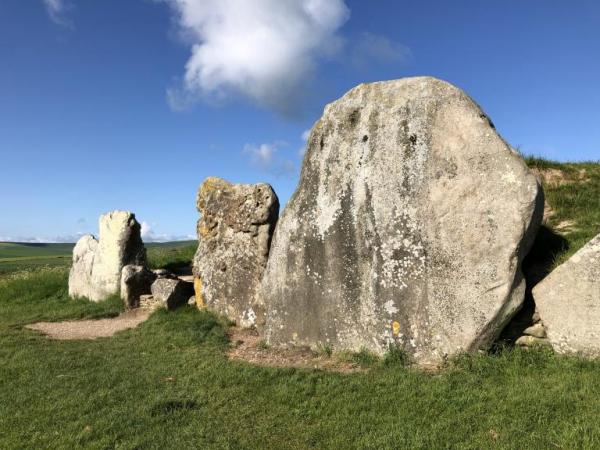 I know I said I'd cover more museum stuff next regarding our trip to the UK, but I really want to talk about Avebury right now.
Initially when we booked the trip, I imagined we'd be bouncing all over the UK to see all sorts of sites (and sights). But as I'll talk about in an upcoming post , we were solidly in the thick of buying our first home and moving cross-country to do it.  Coordinating a bunch of trips, possibly renting a car, and everything else involved was just not another thing I could handle.  So we decided to focus on doing a week in London, then go to Avebury and Glastonbury. Avebury is believed to be the site of Europe's largest neolithic stone circle.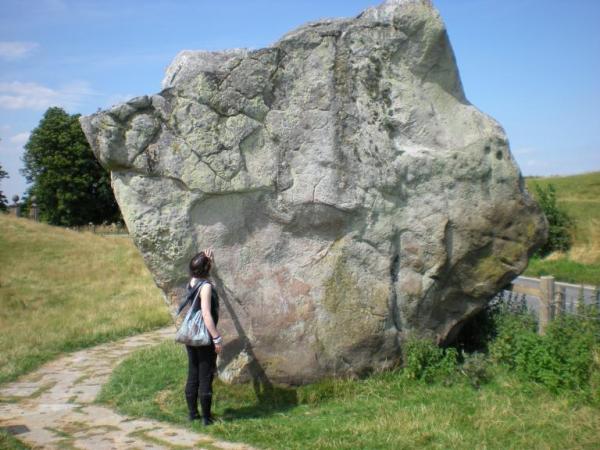 This would be my second trip to Avebury and Nathan's first.  I was really excited to show it to him because I had had quite a profound experience my first time back in 2008. It had been the middle of a hot July day, and I was walking down one of the avenues of smaller stones.  I stopped to touch one of them (as I had been doing off and on since I got there), and suddenly I felt things shift dramatically.  The summer day was gone, replaced out with a cool, fall evening with a taste of smoke from fires in the air.  There was a colorful procession of people parading down the lane, singing and drumming.  Then someone called my name and I was back under the hot July sun, definitely not among a procession of people.
That same trip, I laughed at one of the local sheep, then had a coughing fit and lost my voice for two weeks. Don't laugh at the sheep who live at mystical sites.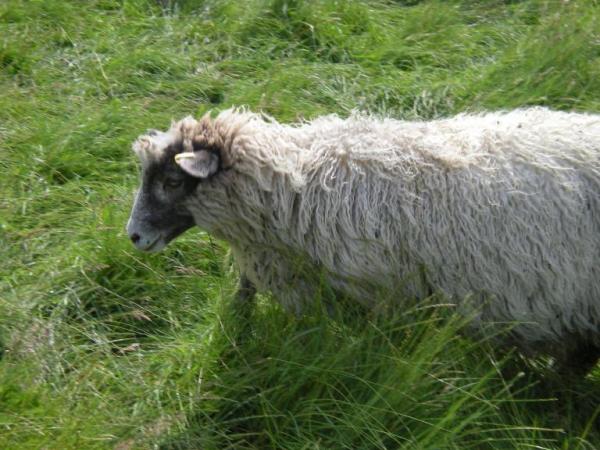 Anyway back to the current year: after spending just over a week in London, we got up early and took the Underground to the train station. It was a bit confusing, but the staff was helpful (by the way, every single transportation person we met in the UK was rather pleasant and helpful) and we got on the correct train to Swindon – which was super clean, comfy, and had wifi.  I had no idea how tightly wound up London had made me – as we passed out of the city into the countryside, so much weight fell away. Then about 3/4 of the way into our trip, as I was watching the hills go by, I spied some white lines in the distance, and thought…nah, can't be.  But it was, as we drew closer, there was the Uffington Horse as clear as day!  I had been bummed because I thought that we weren't going to be able to see it since we weren't driving (the US has a way of hiding any landmarks that they can charge for), so I was thrilled to spot it from the train. (No photos because I was just too enthralled!)
Pretty soon, we got to Swindon and walked over to the bus station.  When the double-decker bus that would bring us to Avebury pulled up, a woman with long grey hair and a large pentacle necklace was one of the first people off of it. Pretty good sign I think!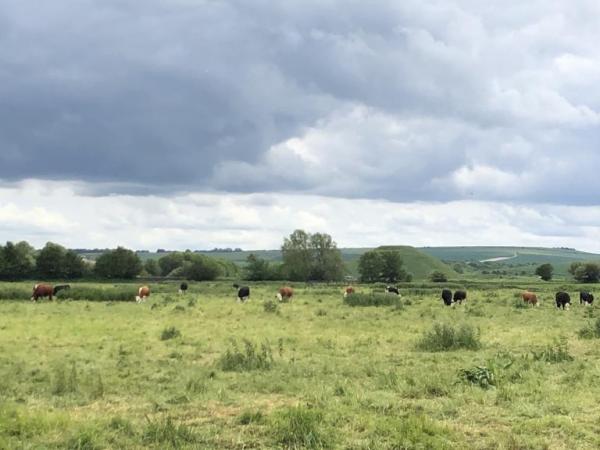 I had found us an AirBnB in Avebury Trusloe for fairly inexpensive at the last minute (literally the day before) – so we got off the bus there so we could stow our luggage.  Then we had a lovely walk (about 10-15 minutes) back to Avebury.  We had perfect weather – as you can see, it was fairly cloudy, but not raining and there were still pockets of sun with a light breeze.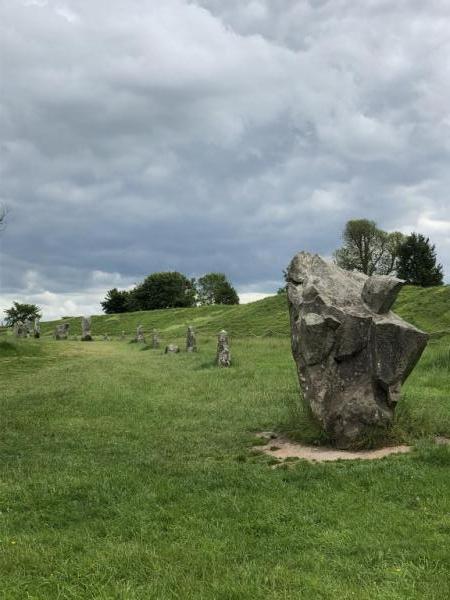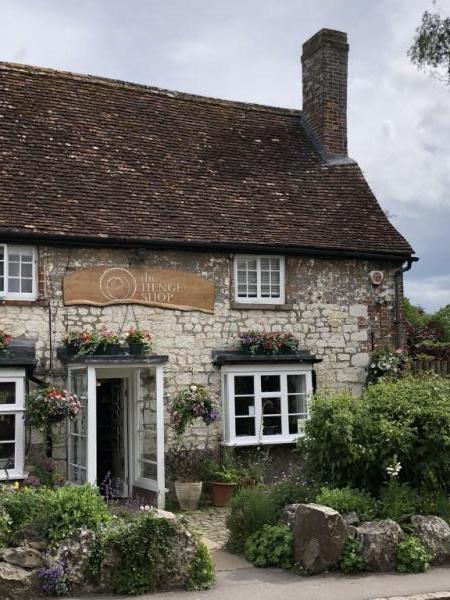 Rather than immediately taking off the for stones, we figured we'd check out the village first, since we had been discovering all week that things tend to close early-ish in the UK. Our first stop was the Henge Shop, which was an absolute delight. We bought some art cards, a small stoneware hare plaque, a photo guide to the stones, and well, could have kept going if we weren't being conscious of how much we could pack home with us.  We grabbed lunch at the heritage site cafe, and then headed off to explore the cycles.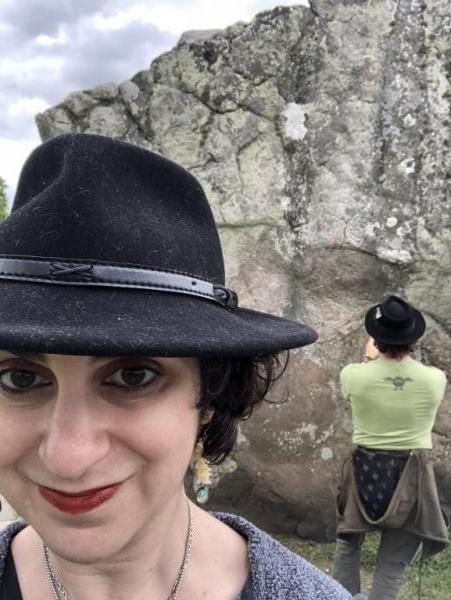 One of the things I had enjoyed most about my last trip to Avebury was that you could get right up on the stones.  On that same trip, I had gone to Stonehenge with some friends, and had been surprised that you could only walk around it from a roped-off distance most of the time. So being able to touch, be next to, walk beside them at Avebury was amazing. On this recent trip, we also did visit Stonehenge too, but more about that later.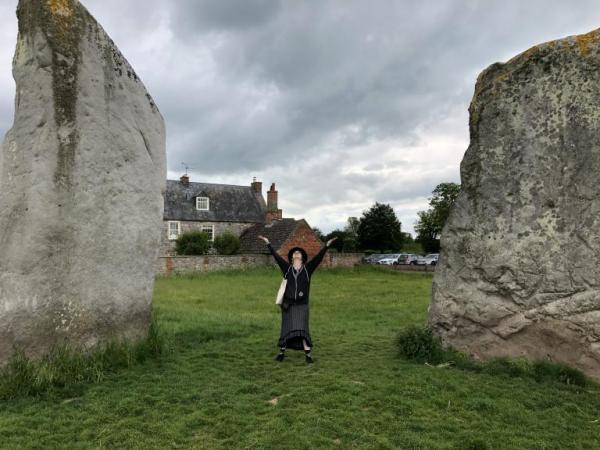 We set off from the heritage museum site going clockwise, which brings you to some of the largest stones.  The village of Avebury is pretty much situated in and around the stones, so to see the majority of ones (that aren't on private property or way off in a field), you cross over streets and through cattle/livestock gates. One of my favorite crossings was heading over into the Beech Grove.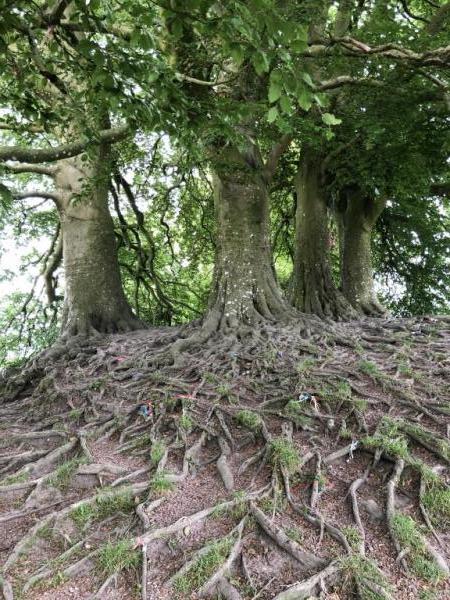 We spent quite a bit of time here, listening to the trees in this liminal place.  I had a conversation with the trees (who have a very long memory) while Nathan had an ancestral experience.  We were both pretty tear-streaked as we finally made our way out and beyond them.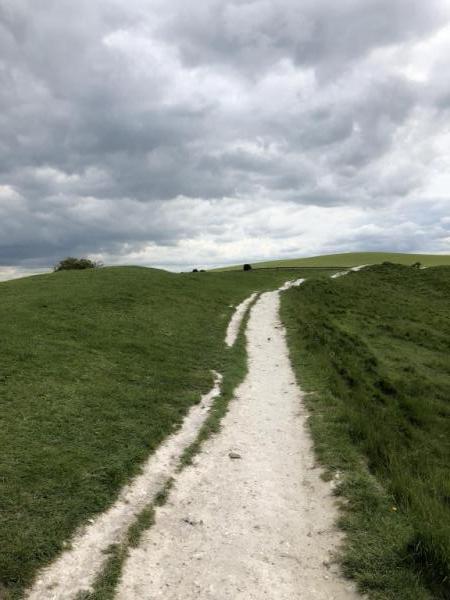 Whether because it was the middle of the week or the weather seemed daunting, we pretty much had the place to ourselves, minus some older couples and a hiker or two. It was serene, so very peaceful and calming. Of course, I don't miss an opportunity to be a dork and sit in the Devil's Chair.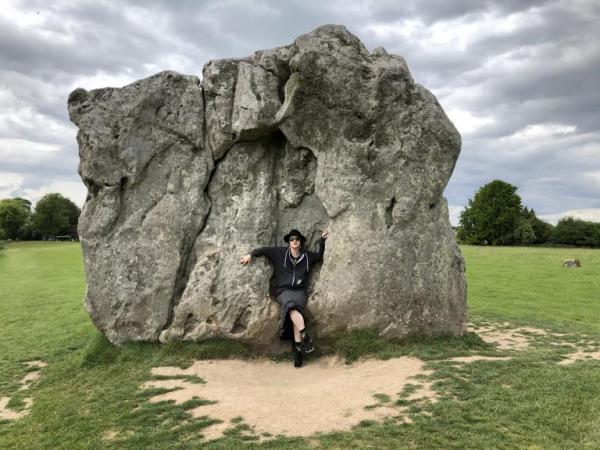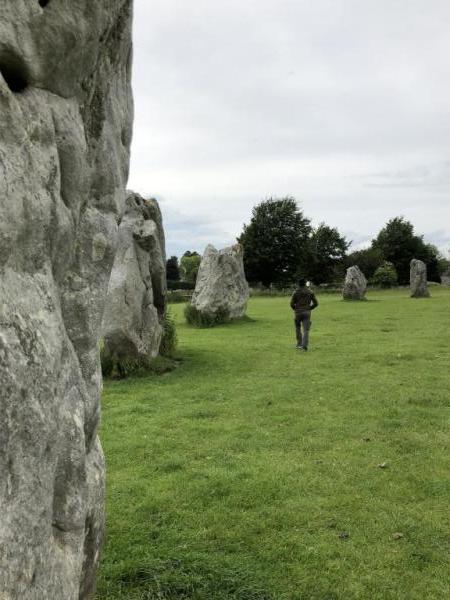 You may notice there is a complete lack of sheep in these photos.  The only sheep we saw this time were penned off, and they told us their opinions as we walked by.  Whether it was grazing patterns or enough tourists had been cursed in years past, who knows? Nathan started repeating their calls back to them when I interrupted him and reminded him of what happened to me. He stopped. Everyone maintained their voices this trip.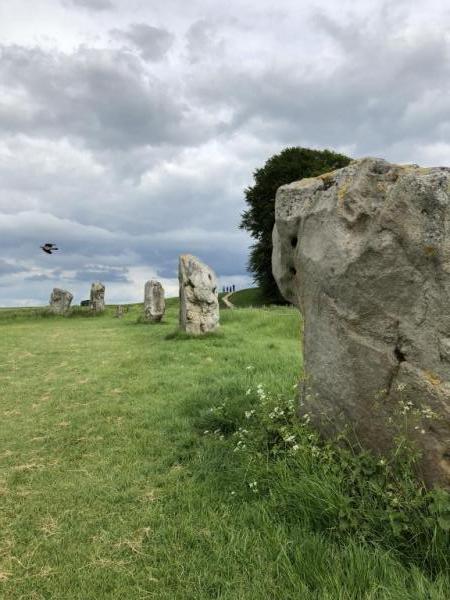 Once we got back over to the avenue where I had had that profound experience 11 years ago, we lingered a little longer, communing with each stone. I'm not sure if it was the same stone as before, but again, I experienced another shift, as both us held hands and touched a stone.  The vision wasn't the same time of year – but rather a late Spring sunset, and flowers were festooning all of the stones.  Music and laughter could be heard, and the smell of food being prepared. This set into my mind the hunch that Avebury had been a gathering place of celebration.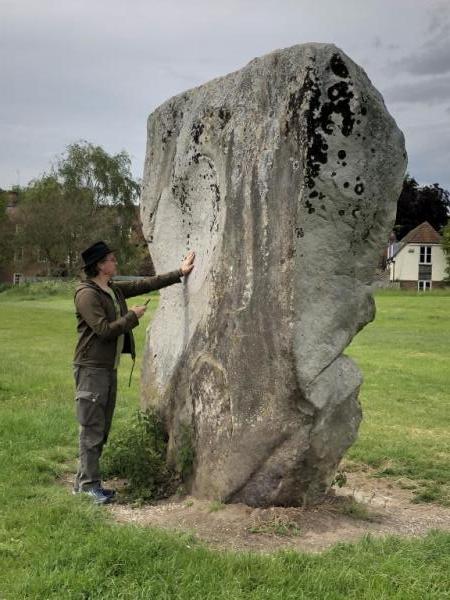 Afterwards, we explored the village a bit more, including the church and cemetery we had passed on our way in.  Then we settled in for drinks and an early dinner at the Red Lion. (Note: there isn't much in terms of restaurants or places to stay in Avebury proper, or Trusloe.  There's a general store, two cafes that may or may not be open, and a couple lovely gift shops – the Red Lion is the only pub/restaurant in the immediate area.) Despite the early-ish hour, after walking back to our BnB, we turned in fairly early, exhausted.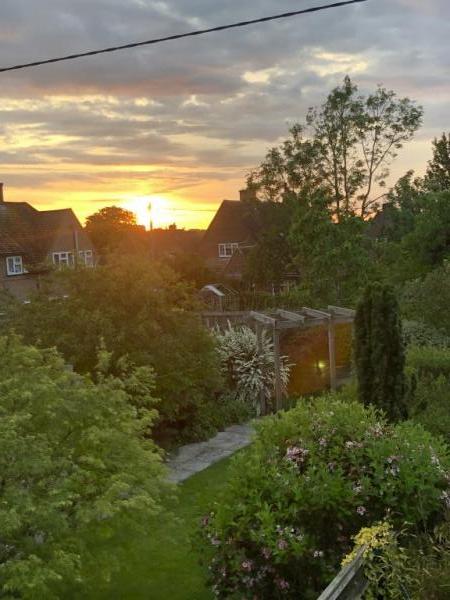 Which was all well and good, because we had decided that before we checked out and heading on our way to Glastonbury, we would take our friend Angus' suggestion to visit the West Kennet Long Barrow, about a half an hour hike from where we were staying. This turned out to be a bit of an adventure, because google insisted that the most direct way was walking alongside the highway – which had no sidewalks, no shoulder, and cars whizzing by at 55kph, despite the very early hour. Nathan balked hard at trying our luck at the road, so we set about trying to find an alternative route. There were a number of signs indicating walking paths, but they weren't clearly marked and definitely went through people's properties. Being American, we didn't know that this was a normal thing and that you could just go across a pasture and not get shot at. But eventually we got to the start of the official trail.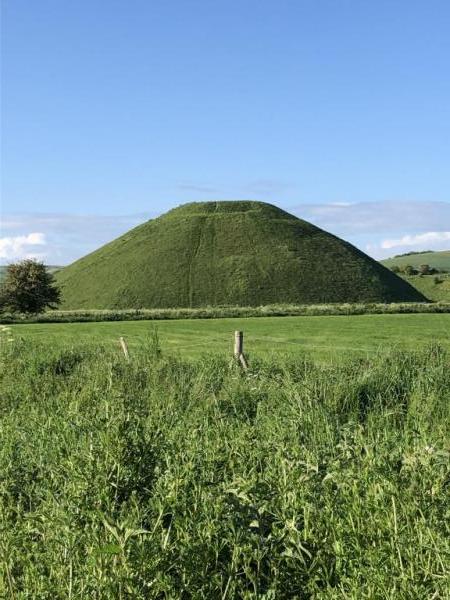 Within 10 minutes, both of us had soaking wet feet – our sneakers and socks catching all of the morning dew.  Next trip over, I'm figuring out how to pack waterproof boots or see about borrowing some wellies from someone, because that was pretty miserable, though the view and gorgeous weather made up for the soggy feet.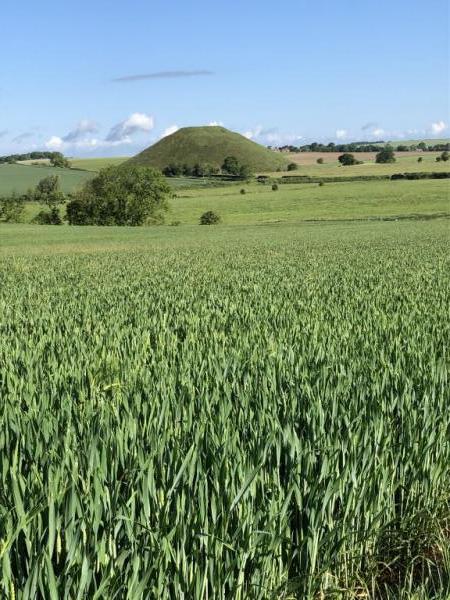 The wheat/grass was growing all around us in the fields, not quite ready for harvest. It was beautiful and full of whispers. I collected a little bit that had been broken off by someone or something else, asked permission, and placed it in my hatband. It stayed there all the way home, until one of the cats discovered it.  Luckily I had saved two other pieces in the Avebury booklet we picked up.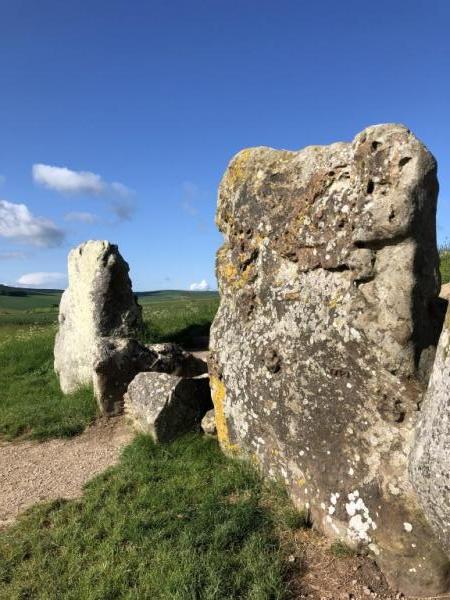 We were the only other humans we saw (minus the occasional car on the highways we crossed over) on our trek over.  So we had the Long Barrow completed to ourselves – and the resident pair of swallows who were first alarmed at our arrival, then chilled out.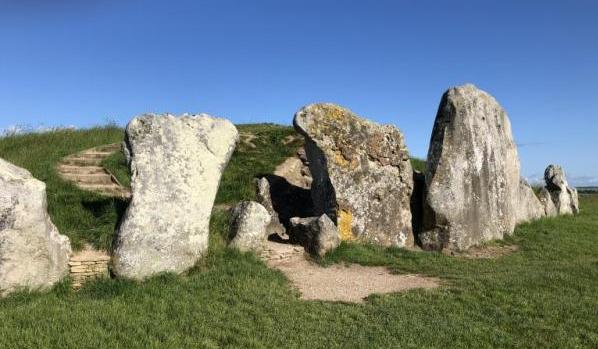 The Long Barrow had a different feel than the stone cycles – clearly a place of rest, away from the central hubbub, even back then. From on top of it, you could look around and imagine what the landscape may have looked like centuries ago – before agriculture took over. Our feet almost dried out – we got them soaked again trekking back, as the dew was still ample – not yet dried out by the rising sun.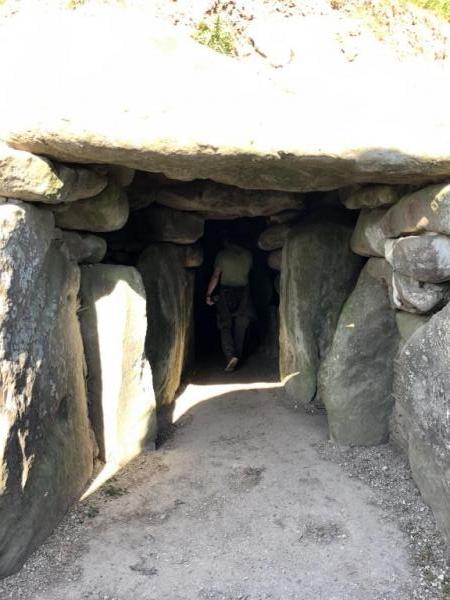 We headed back to dry off and collect our luggage.  Luckily we each had a second set of shoes and a bag to place the wet things in until we got to our next destination and could dry them off.
As it turned out, we needed to take the same numbered bus back to Swindon, then take the train to Bristol (I think), then another bus to Glastonbury.  As we waited for the bus to Swindon, I looked at the standing stones in a distant Trusloe field, Silbury Hill in front of us, and looked at the map on my phone for the other sites. It struck me that the pairs of large stones (behind us, at the village, another set further off, and perhaps an unseen or lost to time set), served as gateway markers.  No matter whether you came from the north, west, east, or south, you would run into these stones – marking the entry points – with the hill as a clear central marker.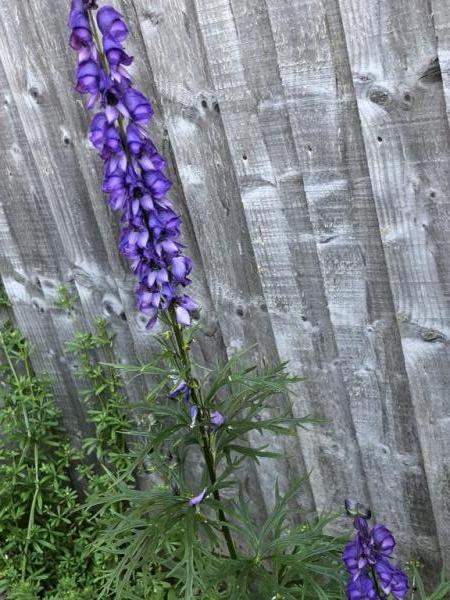 This realization of how the terrain was marked, along with what I heard from the trees and felt/saw in the shift experiences – that Avebury was clearly a gathering place – where people came together to celebrate life, the seasons, trade/sell goods, share news, and meet potential mates – likely at least twice a year in the spring and fall – and other events/happenings at the solstices. Outside of the larger gateway stones, perhaps while the other stones may mark paths, it is possible that each stone represented a particular tribe or family. Not only that, but maybe it designated where folks would set-up for the festival. Maybe each also served as a marker in a telling of the people's myths or history.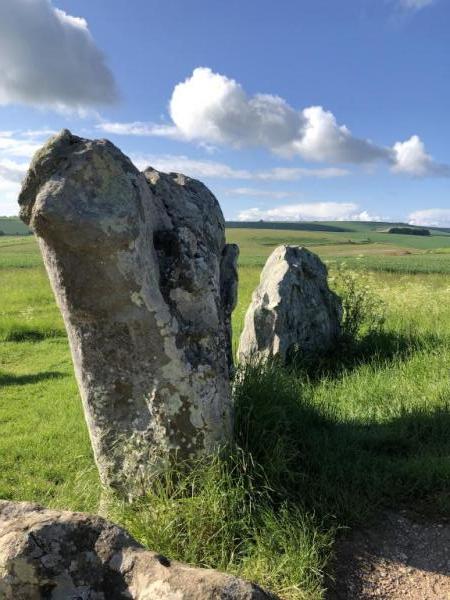 Maybe these stones feel this way because the village exists in and around them, but I suspect that my hunches could be right about their origin and longer history.  Stonehenge on the other hand, is a completely different matter all together.  More on that in an upcoming post.
If you're heading over to the UK and want to see standing stones – I highly encourage you to go to Avebury.  It's pretty easy to travel to via train and bus, though of course a bit quicker to get to via car.  If you take a car, you can hit some of the lovely small towns on the way – including amazing tea shops and pubs.  But public transport is still fairly quick, direct, and not too expensive – especially if you're not traveling at peak hours. (Cheaper than renting a car and braving driving on the wrong opposite side of the road.)
And who knows what time and tradition you may tap into while you are there.