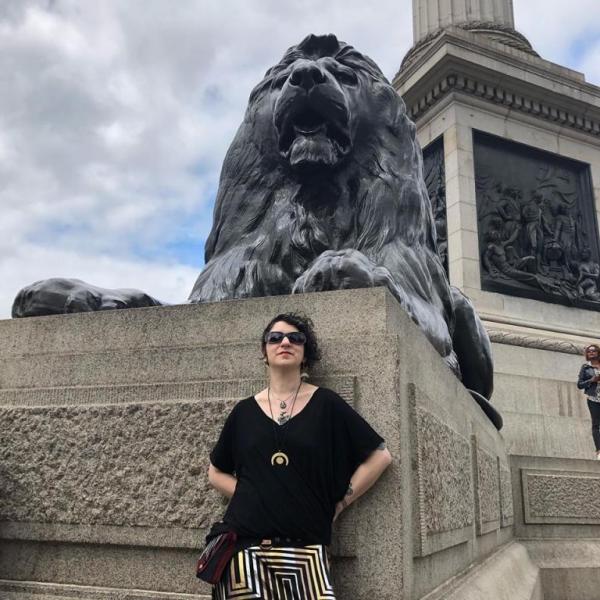 I have just returned from a two week-long trip to the United Kingdom (well, more specifically England) and I feel like I've been away for at least a month.  I tried not to over-plan things or try to pack too much in, but I feel like I'm bursting at the seams with everything we experienced.  As we were traveling as light as possible, I didn't bring my laptop with me – so now I have the challenge of going back and trying to put into words those two weeks.  Think good thoughts – here we go!
So the whole trip started off because I was invited to present a workshop on Sigil Witchery at the first ever Magickal Women Conference (MWC)in London on June 1st.  I haven't been over to the U.K. since 2008 – and since we managed to score super cheap flights via Virgin Atlantic, we figured let's really take some time to explore.  And to keep costs down, we also opted to only do carry-on luggage.
We spent about a week in London, then headed to Avebury, Glastonbury, Brighton, and back up to London in time to fly out. There is a LOT to cover, so I'm going to kick things off with covering the MWC in this post – and then I'll continue on with more on London and the other locations in subsequent posts.  Also head's up: I suck at remembering to take photos with and of people, so most of these are by other folks.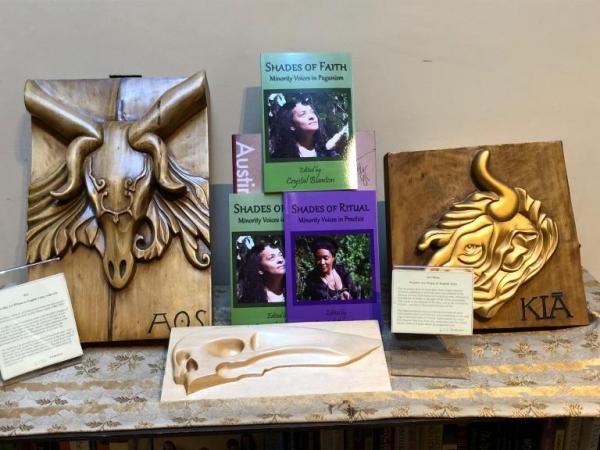 The event kicked off Friday evening with a meet-and-greet event at the amazing Treadwell's.  After slinking my way through London bookstores the last couple days undetected (more on that in upcoming posts), it was quite a surprise to be instantly recognized by the owner of the shop, Christina Oakley-Harrington. I had been saving stopping by since I knew the meet-and-greet would take place there – and I kind of wish I hadn't, because there is such an amazing collection of books to oogle in that shop – as well as beautifully displayed!  And once things got hopping, I couldn't really dig in and lose myself among the shelves.  It was a delight to run into so many familiar faces from the states and get to meet some new folks – though with the wine flowing, much chatting, and many bodies in the room, it was a bit hard to focus/hear.  As things wound down, we opted for having dinner with our friend Erynn to catch up vs. joining in on the group dinner afterwards, which was a good move for resting up and being ready for an early morning.
It was a beautiful and sunny day as we took the Piccadilly line down from our friends' home in North London to the posh Queen's Gate area.  The event started off with a welcome from the producers Erzebet Barthold & Sue Terry, followed by an opening talk with respected elder Dolores Ashcraft-Nowicki who was the headline speaker. As she talked, I marveled at the years of experience and insight, but also was reminded that it's important to have patience in understanding that from generation to generation, we are all going to have differing viewpoints based on our age and experience, as well as different access to information and social updates. We must remember to be bridges, not barriers – to communicate and engage with each other across generations.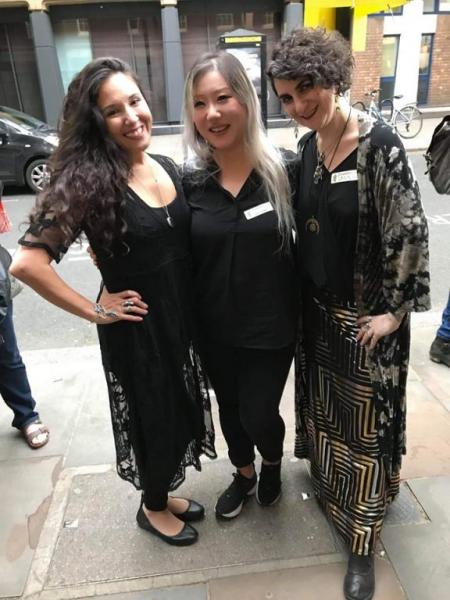 Next there was a short coffee/tea break, which involved a quick look around the vendor area (thinking I would have more time to go back later..heh.) Starting at 11am, there was no less than 6 events (workshops, classes, art installations) happening per time slot. Begin the marathon and the agony of too many good choices.  (I wish it had been possible to take the same amount of presenters, and spread the programming out over 2 days, there definitely was enough material from awesome folks to warrant it.)  Most presentations were limited to 20 minutes, making it a TED-talk style format – with a few 45 minute workshops.
The following is what I managed to attend:
-Brontë  Mansfield –  Margot Adler: Modern Journalism and the Construction of Magical Histories – I very much enjoyed her presentation. I was reminded of when I contacted Margot in the late 90's about a college Pagan Altar/Shrine project I was interviewing people for. We had talked on the phone, and much later connected on FB.  Back in 2014 at PantheaCon, we were coming in to perform in the room where she had been giving a presentation – and I had felt awkward about maybe fangirling over her while dressed like the Morrigan – so I didn't.  Alas, she passed shortly after that, so that's a regret I have to make peace with.  ANYWAY, Mansfield's MA thesis project is a podcast about Paganism and Witchcraft called Mystic – and I definitely want to check it out.
-K. A. Laity – The Sounds of Salvation: Leonora Carrington's The Hearing Trumpet – Another excellent presentation about Carrington's surrealistic novel The Hearing Trumpet. I scribbled down some notes but I can't read some of the words – so I don't want to misquote anyone.  So I'll revisit those notes when I read the book and share those ideas with you all.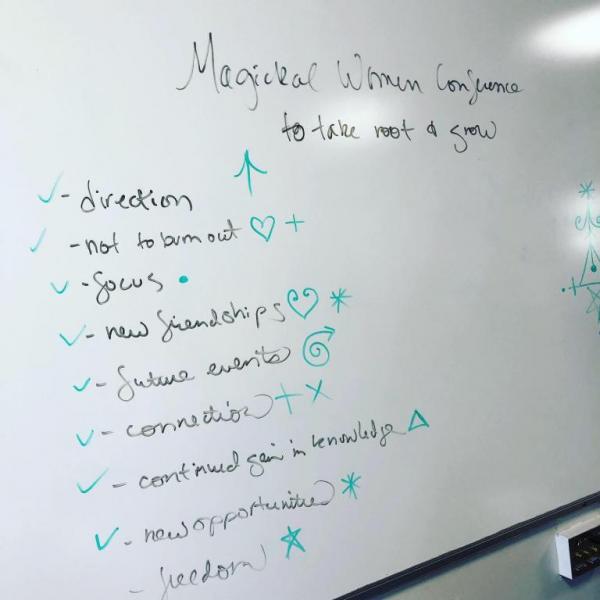 Next was my Sigil Witchery workshop – which I was glad to have 45 minutes, since it's normally 90 minutes to 2 hours long – but I knew I could do it from having accomplished the same feat back in September at the Texts & Traditions Colloquium in Seattle.  And while it was great having all that time and a full classroom, it meant I missed out on attending two other presentations, since it was a double-length.  (And why is it that I'm always scheduled against things I really want to take?? lol).  We crafted a sigil for MWC, which you can see the background (above) and finished result (below).
After the catered lunch, it was time for the keynote address with Christina Oakley-Harrington (who you already know from above if you were paying attention.)  Her talk was fantastic, exploring the history of women maintaining the leases on magical/ritual spaces, the Witch and her power is how she subverts the home, and also reflecting on the evolution of "pocket-size" magic today for the generation without real estate. It was very satisfying, IMHO.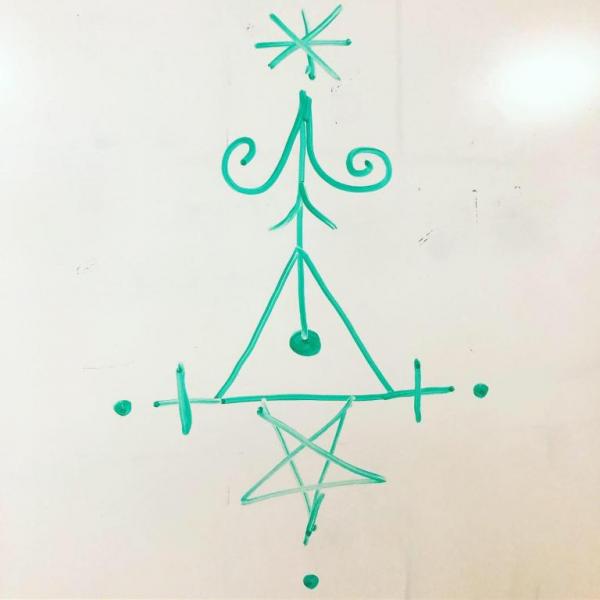 I hadn't quite chosen which presentation to attend next when I ran into Christopher Penczak, who suggested I meet Josephine McCarthy.  I had entered the vendor/market area to do so, but she had a line of folks to deal with. So I figured maybe that was a sign to attend her workshop, which was called "The Importance of Magical Patterns."  As both an artist and dancer, I was intrigued by the description.  She covered many things I already do and write about (altar as an active space) but gave some different perspectives/views. She talked about building a daily foundation pattern – especially with the land around you, but to also understand that in working magic – things come and things go.  While I did take a fair amount of notes, I must muse if a more active workshop format might have better suited the material presented.  And the workshop length meant I missed out on attending a second presentation during this time. Ah, the choices we must make!
Next, I had planned to attend Sabina Stent's "Leonor Fini: Fashion Magick Sorceress" – but I swerved at the last minute into:
– Emma Kathryn –  Rebel Women And Rebel Magic – (and you know I have an affinity for magical resistance..) Emma gave a fascinating insight into Queen Nanny of the Maroons and Obeah (Jamaican Witchcraft).  Two quotes I want to share with you: "Fear becomes a source of power" and "any act of magic is an act of rebellion."  That last one especially, oh my heart!
The last presentation of the day that I attended was:
– Scarlett Amaris – Una Woodruff's Artwork in Witches by Colin Wilson – which was a great introduction to an artist I had not previously been familiar with. A good reminder as well that the art we see in our childhood greatly influences how we see the world. I also enjoyed getting to meet and talk with Scarlett, as we have had mutual acquaintances who had been recommending we meet up for a while!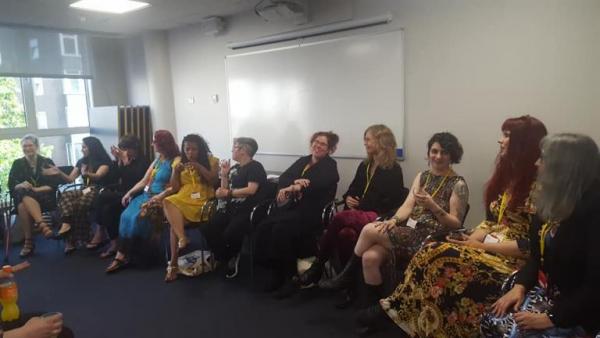 Afterwards, there was a social open time on the rooftop, followed by a short Q&A with presenters, moderated by Christina.  After that, both Nathan and I were completely worn out. Like I don't even remember what we did for dinner or where or what. I know friends invited us out, but emotionally and mentally, I was cooked. I was sad to miss out on more connecting, but you have to know and mind your limits.
Overall, I'm so very glad and honored that I was a part of this historic event.  It was very well run (especially for a first year event!), had an embarrassing wealth of presenters, a gorgeous program designed by Jenn Zahrt of Revelore Press, and a lovely setting.  I do wish it had been at least two days, which would have allowed for less overlap and more networking.  They are most likely going to need a bigger venue, as the conference sold out months in advance, with a long waiting list. The networking/connecting with other magickal women is especially something I'm keen on, because far too often, this society pits us against each other, or ignores us instead for (sometimes less-qualified) male counterparts.  I would have loved to have seen/participated on more panels, especially considering there were several overlapping areas where a panel discussion among experts would have been fantastic.  But that's the thing about producing an event – there are risks involved with trying something out for the first time, and there's always room to grow and add.  And from what I hear, the next one will be in 2020, so keep an eye out!
Stay tuned, there's a lot more to come about my adventures in London,  plus more including: touching the Avebury Cycle, getting INSIDE Stonehenge, and a visit to Doreen Valiente's former home!