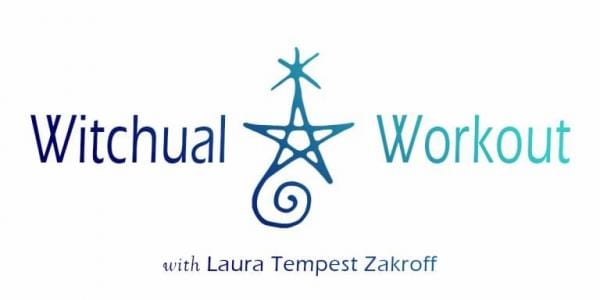 Do you need a little more movement in your life?
Last weekend I did some ritual work outside that included fast-walking a circle for about 2-3 minutes straight.  The next day my legs had a thing or two to say to me. About walking. In circle. For just a few minutes.
That was my wake-up call that this pandemic has really been affecting my physical well-being.  Despite having just got a glowing review from my doctor about all of the internal workings of my body at a chemical level, I'm physically out of shape.  Not being able to tour and do events for work like we normally do, I'm not performing or teaching workshops, or hauling gear and luggage like usual. Our goal to walk and hike regularly has been impacted by the high temperatures and humidity. The garden is in a state of growth, so the physical labor to maintain it is minimal right now.
The other thing about not moving your body? It also affects your emotional and mental well-being. We are designed to be in motion, and movement is a good way to combat stress. Otherwise we can just keep sliding down, losing internal momentum to do anything. I know I'm not the only one feeling this – a lot of you are too.
So I decided to do something about it.  I'm not great at following other people's programs, so I set out to create a daily movement experience that has a ritual/magical theme. It's called the Witchual Workout.
"Witchual" came from one of my usual workshop verbal on-the-spot creations several years ago, when my brain was moving faster than my mouth (which happens when I'm excited). I embraced the term in my most recent book project and I love alliteration, so there you go. It's not just a mindless workout, but rather it engages your mind and spirit as well – building tools for your personal practice as you go through it.
I figured if I put it up online for others to follow, it also helps hold me accountable to do the thing on a regular basis. Most of what we cover is also adjustable to your level of mobility and ability. You do NOT need to be a dancer to do this workout. I will also be doing some that are strictly from a seated position.
Right now the plan is to do it daily, averaging between 8-15 minutes per experience. I've come up with a base structure to help me decide daily themes:
Monday: lunar work
Tuesday: oracle/tarot pull
Wednesday: deities/spirits
Thursday: oracle/tarot pull
Friday: freebie (whatever inspires me or suggested by Patreon supporters)
Saturday: spellwork
Sunday: solar work
For the time being I'll be releasing each one daily on my Youtube channel (if you subscribe, it'll send you a notice every time a new video goes up, which helps keep you moving too!) As we're just three days in, I'm sure I'll be tweaking things as I get the format and presentation figured out, but I plan to keep it simple as possible. If I'm doing something every day, I don't want to be spending an additional 30-60 minutes or more editing it. Just one shot and upload.
So let me know what you think!  If you enjoy it, be sure to subscribe and leave a comment!