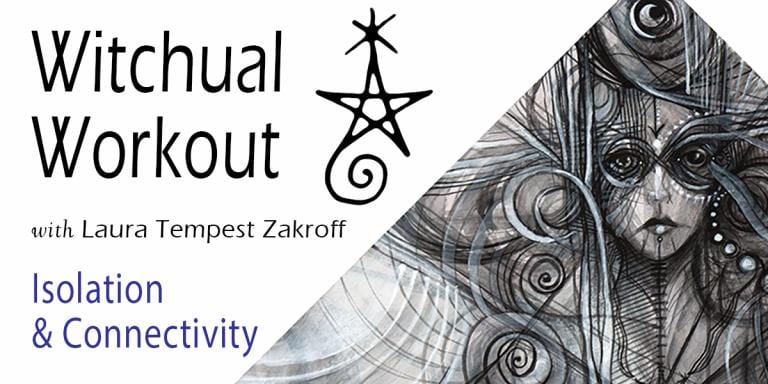 Time to recap the previous week of the Witchual Workout!  If you don't know about it – the Witchual Workout is a daily program designed to get you (and me) up and moving regularly – with a dash of magical inspiration to help build and enhance your daily practice. You don't have to be a dancer of any kind to participate and I encourage you to listen to your body and modify as needed.  Many of these episodes can be done from a seated position as well.
This past week's collection of 4 episodes delves into the concepts of isolation and connectivity in regards to not only movement, but in metaphysics as well.
Monday – Witchual Workout 131: Isolation & Connectivity
Mondays touch base with the Moon, which is currently waning with the New Moon just around the corner. For today's focus, I'm building on a suggestion from friend and viewer Corbin regarding isolations. Isolations in terms of movement is about highlighting/focusing on one part of the body so that it appears to be isolated. But the secret to the technique of isolation is understanding connectivity – something we can consider both in movement and metaphysics.
Tuesday – Witchual Workout 132: Oracle – Goat Spirit
Today is an oracle day and we received the Goat Spirit. (Goaty goat goat!) There is much to glean from the wisdom of the goat, but one of the main messages for today is to be determined, recognize that you have the power to define yourself, and to also HAVE FUN. Don't forget yourself of play. We also continue working with isolations and connectivity.
Wednesday – Witchual Workout 133: The Star Goddess
It's Wednesday, so we're looking to the divine and mythic for our theme – and today's exploration is the Star Goddess. The story of the Star Goddess can be seen as the Universe falling in love with itself and creating everything we experience. With the New Moon, Valentine's Day, and our week's theme of Isolations & Connectivity, it's a great time to explore the mysteries of the Star Goddess.
Thursday – Witchual Workout 134: Tarot – Six of Wands
Today is a Tarot day and we received the 6 of Wands – a card symbolizing victory, achievement, and most especially recognition for accomplishments. At the New Moon, we have a tendency to view what has gone wrong (or what we THINK has gone wrong), rather than seeing what has gone right. We also live in a culture where noting your accomplishments can be looked upon as "bragging" – which is bullshit. Recognizing the work you have done and what you are good at are important to the psyche. As long as you're not seeking to put others down or inflate your achievements, you're doing just fine. Go ahead and give yourself some praise. You've more than earned it!