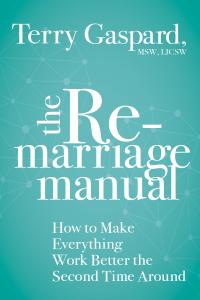 Terry is the author of, The Remarriage Manual: How to Make Everything Work Better the Second Time Around — Paperback, published February 18, 2020
Winner of  The 2022 Independent Publishers Gold Book Award for "Self-Help"
Winner of American Book Fest's 2020 Best Book Award in "Self-Help: Relationships"
Remarriages are harder than firsts. Discover 10 keys to success―covering sex, communication, money, step-kids, and more.
"Love may be sweeter the second (or third) time around, but once the bliss wears off, the reality of joining two distinct worlds sets in," writes marriage and family therapist Terry Gaspard. She knows all the pitfalls and landmines. She has counseled couples for over 30 years and conducted original research, and her blogs for top websites are read and shared by hundreds of thousands. In The Remarriage Manual, Gaspard shows couples how to manage the 10 areas that most threaten second marriages.
Unfinished business with exes (and other old baggage), pressures of dealing with debt and handling money, blending families, finding time and space for sex, managing conflict, and more can strain second marriages to the breaking point. We might joke that marriage should come with a manual, but for remarriages it's essential. The divorce rate is 60 percent compared to 50 percent for firsts.
My book is now available in an Audio Book from Penguin Random House Audio here. The tips and tools Gaspard offers have directed countless remarried couples toward lasting happiness, including the author and her husband. The Remarriage Manual provides everything a couple needs to inspire or repair their second marriage. Therapists, divorce lawyers, and clergy will also find crucial insights for helping their clients.
---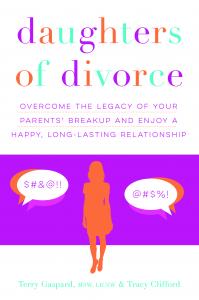 Daughters of Divorce: Overcome The Legacy of Your Parents' Breakup and Enjoy a Happy Long-Lasting Relationship
by Terry Gaspard & Tracy Clifford
Order on Amazon here. Available on Audiobook here from Penguin Random House Audio here.
Daughters of Divorce examines the unique emotional effects of parental divorce on women and offers a step-by-step guide to breaking the legacy of divorce. It is the winner of two prestigious awards: Silver Medal Independent Publisher's Award and Best Book Award in "Self-Help: Relationships." 
You can restore your faith in love and build healthy, successful relationships with this essential tool-kit for every woman haunted by her parents' divorce. Over 40 percent of Americans ages eighteen to forty are children of divorce. Yet women with divorced parents are more than twice as likely than men to get divorced themselves and struggle in romantic relationships. In this powerful, uplifting guide, mother-daughter team Terry Gaspard and Tracy Clifford draw on thirty years of clinical practice and interviews of daughters of divorce to help you recognize and overcome the relationship challenges that parental separation creates so you can build the happy, long-lasting relationships you deserve.
"…the authors' solid and empathetic advice is applicable to anyone who has suffered childhood traumas affecting his or her ability to trust in the power of love." — Publishers Weekly
Learn how to:
Examine your parents' breakup from an adult perspective
Heal the wounds of the past
Recognize destructive dynamics in intimate relationships and take steps to change them
Trust yourself and others by embracing vulnerability
Create strong partnerships with Terry's proven Seven Steps to a Successful Relationship
Break the divorce legacy once and for all!
Overflowing with real-life stories of women, research, and tips, Daughters of Divorce can help you to find the real love you have been longing for and to have a happy, long-lasting marriage or relationship. You can order Daughters of Divorce: Overcome The Legacy of Your Parents' Breakup and Enjoy a Happy Long-Lasting Relationship on Amazon here.