I'm going to ask a favor of my readers who pray, to keep the intentions of a few young women in their prayers, particularly for the next week.
First up, Elder Son's Sweet Girlfriend. This kid has been going to grad school full time (and earning all-A's) while working full time, and managing to pull it all off as she commutes between two states. Last semester was an absolute killer, but she never gave up. Now, it looks like she may have an opportunity to snag a much-desired assistant's job on campus that will save her thousands of dollars in tuition and cut out the thrice-weekly commutes. Need I say she is really hoping that she wins one of the few coveted assistant posts. The competition is fierce, but believe me when I say Sweetie is deserving -her goal in life is not riches, but to help people who are having a hard time of it- and I feel lonely in my prayers for her, so please join me!

From my own family to my "Benedictine" family…
St. Benedict is called "The Father of Western Monasticism" and his Holy Rule has been attracting men and women (consecrated and lay, alike) to follow his path for over 1500 years. Laboring in what Benedict calls "the school of love", these young women -having taken early steps in monastic life and found it delightful- are asking for more.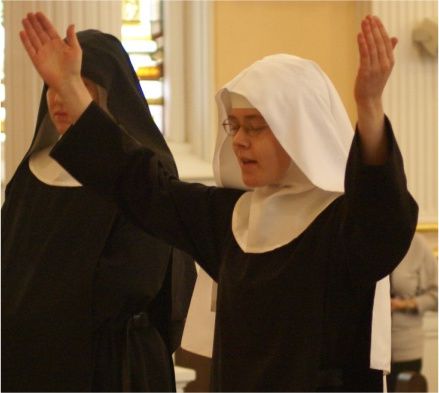 Kansas Catholic chronicles the stirring and ancient rite as Sr. Maria Concordia of the Heart of Jesus, OSB, follows her older "sister-in-religion, within the community of the Benedictines of Mary, and joyfully pronounces the triple Benedictine sucipe ("accept me, Lord, as thou has promised, and I shall truly live!") and makes her first vows.
The newly professed sister was swiftly followed by four postulants who left behind the beauty of their wedding finery and worldly things to have their hair shorn . . .
A Novice's hair is usually presented to her mother, after her clothing in the habit
. . . and their clothing choices severely limited to Benedictine Black-and-White habits, for the rest of their lives, if all goes well.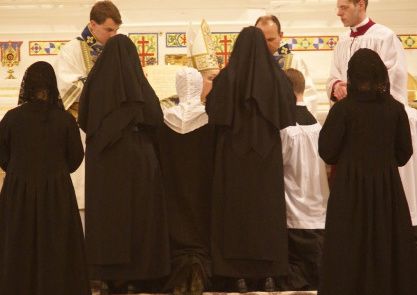 Cap and Wimple, before the Veil

Sisters Philomena, Columba, Concordia, Assumpta and Jean-Marie
Kansas Catholic has tons of really excellent photos here, here here and here. The church building is recently restored, and very lovely.
Taking a clue from their Christmas Newsletter (pdf), it looks like this fast-growing (and very "old-school Benedictine") community now boasts a postulant, seven white-veiled novices (three others were clothed in '09) and fourteen simply or solemnly professed sisters. Hopefully their CD sales will help them build the roomy monastery they clearly will need and are planning for.
Finally, Ane Kirstine, whose moving meditation some may remember, has now formally entered St. Joseph's Monastery as a Passionist postulant, and the blogmistress at St. Joseph says she is "in her veil and jumper," as she begins her postulant year.
All of these young women, whether living secular or religious lives, are working very hard, and with great dedication, discipline and love, to move forward in what they believe to be their vocations; all of them are all about helping others, either through "visible" or "invisible" means. Please pray for them all, that they may persevere in their callings.