After this I had a vision of a great multitude,
which no one could count,
from every nation, race, people, and tongue.
They stood before the throne and before the Lamb,
wearing white robes and holding palm branches in their hands.
They cried out in a loud voice:

"Salvation comes from our God, who is seated on the throne,
and from the Lamb." – Rev 7;9-10
Today is one of my favorite of all of our Holy Days. It has always pleased me to leave mass of a blustery morning and think, "while the rest of the world is busily passing by, we've taken a moment to remember our ancestors and talk to them, and ask their prayers — for all of us." It feels like a privileged bit of service for the whole world.
In my column at First Things, I share the "pull a patron" ritual that will be occurring in a few weeks, as we prepare for a new year. I feel like I have not quite gotten to know Saint Catherine of Siena as I did Saint Philip, and I am certain that the fault is mine:
For a while, as each year wound down, a friend of mine would ask me if I would like her to "pull a patron" for me—a spiritual guide and teacher for the upcoming year. She had an impressive stack of holy cards, and if you wanted, she would randomly pull one for you, and that saint would then become your "patron" for the year.

"Saint Titus!" she served up, one year.

Really, I thought. A guy about whom almost nothing is known? Great.

"Saint Julianna!" came the following year's missive, and I sighed. It came as no surprise at all to me that the year in which my doctor pronounced me "menopausal" my friend drew for me St. Gerard Majella who is, among other things, the patron of expectant women.

"Perhaps," another friend suggested, "he is meant to console you as you enter your dotage—he'll help you ease into becoming a crone."

My earthly friends are a constant comfort to me.
[…]
A cloistered Dominican nun set me to rights about the practice. Relating the belief that "the saint chooses you," she asked me if I had—prior to the pulling—prayed that the proper patron be guided my way. "But the prayer is more for you, for your awareness," she said. "Those patrons you could not relate to earlier, had appropriate connections; you just weren't open to them."
You'll have to read what happened when I took her advice and opened up.
Speaking of the white-robed-wearing ones, our good friends, the Dominican Nuns of Summit, New Jersey have gotten word out that they have been without power since the storm a few days ago, and it looks like they will continue that way until Thursday:
As of Monday night, it was 58 degrees in the monastery. At least we have 14 paschal candles and the work of the bees is keeping us warm!
So, in the darkness and the cold, with meager provisions, these nuns are continuing on — praying six hours a day in choir, a few hours more in private prayer, and on this solemnity they are praying for all of us. One sent me a text:
Candles are great but the cold is a bit difficult. Great recreations and we're all being charitable! Hope you are ok!
Monasticism is not for wimps.
Deacon Greg's Homily for the Solemnity asks a good question:
The gospel today shows us the way to holiness — the way, as the song says, to "be in that number."

It means to be poor in spirit. To be meek. To be merciful and pure of heart. To be a peacemaker. To suffer for the sake of Christ.

None of these is easy. But then, if being blessed were easy, everyone would be a saint.

But don't we want to try?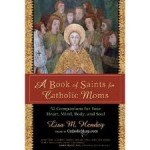 Because we do want to try, this is a good time to look into Lisa Hendey's excellent A Book of Saints for Catholic Moms. This one's a great Christmas gift — get Mom's New Year started with some helpful friends!
Tomorrow, of course, is All Soul's Day, and in anticipation of it, Pat McNamara takes a look at Edgar Allan Poe and his friendship with the Jesuits
Finally: How the Orthodox do it
UPDATES:
Frank Weathers has the greatest hits of All Saints Day!
Patrick MadridThe Ancient Christian Origins
Beginning to Pray: The Saints See Christ
Fr. Scott Hurd: Be a Saint!