It looks like poor Kitty will have to have another surgery to help clear away the second abscess that has formed from her ruptured appendix. With a fever near 102 again and her resting heartrate at 130, her doctor is re-admitting her to hospital.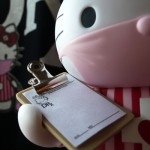 She is not getting well. Three antibiotics, two "drainings" and she's not getting better.
If you are inclined toward prayer, please whisper up a few for Kitty and for my son, who loves her to distraction and is being worn down, as well.
UPDATE: I suspect I will not be in a position to monitor comments or fish them out of the spam filter, so I think I will close comments, at least overnight, so no one feels like they're being ignored/lost.