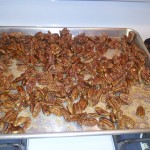 For the last few years, Ace O' Spades' Gabriel Malor and I have made a point of exchanging recipes just before Thanksgiving — it's a fun little way of finding something new to bring to the table. This year, Gabriel is offering a quick-and-easy recipe for Spiced Nuts, which he declares is something that can be put together "while watching kids!"
And my contribution this year: Roasted Parsnips and Apples: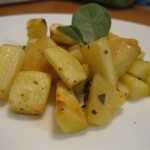 1 1/2 pounds parsnips (about 5 med-sized), peeled
1 pound Gala (or comparable) apples, cored and peeled
1/2 teaspoon salt
1/4 teaspoon black pepper
2 tablespoons extra-virgin olive oil, not too light
1 tablespoon fresh sage, coarsely chopped (or dill, if preferred)

Move oven rack to upper part of oven and preheat to 475°F.

Cut parsnips and apples into quarters (lengthwise) and then into 2-inch pieces. Toss parsnips and apples with salt, pepper, olive oil and sage. Spread in one layer in a large shallow baking pan. Roast, turning occasionally, until parsnips and apples are tender and browned about 20 to 25 minutes.
To serve 4:
What's nice about this recipe is it can be prepared beforehand and very quickly reheated in the microwave, or you can serve it as a salad, at room temperature! I usually make this to serve with pork, but it goes well on the Thanksgiving table, too!
They'd go well with a Spiced Nuts appetizer, too!
How about it? You have a new (or old and beloved) recipe you want to share?