One of my favorite parts of Thanksgiving is becoming the annual recipe swap between Ace O' Spades HQ's Gabriel Malor and me, and our readers, too!
In the past we've covered quick noshes, like Spiced Nuts, veggie side-dishes like Squash Stuffing, Roasted Parsnips and Apples, Turnips and Carrots (my personal favorite!), and desserts like Pumpkin Cheesecake Dip and Italian Rainbow Cookies.
This year, Gabriel is offering Bourbon-berries "in lieu of the traditional can-shaped cranberry sauce" (I'll take it!) and I'm bringing the Cream Puffs!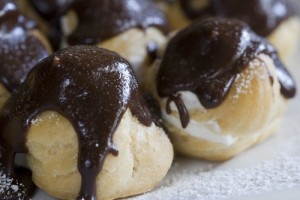 Sal's Cream Puffs:
1 cup water
1/2 cup butter
1/4 tspn salt
1 cup all-purpose flower
4 large eggs
Place water, butter and salt in medium saucepan; bring to a boil and remove from heat.
Still in flour all at once. Beat well until mixture leaves the sides of the pan as you stir.
Cool 1 minute. Add eggs, one at a time, beating well after each addition. Mixture should be smooth and glossy.
Fill mixture into pastry bag using wide decorator tip (or simply use a tablespoon to drop mixture).
Make 1 1/2 inch mounds, 2 inches apart on a baking sheet lined with parchment paper. If you have no pastry bag, drop mixture from tablespoon.
Bake at 450 for 15 minutes. Reduce to 350 degrees and continue to bake for 30 minutes until puffs are golden brown, with dry, rigid sides.
Make a slit in the side of each puff with a small knife and cool on wire rack.
Cream Filling:
2 cups milk
1/2 cup + 2 tbsp sugar
5 egg yolks
1/4 cup cornstarch
2 tsp vanilla extract
pinch of salt
1/2 cup heavy whipping cream
Scald the milk in a saucepan over medium high heat until little bubbles begin to form on side of pan — just before a boil. Don't let it boil.
As the milk is heating, use a whisk to combine the egg yolks, 1/2 cup sugar, and cornstarch.
When the milk is at that little bubble stage, remove it from heat and carefully dribble
the milk into the egg yolk mixture while whisking constantly, then return all of the liquid to the pan.
Cook over medium high heat, stirring constantly, until the mixture comes to a boil and thickens. Remove from heat and stir in the vanilla and a pinch of salt.
Let cream cool before you start to whip the cream.
Combine heavy whipping cream and 2 tbsp sugar in a bowl and whip with either a hand mixer or a whisk until it forms soft peaks. Fold this mixture gently into the pastry cream, and then fill the puffs.
Makes 12.
Some people like to drizzle chocolate sauce over the cream puffs; I don't — I think the chocolate detracts from the sweet simplicity of the thing. Gabriel Malor, on the other hand, wonders if the Bourbon-berries might not be super-delicious on the cream puffs, and I have to say…that actually sounds…really…really good. His readers are already sharing recipes in his comments section. Feel free to share yours, here.