Actually, he calls it the The Best. Soda Bread. Ever.
The recipe also received a thumbs up from this blogger I don't even know, so that's nice.
Irish Soda Bread is really nothing more than a delicious butter-delivery-system. Since I've just taken a batch from the oven, I figure it's time to share my mother-in-law's recipe, once again:
4 c sifted flour
1 1/2 tsps baking soda
1 tsp salt
3/4 c sugar
1 c raisins (or cranberries for a nice change. Or both!)
2 tblspns melted butter
2 eggs, beaten
2 cups buttermilk

Mix dry ingredients. Mix butter, eggs and buttermilk. Stir into dry ingredients. Use a 2 qt pan (like a pyrex) because it works the best. Bake at 350 degrees for 1.25 hours.
This year, since I couldn't find buttermilk, I made it myself following these simple instructions, and the bread rose beautifully. Also, because I am trying different things, I replaced the white sugar with Organic Coconut Palm Sugar, which supposedly doesn't spike the blood sugar as much. I have no idea whether that's true or not, but the stuff substitutes well. I've used it in an occasional latte, and in my baking, and things are just as sweet as ever.
In the case of the soda bread, the palm sugar seems to have worked fine, but it made the bread very brown, as you can see here. Observe how much of it has disappeared in the few minutes it took me to type this up!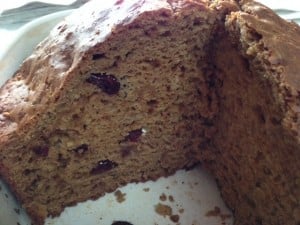 My image.
Comments are closed for Lent.