"If you are what you should be, you will set the world on fire"
– St. Catherine of Siena
I've told this to my kids all their lives, even before I knew Catherine had said it: If you do the thing you're born to do, you will excel, you will excite, you will change things.
"But how do you know what you're born to do?" they would ask, "If you do lots of things well, how do you know what you are born to do?"
Some of us might not be so blessed, of course, maybe some of us can only do one thing, but we do it very well. I think most people have several things they can do well…but only one thing they do exceedingly well, a thing that, when they engage in it, places them outside of time.
"What's the thing you can do that you can really lose yourself in – so that when you look at the clock you find yourself surprised at how much time has gone by…and you are not tired at all." I would ask them. "That's the thing to look at. If it lifts you up rather than drags you down…if it takes you out of time and into the Eternal – that's it, that's the divine spark!"
Catherine was urgent about it; for her that divine spark and the need to know it, recognize it and serve it was the key to one's purpose in tandem with God's will:
When God visits you with measureless gifts, let your memory open immediately to receive what your intellect knows in His divine love, and let your will rise with burning desire to receive and gaze at the blazing heart of the giver, the gentle, good Jesus. Thus, you will find yourself burning and clothed with fire, and with the gift of the blood of God's Son, and you will be free from all pain and unease. This is what took away the pain of the holy disciples when they had to leave Mary and one another, although they willingly bore the separation in order to spread the word of God.

Run, run, run.
— Saint Catherine of Siena
Her words — and that sense of urgent running toward God as our authentic selves — are echoed, in a way, by our good Pope Francis, who says, "Build on high ideals, on the big things. We Christians are not chosen by the Lord for small little things, always go above and beyond, to the big things."
We are living in an age of spin, irony and fakery; the zeitgeist itself, that tries to pull us into every trend is a constant movement toward illusion and distraction that is meant to pull us away from all that we instinctively know is true. It tries to separate us from our gut, ourselves. Saint Catherine wasn't having any of that. Nor is His Holiness, but he has a way of saying things: "Swim against the tide! It's good for the heart!", says the pope.
Run, Run, Run.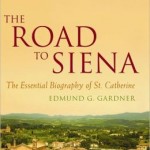 In honor of the St. Catherine's feast day, why not revisit St. Catherine's Unforgettable Fire, which reviews a reissue and updating of Gardner's The Road to Siena: The Essential Biography of St. Catherine. It gives you a real sense of the woman.
To all of my Dominican friends, lay and professed, Happy Feast Day to all of Catherine's spiritual children
Speaking of the pope, he goes goes counter-cultural/intuitive today when he says Shame is a true Christian Virtue. Check it out. Also, some fire from Pope Francis on another subject.