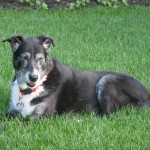 This is so lovely, and makes me really miss my Alle. It reminds me of everything she taught me about love and about God. Which is a lot:
I will never be half as loving as Alle was; that much love is a gift of grace, and one I lack. But I can remember my dear, beautiful girl and realize what she taught me about God — the constancy of a love so unconditional; a love that watches as you leave, waits so faithfully and runs to meet you when you return; a love that comforts in illness, consoles in loneliness; a love that is present even as we are lost in our dreams.
Enjoy. Get a tissue.