Yes, it's time (past time, in fact) for my annual "Gift Ideas" post. Believe it or not, people actually ask for this post — for the last three weeks I've gotten emails and private messages asking when it would be posted.
The truth is, I haven't been in the mood to do it; these things are really time-consuming (and my schedule lately is stupid) but more than that, I have been feeling altogether un-consumer-y this year, and was feeling that way even before the release of Evangelii Guaduium, which takes aim at consumerism much more than capitalism, but you'd never know it, from the screaming.
For the past few years in our family, Christmas gift-giving has gotten smaller as we've come to understand that, except for the little kids and the parish outreach, no one really "needs" Christmas to be about presents. Recall that in last year's post, gifts were smaller, and that is true again this year. By next year, I expect, we'll be limiting our gift-buying to little ones and stockings, and the parish giving trees. A good book, a pound of great coffee; does it really need to be more than that?
Speaking of gifts and coffee, then, this is the inexpensive cafe latte maker of my dreams. I love it because it does away with the metal steamer that clogs and makes having a latte or cappuccino such a joyless clean-up. It froths the milk in the pot with the coffee, and there is a nice demonstration video at this page.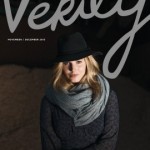 Two of my nieces are getting gift subscriptions to Verily Magazine, because it is the rare, sane women's magazine that is not about "50 Ways to Blow His Mind in Bed" and does not photoshop its models. I love it. And it's very reasonable.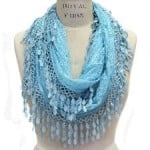 Since we're buying fewer gifts, we can spend a little more on each giftee, so we're also buying said nieces this very girly, very different Fringed Lace Infinity Scarf, because they are just so freaking pretty, and can be used to instantly dress up something simple. The girls live far enough from each other that we can get away with this!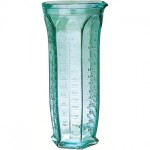 This looks like a vase (and could probably be used as one, in a pinch) but it's actually a very cool, elegant Italian "measuring jar" that takes up less room in the cabinet or the countertop and pours like a dream. You know my mother-in-law who makes everything from scratch and brings 25 lbs of homemade manicotti to Thanksgiving? Yeah. She'll love this.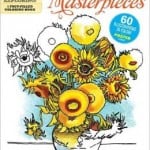 For the creative types, this is not really a "coloring book" per se. It's "take these masterpieces and make them your own" book. I'm giving it to a tween niece with these colored pencils.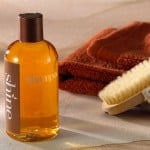 Every time I stay at a Sheraton, I tweet about how much I love their complimentary SHINE products. They've never taken the hint and given me freebies, but this is how good they are: two of my other nieces (yeah, big family) will be enjoying a selection of various Mandarin and Mint Bath and Body Products. It's just great stuff.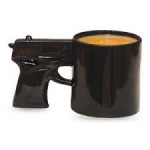 Got a 2nd Amendment advocate in the house or just (like me) a young cop? They can take this cup to work, and use the cash you fill it with to buy, you know…coffee and doughnuts.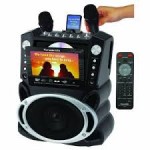 And this i-everything-compatible karaoke player with lyric viewer (that can also serve as a DVD player) is a "family" gift meant to be shared by several little kids and tweens. Seems nicely reviewed, and sometimes you have a family member whose kids just aren't noisy enough for them to get the full-parenting-effect! Heh.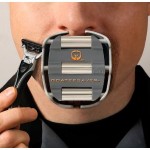 This Goatee Shaving Template only seems like a weird suggestion until you realize that all the men in my family have whiskers.
This is becoming a really big post, so I'll close here and do a part II that will cover Books and DVD's!. Because you know I have a lot of recommends, there. So many, in fact, that Music will require a Part III!