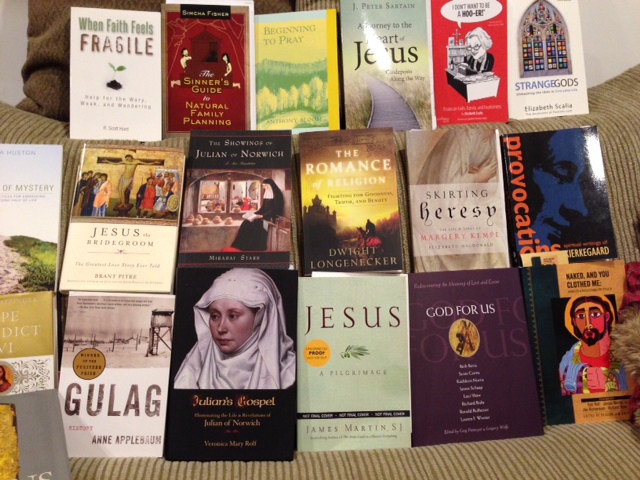 In Chapter 48 of his Holy Rule, Saint Benedict says "During this time of Lent each [monk or nun] is to receive a book from the library, and is to read the whole of it straight through. These books are to be distributed at the beginning of Lent."
The books an Abbot or Abbess might choose for the benefit of a particular monk or nun were not always religious; sometimes fiction or secular books were given, too, and so I'm including a few of those in here, too.
That collection of books above (plus a few not shown) are books I have either finished reading, am in the midst of reading, or plan to read during Lent, and there are a lot of them, so I will try not to gush and rave too much.
Jesus the Bridegroom: The Greatest Love Story Ever Told by Brant Pitre. In 2011 I recommended Pitre's Jesus and the Jewish Roots of the Eucharist and also gave it to all the priests in my parish, because it was that good. Jesus the Bridegroom is an absolutely splendid follow-up; it's another book that both informs and thrills. If you've wondered what Saint Paul meant when he compared Christ's torturous crucifixion to a Divine Wedding, this will answer you, and you will be…well, you will be moved to awe. Jesus the Bridegroom doesn't ship until March 11, but that's okay. Gives you time to reread Roots of the Eucharist.
Jesus of Nazareth By Pope Benedict XVI, or really any part of his trilogy on the life of Christ. These are highly readable books, full of insight and simply, hands down, perfect for Lent. And you don't have to be Catholic to love them.
Jesus: A Pilgrimage by James Martin, SJ. If you enjoyed Diana von Glahn week-long travelogue of the Holy Land and want more, this book will help you delve more deeply into the places where Jesus walked. It's an usual book, part memoir, part archeological witness and it really is precisely what the title says: a page-by-page personal pilgrimage toward Christ Jesus, that we have been invited to, as it were, observe. As with Pitre's book, Jesus: A Pilgrimage releases on March 11. I think these two books are going to be the ones that scoop up a lot of prizes, next year.
Julian's Gospel: Illuminating the Life and Revelations of Julian of Norwich, by Veronica Mary Rolf; I got this after listening to Rolf discuss Julian in this podcasted interview. More than just a hagiography, Rolf gives you the 14th century, in detail; she places you there, with Julian.
If you are less interested in all the background and just want to read Julian, herself, The Showings of Julian of Norwich: A New Translation by Mirabai Starr is very good, but I frankly think these two books compliment each other. A nice one-two punch of the great anchoress.
Provocations: Spiritual Writings of Kierkegaard. Because this:
The difference between an admirer and a follower still remains, no matter who you are. The admirer never makes any true sacrifices. He always plays it safe. Though in words, phrases, songs, he is inexhaustible about how highly he prizes Christ, he renounces nothing, gives up nothing, will not reconstruct his life, will not be what he admires, and will not let his life express what it is he supposedly admires.
How 'bout that? Lent is a good time for strong medicine.
Okay, clearly, I have a hard time not raving about books I like, but here's cutting it very short, or you'll be here all day!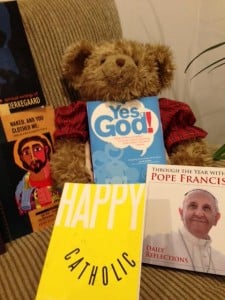 Yes, God!: What Ordinary Families Can Learn about Parenting from Today's Vocation Stories, by Susie Lloyd. Much lighter fare than Kierkegaard, but I loved this little book, in which Lloyd interviews young priests and religious brothers and sisters about how their families helped to shape and encourage their vocations. If your kid has an e-reader, perhaps shoot it there way, for Lenten reading.
Speaking of e-readers, I keep a copy of Happy Catholic, by Julie Davis on mine. It's a great way to access a quick, uplifting quote about the life of faith, and nobody finds great quotes like Julie.
Through the Year with Pope Francis: Daily Reflections; as we near the end of our first year with Francis, a nice way to glean his thinking, in small bites.
Gulag: A History by Anne Applebaum. More medicine, yes, but a great book about a horrific reality that we dare not forget. But first, we have to really learn about it. Very readable, very harrowing. I got it on Glenn Reynolds' recommendation and btw, his book on the state of higher education is a fine secular Lenten read, too.
With God in Russia, by Fr. Walter J. Ciszek SJ. Back to Russia, this might be the antidote to Applebaum's book. Ciszek lived it. He lived it.
Mercy in the City: How to Feed the Hungry, Give Drink to the Thirsty, Visit the Imprisoned, and Keep Your Day Job, by Kerry Weber. Not pictured because I don't have this book, but I'm going to get it. Read Lisa Hendey's and Tony Rossi's posts to understand why you may want to, also.
Beginning to Pray by Anthony Bloom. There's a reason why this is a classic. I read it every year, and every year I learn something new.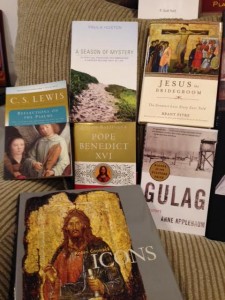 Is it awful of me to suggest that Lent is a good time to think about what Idols reside in our lives and how we serve them? Now with Study Guide? :-)
Cultivating God's Garden Through Lent, by Margaret Rose Realy. She's a beautiful writer and at some point during Lent, winter will end. This will put you in the mind of spring!
Simplifying the Soul: Lenten Practices to Renew Your Spirit by Paula Huston. I have recommended it before, and if you are still cluttered, you should read it. As with Weber's book, it's a practical way to put action into what you're thinking and praying about.
The Romance of Religion by Father Dwight Longenecker. I've recommended this before, (along Dr. Gregory Popčak's Holy Sex!) but am doing so again because it's a nice, Chestertonian gallop.
Finally, here are two collections of essays — and I like essay collections, because even if you don't love one, the next one might be exactly what you need.
God for Us: Rediscovering the Meaning of Lent and Easter edited by Edited by Greg Pennoyer and Gregory Wolfe; this book is so beautifully wrought it is like giving a present to yourself, and the essays contained within, by Kathleen Norris, James Schaap and others can bring fresh perspectives. This might be a lovely gift for someone who is "sort of coming back" but is feeling trepidatious.
Naked and You Clothed Me: Homilies and Reflections, with contributions from Deacon Greg Kandra, James Martin, SJ, Rob Bell and others takes you through our lectionary cycle; great prep for Sunday Mass, really, and some excellent writing, here.
I'll leave my own essay collection for last, because I Don't Want to Be a Hoo-er!!
Ugh, that's it, I can't do anymore! Posts like these take hours! You may see other books in those pictures, so look them up! It seems wrong to me that Skirting Heresy: The Life and Times of Margery Kempe doesn't release until May, but I'll write about that when it's release date is closer, and I'll be back tomorrow with music and app suggestions for Lent, but I have to end this post — so let me ask, what books are YOU recommending?